Boeing (BA) operates in an almost-duopolistic industry environment, since Boeing and Airbus practically own the whole aircraft market on a global scale. The industry is highly regulated, which limits the threat of potential new entrants. Besides, buyers of both commercial aircraft and military hardware tend to stay with well-known suppliers with a reputation for safety and reliability.
This limited competition allows industry operators to generate attractive profitability and healthy cash flows through the ups and downs in the business cycle. Demand in the sector can be cyclical over the short term, but he long term trends are clearly positive due to booming air travel demand over the decades.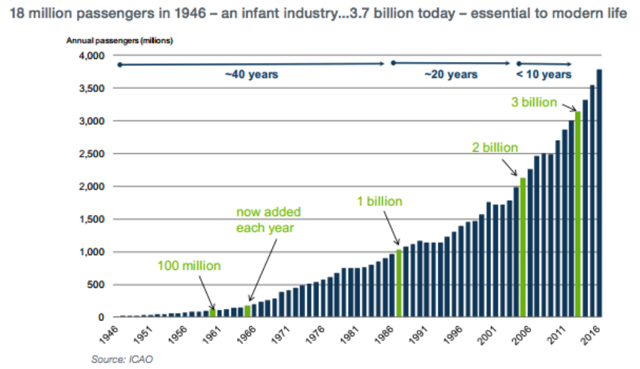 Source: Boeing.
Management has done a sound job at translating those growth opportunities into solid financial performance, and investors in Boeing have been well compensated with growing dividends and a reduced share count via buybacks over recent years.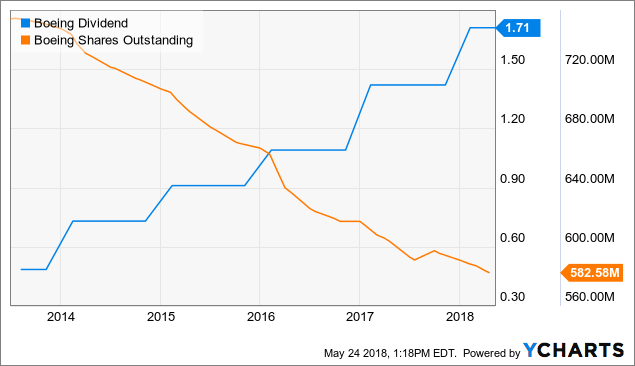 BA Dividend data by YCharts
Financial performance for the first quarter of 2018 came in ahead of expectations. The company delivered $23.4 billion in revenue during the quarter, growing by 6.6% versus the first quarter in 2018. The figure surpassed earnings expectations by $1.18 billion.
Core earnings per share grew fro $2.17 to $3.64, far surpassing expectations of $2.58 in earnings per share during the quarter among the analysts following the stock. In a sign of confidence, management also raised its outlook for earnings per share and revenue for the full year 2018.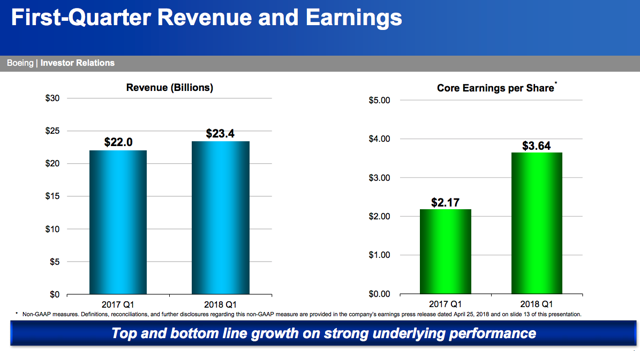 Source: Boeing
The stock is not unreasonably priced for such a strong business. The table below shows key valuation ratios such as price to earnings, price to earnings growth, price to sales, and price to free cash flow for Boeing versus the average company in the Aerospace and Defense industry.
Boeing has an above-average price/sales ratio, which can easily be justified on the fact that the company also generates above average profitability on each dollar of revenue. As a reference, Boeing has a net profit margin of 9.63% versus an industry average of 2.3%.
Looking at the other valuation indicators, Boeing is fairly conveniently priced in terms of price to earnings, price to earnings growth, and price to cash flow.
| | | |
| --- | --- | --- |
| | Boeing | Industry |
| P/E | 23.51 | 27.47 |
| PEG | 1.44 | 1.89 |
| Price/Sales | 2.24 | 1.61 |
| Price/Cash Flow | 18.92 | 19.68 |
When considering the risks, the company is exposed to geopolitical uncertainty, as expressed by the loss of sales to Iran after the U.S retreated from the nuclear deal. This factor goes both ways, though, since Boeing also could be one of the beneficiaries from new trade agreements with China.
On a longer-term basis, the company is expected to face growing competition from manufacturers in Canada, Russia, and China in the years ahead. While it's far too early to tell what kind of impact this will have on the company's business, investors may want to monitor the competitive dynamics in the industry.
Looking at price performance, the stock has gained an impressive 21% year to date, but it has been consolidating in a lateral range over the past several months. The area around $320 per share is working as support, and the level around $370 seems to be an important resistance. If the stock finally manages to move up above $370, this could leave a clear road for more gains ahead.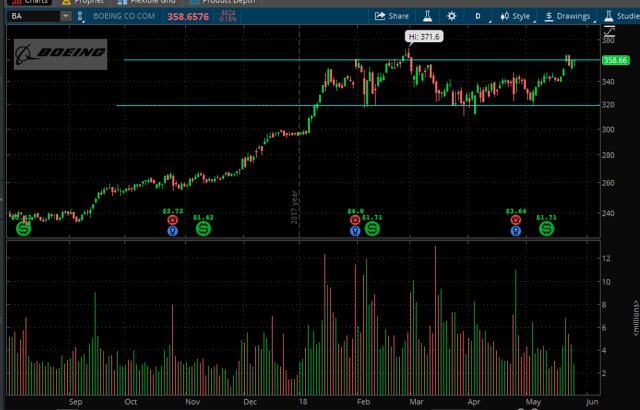 Option Play 1: Buying Long-Term Calls
Those looking to make a strong bullish bet on Boeing stock may want to consider buying long term calls on the stock. For example, the call option with a strike price of $355 and an expiration date on January 18, 2019 is currently selling for around $32.35.
This strategy has a cost of $3,250, and it offers unlimited upside potential. This is a powerful way to leverage a long bet on Boeing stock. For example, if the stock price rises by 15% from current levels, which would mean a target price of $454.25, the call option would provide an expected return of 205.28%.
Investors implementing this strategy need the stock to be above $387.5 by the time of expiration in order to make money.
Options Play 2: Covered Call
For investors looking to hold on to Boeing stock and also make some income from the position, a covered call could be a good alternative. As an illustrative example, you can buy 100 shares in Boeing and sell the call option with a strike price of $390 and an expiration date on July 20, 2018 for $2.88 per contract.
This strategy generates an annualized 12 months projected yield of 7.04%, which comes in addition to forward dividend yield of 2% from holding the stock. The break-even stock price for this covered call strategy stands at $356.33.
Options Play 3: Selling Puts
Another possibility would be selling put options. This can make a lot of sense for investors looking to buy Boeing stock on a price correction, but also wanting to make some money in case the stock does not in fact pull back over the coming days. For example, you can sell puts with a strike price of $342.5 and an expiration date on July 6, 2018 for a current market price of $4.6 per contract.
If Boeing stock is above $342.5 by the expiration date, the puts won麓t be executed, and you get to keep the premium as pure profit. This scenario is generating an effective annual return of 10.8%. Based on historical volatility levels, there is a probability of 72.38% that the stock will in fact be above $342.5 by July 6, 2018.
On the other hand, if the stock is below the strike price at expiration, then you need to either close the position or allow it to be executed, which means you will buying the stock at $342.5. This doesn't sound like such a bad scenario if your initial intention was buying the stock on a price correction to begin with.
The break-even stock price for this strategy is $337.9, which is 5.8% below the current market price for Boeing stock.
Capitalize on the power of data and technology to take the guesswork out of your investment decisions. Statistical research has proven that stocks and ETFs showing certain quantitative attributes tend to outperform the market over the long term. A subscription to The Data Driven Investor provides you access to profitable screeners and live portfolios based on these effective and time-proven return drivers. Forget about opinions and speculation, investing decisions based on cold hard quantitative data can provide you superior returns with lower risk. Click here to get your free trial now.
Disclosure: I/we have no positions in any stocks mentioned, and no plans to initiate any positions within the next 72 hours.
I wrote this article myself, and it expresses my own opinions. I am not receiving compensation for it (other than from Seeking Alpha). I have no business relationship with any company whose stock is mentioned in this article.