Tiffany (TIF) just reported robust first quarter numbers that underscore a powerful turnaround narrative at the jewelry maker. Shares of Tiffany shot up to record highs as a result, and now trade north of $125.
Despite the quarter's strength, we question the sustainability of a $125 price tag for Tiffany stock. We recognize Tiffany's staying power as a favorite jewelry company for millenials, but we also understand the limited growth prospects of the company both from a top-line growth perspective and a margin expansion perspective. At $125, Tiffany stock is not priced for limited growth, and consequently, we feel that current prices are unsustainable.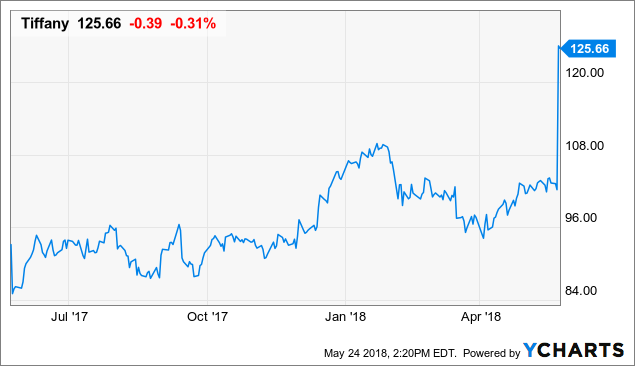 TIF data by YCharts
First, we would like to state that Tiffany is a strong company with an iconic brand and enduring demand. Millennials may not be buying diamonds in bulk as much their parents, but when they do buy jewelry, they are buying it from Tiffany. This has been true for multiple years, and we don't see this trend reversing any time soon. Recent quarterly numbers affirm this, as comparable sales rose 7% in constant currency, one of the company's best marks in recent memory, led by robust strength across all geographies ex-Europe where gains were mostly currency driven.
We think this is only the beginning of the operational turnaround for Tiffany. The company will leverage enduring demand for jewelry and sustained popularity among young buyers to drive both positive comparable sales and square footage growth over the next several years. Margins also should head higher as Tiffany leverages expenses alongside healthy growth.
But that growth won't be big enough to warrant the current valuation on TIF stock. Over the past several years, Tiffany has actually struggled as young buyers have strayed away from the jewelry markets. Thus, this year's big growth isn't the norm. It is just a bounce back. After this year, revenue growth will likely normalize back to historical levels of around 5% per year.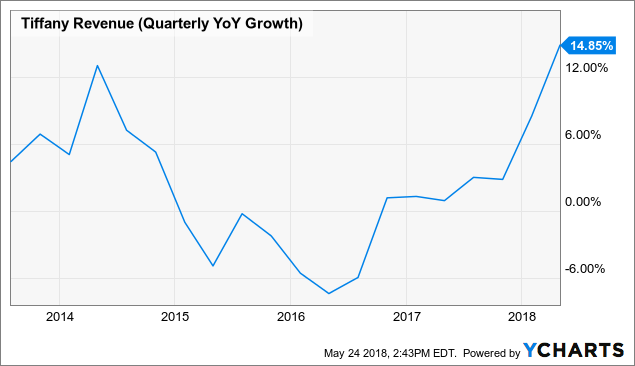 TIF Revenue (Quarterly YoY Growth) data by YCharts
Margins should head higher over the next several years as healthy revenue growth returns and allows Tiffany to drive the opex rate down. But this past quarter's outsized operating margin expansion of 320 basis points is not expected to persist, according to management. Management plans to invest more in future quarters, and thinks that while margin expansion will remain positive, it will not be as robust as it was in the first quarter. Consequently, the long-term outlook for operating margins is mild growth back to peak levels of around 21%, not for super-charged growth to new highs.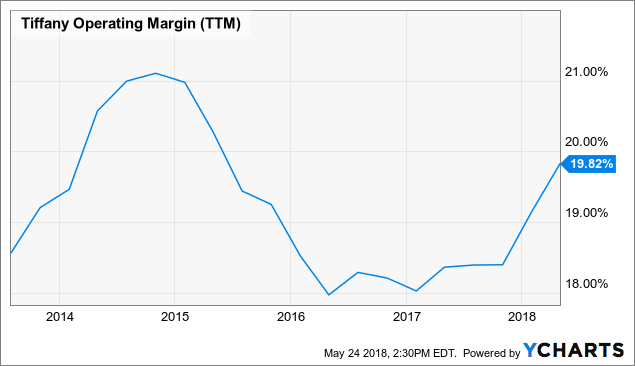 TIF Operating Margin (TTM) data by YCharts
All in all, this is a 5% revenue growth story with mild margin drivers, the combination of which should lead to strong revenue growth, but not that strong. Indeed, long-term earnings growth estimates on Tiffany call for 13% earnings growth per year over the next several years. That 13% earnings growth looks rather anemic next to the company's current forward earnings multiple of 27.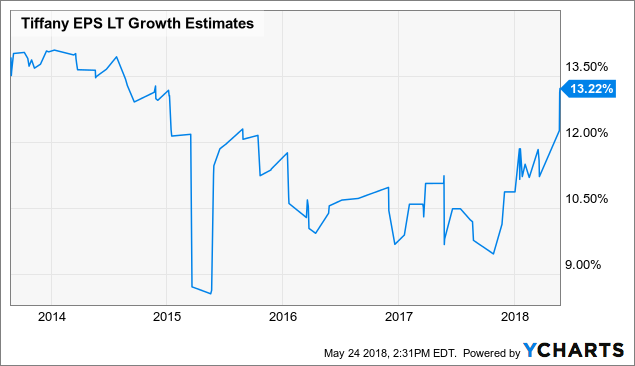 TIF EPS LT Growth Estimates data by YCharts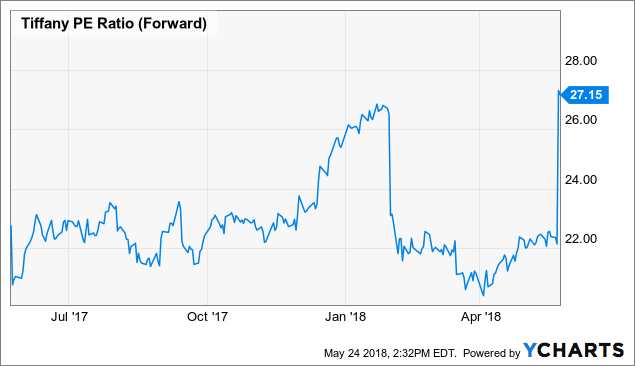 TIF PE Ratio (Forward) data by YCharts
Indeed, Tiffany's price-to-earnings/growth (or PEG) ratio is near three-year highs of right around 3. Historically speaking, PEG values this high for Tiffany stock have been unsustainable, and the stock usually normalizes downward after hitting a PEG ratio of near 3.

Fundamental Chart data by YCharts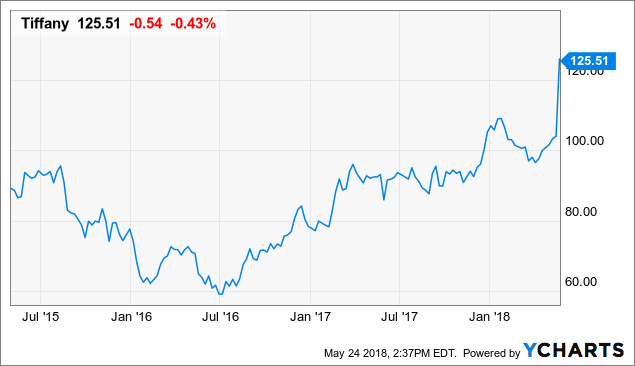 TIF data by YCharts
Overall, we feel that while Tiffany is positioned for success over the next several years as the choice jewelry destination for millennial consumers, we also feel that Tiffany stock is overvalued here and now. We realistically think that, given mid single-digit revenue growth, mild margin drivers, tax cuts, and share buybacks, Tiffany can net around $6.50 in earnings per share in five years. A historically-average 21-times forward earnings multiple on $6.50 implies a four-year forward price target of $136.50. Discounted back by 10% per year, that equates to a present value in the lower $90s.
As such, today's $125 price tag on Tiffany stock just seems too pricey. We expect shares to trend lower from this peak over the next several quarters.
Disclosure: I/we have no positions in any stocks mentioned, and no plans to initiate any positions within the next 72 hours.
I wrote this article myself, and it expresses my own opinions. I am not receiving compensation for it (other than from Seeking Alpha). I have no business relationship with any company whose stock is mentioned in this article.