Quick Take
Adaptive Insights (ADIN) intends to raise $100 million in an IPO of its common stock, according to an S-1 registration statement.
The firm sells a SaaS business planning software suite for finance and sales functions within enterprises.
ADIN is growing quickly but is in a significant transition as the firm seeks to expand its geographic footprint, service offerings, and customer base.
I'll provide an update when we learn further details from management.
Company & Technology
Palo Alto, California-based Adaptive Insights was founded in 2003 by Rob Hull to remove frustrations with out-of-date or poorly-performing corporate planning software.
Management is headed by CEO Thomas Bogan, who has been with the firm since January 2015 and was previously a venture capitalist with Greylock Partners and President of Rational Software.
The firm partners with a range of companies and consultants, including VARs, technology consulting firms, software companies, business consulting firms, ISVs, and technology platform providers.
Investors have invested $180 million in the firm to date and include venture capital firms such as ONSET Ventures, Norwest Venture Partners, Bessemer Venture Partners, Information Venture Partners, CVP SBIC, JMI Equity Fund, and Monitor Ventures.
ADIN has created what it calls Business Planning Cloud, a suite of easy-to-use modules that enables businesses to more effectively plan their financial operations as well as human capital management for the sales function which flows directly into so many aspects of an enterprises financial planning.
Below is a brief overview video of the Adaptive Insights suite:
(Source: Adaptive Insights)
The primary financial and sales areas that ADIN's software suite assists businesses with are:
Revenue Management Expense Management Capital Management Workforce Management Balance Sheet & Cash Flow Financial Close Customer Acquisition
As of April 30, 2018, ADIN claimed 3,800 customers in more than 50 countries.
Its customer base is composed of primarily small- and medium-sized businesses [SMEs] that it obtains either through a self-serve portal for smaller businesses via a free trial or through a direct sales team approach for the medium sized clients it pursues.
ADIN's cost of revenue for its subscription segment has been steadily dropping in recent years:
FYE 2018: 15.7% FYE 2017: 16.6% FYE 2016: 18.4%
Sales and marketing costs as a percentage of total revenue have dropped, indicating increased efficiencies as the firm scales its operations:
FYE 2018: 73.1% FYE 2017: 78.7% FYE 2016: 101.0%
Revenue retention rate is high but has dropped below the 'magic 100%' rate for a negative net churn:
FYE 2018: 98% FYE 2017: 102% FYE 2016: 103% Market & Competition
According to management, it believes the market size for its application functionality is $12.5 billion.
It intends to focus its efforts on international markets such as Australia, Ireland, Canada, Japan, New Zealand, and the UK.
Additionally, as the firm expands internationally, management will need to focus its sales efforts on larger firms and it has only recently begun to make investments in its large enterprise sales force, so will take time to ramp up the success of those efforts.
Major competitive vendors that provide CPM solutions include:
Anaplan (APLAN) Host Analytics Oracle (ORCL) Workday (WDAY) IBM (IBM) SAP (SAP) Centage Prophix Software Vena Solutions Financial Performance
ADIN's recent financial results can be summarized as follows:
Growing topline revenue, although starting to slow the rate of growth Increased gross profit Increasing gross margin Reduced cash used in operations
Below are the company's financial results for the past three fiscal years (Audited GAAP):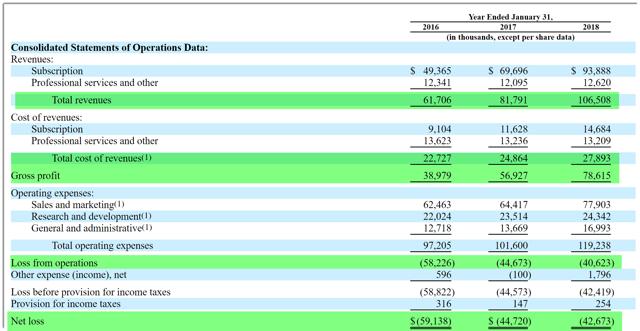 (Source: Adaptive Insights S-1)
Total Revenue ($)
FYE 2018: $106.5 million, 30.2% increase vs. prior FYE 2017: $81.8 million, 32.6% increase vs. prior FYE 2016: $61.7 million
Gross Profit ($)
FYE 2018: $78.6 million FYE 2017: $56.9 million FYE 2016: $39.0 million
Gross Margin (%)
FYE 2018: 73.8% FYE 2017: 69.6% FYE 2016: 63.2%
Cash Used in Operations ($)
FYE 2018: ($15.2 million) cash used in operations FYE 2017: ($34.4 million) cash used in operations FYE 2016: ($40.8 million) cash used in operations
As of January 31, 2018, the company had $30.1 million in cash and $55.4 million in total liabilities excluding deferred revenues.
IPO Details
ADIN intends to raise $100 million in gross proceeds from an IPO of its common stock, although the final figure may be higher.
Management says it will use the net proceeds from the IPO as follows:
…for general corporate purposes, including working capital, operating expenses and capital expenditures. We also intend to use a portion of the net proceeds we receive from this offering to repay outstanding indebtedness under our 2018 Amended Loan Agreement and our 2017 Loan Agreement… The outstanding principal under the 2018 Amended Loan Agreement accrues interest at a floating annual rate of 0.25% above the Wall Street Journal's Prime Rate, and matures in March 2021. The outstanding principal under the 2017 Loan Agreement matures in June 2021. We pay cash interest in arrears on the unpaid principal on a monthly basis at a fixed rate of 6.5% per annum, and we also incur additional interest paid in kind on the unpaid principal at a fixed rate of 5.5% per annum, which amount is added to the outstanding principal balance monthly in arrears. If we prepay the principal under the 2017 Loan Agreement, we will be required to pay a prepayment premium between 1.0% and 4.0% of the principal amount prepaid.
Management's presentation of the company roadshow is not yet available.
Listed bookrunners of the IPO are Morgan Stanley, BofA Merrill Lynch, Jefferies, RBC Capital Markets, JMP Securities, and Oppenheimer.
Expected IPO Pricing Date: Not yet on calendar.
An enhanced version of this article on my Seeking Alpha Marketplace research service IPO Edge includes my commentary and opinion on the firm's IPO prospects.
Members of IPO Edge get the latest IPO research, news, market trends and industry analysis. Start with a Free Trial.
Disclosure: I/we have no positions in any stocks mentioned, and no plans to initiate any positions within the next 72 hours.
I wrote this article myself, and it expresses my own opinions. I am not receiving compensation for it (other than from Seeking Alpha). I have no business relationship with any company whose stock is mentioned in this article.