Amarin (AMRN) continues to chug along as it approaches the finish of its REDUCE-IT study. The results for Q1 2018 were lower than initially expected, due to the effect of beginning of the year insurance deductibles on refills. However, Amarin is keeping its guidance for $230 million in net product sales still.
REDUCE-IT will be extremely important for Amarin's revenues going forward, although the 2018 effect on revenues will probably be fairly limited. Vascepa sales may still benefit in the long-run if REDUCE-IT only shows modest risk reduction, due to Vascepa's favorable safety profile.
Q1 2018 Results
Amarin's net product revenues came in a bit lower (compared to its $45 million to $48 million guidance) than initially expected at $43.8 million. This was still up 27% compared to Q1 2017 though, and slightly better than the $43 million it estimated in its early April update.
Amarin mentioned that sales growth was affected by beginning of the year medical deductibles (as usual), and that the effect this year was particularly strong. Vascepa tends to be more affected since it is a preventative drug treating "asymptomatic chronic conditions". Given limited budgets, patients will often focus first on filling prescriptions for drugs with more immediate consequences if they aren't taken.
Patent Litigation
Amarin reached an agreement with Teva to settle patent litigation over generic Vascepa. Amarin currently has market exclusivity until at least 2020, but is battling generic drugmakers over patents that could give it protection until 2030.
This particular agreement allows Teva to start selling generic Vascepa in August 2029, which is not that much earlier than the April 2030 expiry date for some of Amarin's patents. This is a positive for Amarin as it gives them a lengthy amount of protection from Teva's generic Vascepa and reduces Amarin's legal expenses. However, Amarin's battle continues against two other generic drugmakers at the moment.
If a settlement or favorable ruling can be achieved in the other cases, then Amarin will be protected from generic competition for a considerable amount of time and will be able to reap the benefits if REDUCE-IT is successful.
REDUCE-IT
REDUCE-IT results are expected by the end of Q3 2018, which is only four months away now. The study results don't need to be particularly strong to have the potential to boost Vascepa's sales due to Vascepa's favorable safety profile. Amarin mentioned that its marketing surveys suggested that around a 7% to 8% relative risk reduction or better would be well-received by physicians.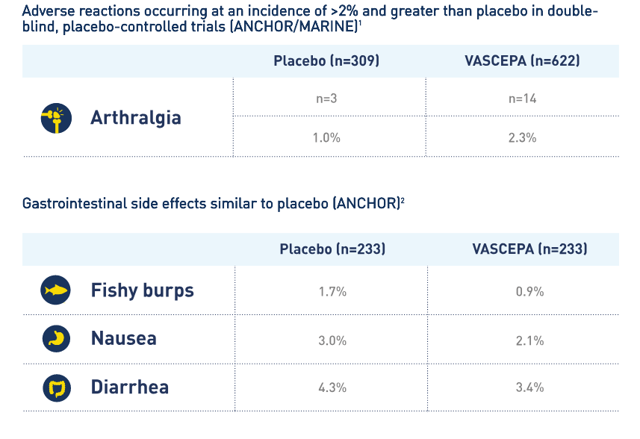 See source for full details.
Of course, despite that relatively low bar, there is still considerable risk involved due to Amarin being a one drug company. If REDUCE-IT results are poor, Amarin's stock will likely take a very large hit. Any investors should be prepared for the loss of a significant part of their investment in Amarin, even if they believe the risk of that happening is low.
Conclusion
With Amarin trading for close to 4x estimated 2018 net product revenue, the stock should likely do well in the long-run even if REDUCE-IT shows only a modest relative risk reduction (as long as it meets the 7% to 8% RRR that physicians require). Given that relatively low bar for success, I am favorably disposed towards Amarin. However, although the odds appear good for Amarin, there are also quite significant negative consequences should REDUCE-IT display a lower level of relative risk reduction.
Free Trial Offer
We are currently offering a free two-week trial to Distressed Value Investing. Join our community to receive exclusive research about various companies and other opportunities along with full access to my portfolio of historic research that now includes over 1,000 reports on over 100 companies.
Disclosure: I am/we are long AMRN.
I wrote this article myself, and it expresses my own opinions. I am not receiving compensation for it (other than from Seeking Alpha). I have no business relationship with any company whose stock is mentioned in this article.