Ambarella (AMBA) reported earnings on Aug. 31st after the market close. While the initial reaction was slightly positive, the stock started cratering as the earnings call got underway. Was the news really that bad? Or do investors just not understand the prospects for the company? In this article, I will take a deeper look at its prospects.
A dying business or a well-funded startup?
Ambarella reported Q2 earnings of $71.6 million, up 10.0% from $65.1 million in Q2 last year. Net income, however, was $3.3 million or $0.10 per share, compared to $8.6 million or $0.25 per share in Q2 last year, a whopping 60% drop! Its guidance also left much to be desired with Q3 revenue guidance between $87.5 million and $90.5 million, representing a year-over-year drop of between 12.9% and 10%. In its conference call, the company also noted that it expected the full fiscal-year 2018 revenue to be 3% to 7% down from the prior year. So is this the sign of a slowly dying company? The s tock reaction on Friday certainly seems to indicate so.
I, however, do not believe that is the right way to look at this company. It is never healthy to have a company with the majority of its revenue tied to a single customer. Unfortunately, that is what happened with Ambarella and GoPro (GPRO). The stock has been on a roller-coaster ride as the prospects for GoPro have changed over the past few years. Ambarella has found it hard to meaningfully diversify away from this large customer and its stock has suffered as a result. There is, however, one silver lining in the story. During the call, management tried to draw focus to its upcoming computer vision chip "CV1." In an earlier article here on Seeking Alpha, I wrote about how ADAS solutions are the most promising segment for Ambarella even though it has not released any products in this category yet.
This is their most interesting segment in my view even though they have limited offerings at this time. Let's forget about dashcams and electronic mirrors for a minute. Ambarella is working on Computer Vision ADAS solutions and also acquired VisLab in 2015 in order to develop Autonomous Driving Solutions. Now to be clear, there is no shortage of companies trying to develop Autonomous Driving Solutions and so far, the undisputed leader in this space (Computer Vision based systems) has been Mobileye which was recently acquired by Intel (NASDAQ:INTC) for $15 Billion. Nevertheless, if they are able to come up with a competitive product in this segment, there is a large market to exploit.
– Ambarella: A Battle Between Fundamentals And Technicals
During the call, Ambarella CTO Les Cohen spoke about how the company is looking to build not just regular vision-based object identification systems but also use stereo vision for hardware accelerated depth res olution for autonomous driving and other such applications. Now to be clear, there is no indication at this point that the current state of the art in this technology is up to this task. It is one thing to use stereo vision for an augmented reality application. Using it for a safety critical application like autonomous driving is quite another. However, the idea that this could be something that complements other systems and can offer further redundancy is valid. In fact, if Tesla (TSLA) ever achieves its goal of fully autonomous driving using a primarily vision-based system, I am convinced it will absolutely need to use algorithms like these for depth perception.
The CV Flow processor supports many other CV algorithms including the stereo obstacle detection and terrain mapping technology developed by our VisLab team. We believe that stereo depth information provides an important augmentation to mono CV processing resulting in an extra margin of safety for autonomous driving and other applications. Mono CV processing depends on training to detect obstacles and may not detect obstacles that are not represented in the training set. Stereo detects obstacles without relying on training because the depth information is used to directly construct a 3D model of the road and obstacles. CV1 incorporates a dedicated stereo disparity engine which provide depth images beyond the resolution of radar and lidar. This depth information is then processed by the CV Flow processor to generate high-level 3D models in real time of the obstacles and terrain. CV1 supports other stereo CV algorithms such as curve and barrier detection, drone obstacle detection and localization. In fact CV1 can implement full autonomous drone functionality including sensor fusion and navigation. – Les Cohen CTO, Ambarella
I do not think investors should worry too much about the declining prospects in the drone or action camera market. Ambarella is now really a startup trying to build a viable solution for ADAS and autonomous driving systems. If it succeeds in its attempt, the company will be valued at significant multiples of its current valuation. Based on its last report, the company has $400.8 million in cash, cash equivalents and marketable securities. This gives it enough of a runway to try to build its automotive solutions. The future prospects for the company will depend on this. It also means Ambarella is not a "value" investment. It is extremely risky and with so many competitors trying to get into this market, no one really knows what will happen to the company if it fails in its attempt.

Fair Value
Over at FundamentalSpeculation, sometimes our subscribers ask us why they should care about the "relative fair value" when the stock seems to be drifting away from it. Well, Ambarella is one of the perfect examples for why you should. Over the past few weeks, the stock has slowly rallied to a point where it got to a significant premium to our fair value. However, it all came crashing down last week.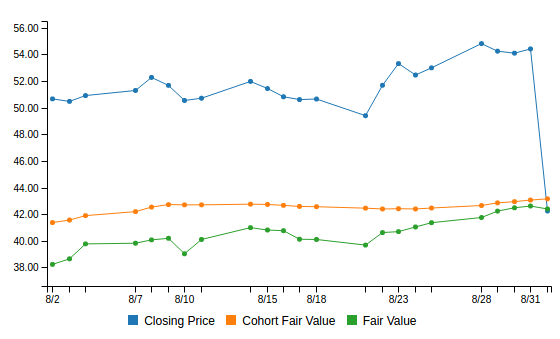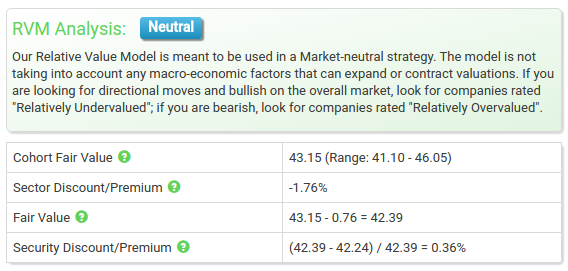 Source: FundamentalSpeculation
We compute our fair value using a Machine Learning-based algorithm that finds a cohort of comparables with business fundamentals closest to the target company. Here is how the cohort for Ambarella and its valuation metrics look like in our model.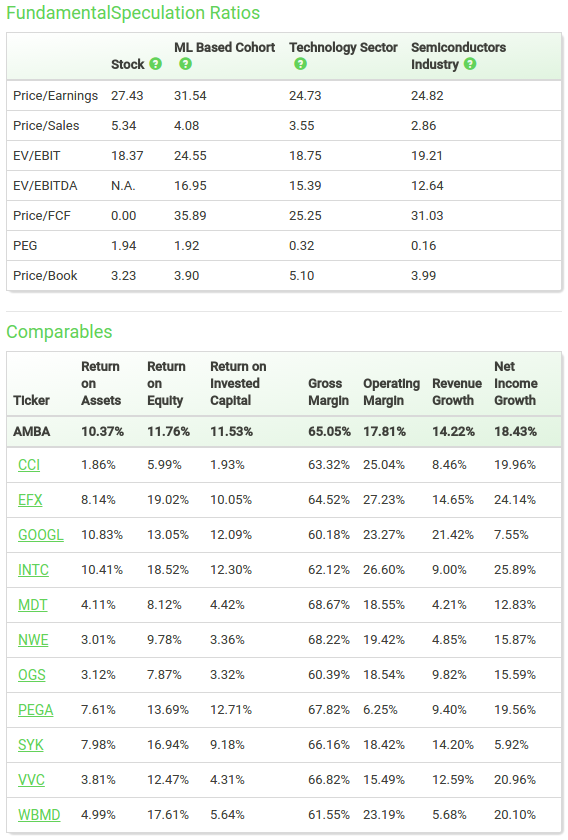 Source: FundamentalSpeculation
Does this make Ambarella a good buy at today's price? Not necessarily. The premium in the stock has been taken out and it is currently trading on par with other companies with similar fundamentals. If its fundamentals continue to deteriorate or there is a larger sell-off in the market, our fair value will go down. The stock may even go down without any further deterioration in fundamentals if investor sentiment continues to be negative. However, if you believe in the prospects for the company's automotive segment, you now have an entry point where you are not having to pay a significant premium.
Disclosure: I/we have no positions in any stocks mentioned, and no plans to initiate any positions within the next 72 hours.
I wrote this article myself, and it expresses my own opinions. I am not receiving compensation for it (other than from Seeking Alpha). I have no business relationship with any company whose stock is mentioned in this article.
Additional disclosure: The Content provided in this article should be used for informational and educational purposes only and is not intended to provide tax, legal, insurance, investment, or financial advice, and the content is not intended to be a substitute for professional advice. Always seek the advice of a relevant professional with any questions about any financial, legal or other decision you are seeking to make. Any views expressed by Laxman Vembar are his own and do not necessarily reflect the view, opinions and positions of FundamentalSpeculation.IO. Finally, you should not rely solely on the information provided by the models on FundamentalSpeculation.IO in making investment decisions, but you should consider this information in the context of all information available to you.
About this article:ExpandAuthor payment: $35 + $0.01/page view. Authors of PRO articles receive a minimum guaranteed payment of $150-500.Tagged: Investing Ideas, Long Ideas, Technology, Semiconductor Equipment & Materials, CFA charter-holdersWant to share your opinion on this article? Add a comment.Disagree with this article? Submit your own.To report a factual error in this article, click here