Oil prices have continued their volatility after news broke that the EIA (Energy Information Administration) released generally mixed oil-related data for the prior week and after an interesting rig count update. In what follows, I will go over the data released by both the EIA and Baker Hughes (NYSE:BHI) and give my own thoughts on what it means for investors in companies like Memorial Production Partners (NASDAQ:MEMP), Approach Resources (NASDAQ:AREX), and Legacy Reserves (NASDAQ:LGCY), as well as for the United States Oil ETF (NYSEARCA:USO) and other oil-related ETFs moving forward.
Mixed but mostly negative inventory data
According to the EIA, crude oil stocks for the week came in at 525.9 million barrels. This represents a build of 2.3 million barrels from the 523.6 million seen a week earlier and while this number is not particularly large in and of itself, it was worse than the 1.5 million barrel build forecasted by analysts and meaningfully exceeded the 0.9 million barrel build estimated by the API (American Petroleum Institute). In the graph below, you can see the trend that crude oil stocks have taken over the past 52 weeks.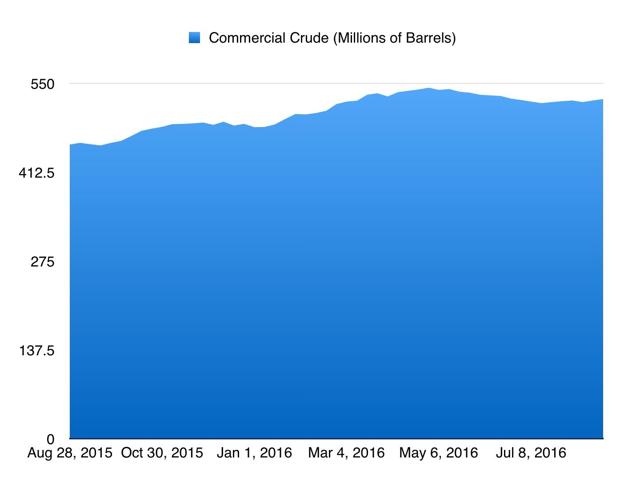 Click to enlarge
*Graph Created by Author Using EIA's Data
Unfortunately, besides crude, there were other categories that worsened during the week. If the EIA's data turns out to be accurate, distillate fuel stocks grew by 1.5 million barrels from 153.3 million barrels to 154.8 million, while propane/propylene jumped an impressive 2.4 million barrels from 96.1 million to 98.5 million. Other areas saw increases but increases nonetheless. Based on the data provided, fuel ethanol stocks inched up 0.1 million barrels from 20.8 million to 20.9 million while the "Other" category of petroleum products rose 0.2 million barrels from 291.4 million to 291.6 million.
There were, of course, some bright spots for the week. The EIA believes that motor gasoline stocks fell by 0.7 million barrels, dropping from 232.7 million barrels to 232 million, while kerosene-type jet fuel stocks declined 0.8 million barrels from 41.8 million to 41 million, and residual fuel oil fell 0.5 million barrels from 40.5 million barrels to 40 million. Despite these improvements, however, the larger builds in crude, distillate fuel, and propane/propylene sent total crude plus petroleum stocks up 4.5 million barrels for the week, growing from 1.4002 billion barrels to 1.4047 billion barrels.
Some pretty good news
Though inventory data was more negative than positive, there was some pretty good news for the week. According to the EIA, domestic oil production for the week averaged 8.488 million barrels per day, a drop of 60 thousand barrels per day (or 420 thousand barrels for the week) compared to the 8.548 million barrels per day seen just one week earlier. What's more is the fact that the vast majority of this improvement came from the Lower 48 states as opposed to Alaska, which has demonstrated some interesting movements lately. In the graph below, you can see the trend that domestic oil production has taken over the past 52 weeks.

Click to enlarge
*Graph Created by Author Using EIA's Data
In addition to seeing production fall, the EIA also believes that demand came in pretty high. Though motor gasoline demand dropped to 9.511 million barrels per day for the week, down from 9.659 million barrels per day a week earlier, total demand was still up 0.8% year-over-year. Using the four-week average figure, demand came out to 9.675 million barrels per day, an increase of 1.8% over the 9.505 million barrels per day seen the same period a year earlier. Meanwhile, the four-week average for distillate fuel demand came in at 3.763 million barrels per day, an increase of 1.7% from the 3.701 million barrels per day estimated a year ago.
The rig count may be peaking
In addition to seeing year-over-year figures for demand come in fairly strong while production continues to fall, some interesting news came out from Baker Hughes. According to their numbers, the oil rig count in the U.S. came in at 407 units for the week, an increase of just 1 unit week-over-week and following up a flattening that took place in the rig count a week earlier. This means that the rig count is still down 38.5% from the 662 units seen the same time last year. In Canada, meanwhile, the oil rig count dropped by 7 units to 77 but is nearly flat compared to the 78 units seen this time a year ago so that's not terribly impressive.
Takeaway
Based on the data provided, the rig count in the U.S. may have more or less peaked for now (though no promises) and production is falling while demand is, relatively speaking at least, up year-over-year. These are all pretty good in my mind but it is important to consider that the market is giving weight to the inventory numbers as well (and justifiably so). These numbers have been elevated by high imports into the U.S. and have been a negative for the market, but with production and demand heading in the right direction it's only a matter of time before the glut is resolved.
Disclosure: I am/we are long MEMP, AREX, LGCY.
I wrote this article myself, and it expresses my own opinions. I am not receiving compensation for it (other than from Seeking Alpha). I have no business relationship with any company whose stock is mentioned in this article.
Additional disclosure: I own LGCYO, not LGCY