Rethink Technology business briefs for May 31, 2017.
For the first time since 2013, WWDC may introduce new hardware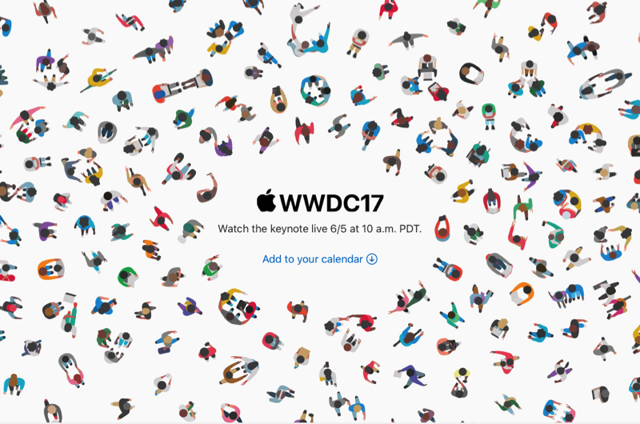 Source: Apple
The keynote for Apple's (NASDAQ:AAPL) Worldwide Developer Conference will start Monday, June 5, at 10 AM PDT. The keynote will be the venue in which Apple will unveil any new hardware products or updates. This is widely expected by virtue of the sheer weight of products that need updating.
The 12.9″ iPad Pro was released in November 2015 and has yet to be refreshed/redesigned. The smaller 9.7″ iPad Pro is now over a year old. After missing a much-rumored March/April update, there are hopes for new iPad Pros to be introduced at WWDC.
Desktop Macs have also gone a long time without a refresh/redesign. iMac with retina displays were introduced in October 2015 (21.5″) and October 2014 (27″). For the Mac Pro and Mac Mini, well, it's best not to think about it.
From Consomac.fr comes a report of new Apple model numbers being registered with the Russian government. There are five new model numbers for macOS 10.12 devices and four new numbers for iOS 10 devices.
Although there is much speculation that the new Macs could be upgraded MacBook Pros or MacBooks, an upgrade this early for the MacBook Pros seems wildly uncharacteristic of Apple. Perhaps this expresses latent dissatisfaction with the performance of the notebooks.
I'm more inclined to think the new macOS model numbers correspond to new iMacs and Mac Minis, with a new model MacBook thrown in. MacBook Air? Apple is probably going to let that line die out, to be replaced eventually by the MacBook. As for the Mac Pro, well, we know that Apple is just starting to think about the new one, and it won't arrive before next year.
The new iOS numbers dovetail nicely with an iPad Pro refresh, with new 13″ class and 10″ class iPad Pros, with separate model numbers for the Wi-Fi-only and cellular models.
There's also an encouraging report from Bloomberg that Apple is already in production of a Siri-based smart speaker to compete with Amazon's (NASDAQ:AMZN) Echo and Google's (GOOG, GOOGL) Home. Such a device has been the subject of speculation for some time. Increasingly, it has appeared that Apple needed such a device in order to stay in the game for cloud-based AI services.
Bloomberg reports that Inventec (OTC:IVCJF) is the manufacturer, and that the speaker will feature better sound quality and "virtual surround." It's likely that Apple will eventually allow third-party developers onto the platform, but that may take some time. In effect, there will have to be a new OS X-derived operating system for the platform (speakOS, homeOS?). This will, in turn, require support within Xcode and a set of APIs for developers to access Siri-related functions.
Bloomberg suggests that while the new Apple smart speaker could be unveiled at WWDC, it won't be immediately available.
Last year, Apple provided only very sparse access to Siri functions for developers. In terms of AI functionality, what it was offering was nothing like what Amazon, Google, or Microsoft (NASDAQ:MSFT) offered to developers. If Apple is going to offer a smart speaker as a developer platform, it will need to open up Siri a lot more to developers and provide a much more comprehensive set of APIs.
Apple needs to up its AI game at WWDC
As of last year's WWDC, Siri wasn't much good to developers besides providing limited voice control of apps and taking dictation. Apple was behind its peers last year in AI-based services, and since then, the field has just exploded.
The company definitely needs to up its game this year, and enhancing the Siri APIs as well as opening it s smart speaker to developers is the right place to start. It will be interesting to see if Apple makes this happen. Even if it doesn't show a smart speaker at WWDC, an enhanced set of Siri APIs will probably serve as confirmation that such a device is on the way.
And I was only partially kidding about homeOS. We may see homeOS merged with tvOS into a general purpose home automation/home entertainment platform with much better AI support for developers. tvOS has not really attracted that much developer support, and game development has lagged the iOS platform considerably. Apple has kept tvOS as a second-class platform good mainly for watch video or shopping. It could be much more.
WWDC provides clues for future products
Apple Watch could be refreshed later this year, and if such a refresh is in the offing, it may be reflected in changes to watchOS. With Android Wear 2 watches featuring direct cellular connectivity, Apple Watch needs to gain independence from the iPhone. While I don't expect cellular connectivity in Series 3, I do expect greater independence through direct Wi-Fi connections. This will probably be reflected in the next version of watchOS, version 4.
Back in March, I discussed the ramifications o f an Apple patent that showed concepts for utilizing iPhones and iPads in notebook-style frames. This seemed to show Apple's concept of "convergence," in which iOS devices begin to take on the roles of traditional personal computers.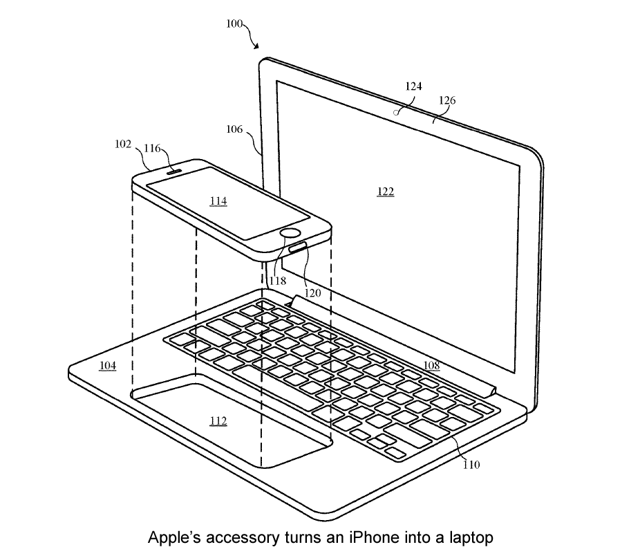 Source: USPTO
Quite often, companies apply for patents and then never pursue them as products, so there's no guarantee this will go anywhere, but in light of Samsung's (OTC:SSNLF) very well executed Galaxy S8 Dex mode, I'm convinced this will become an increasingly attractive personal computing option.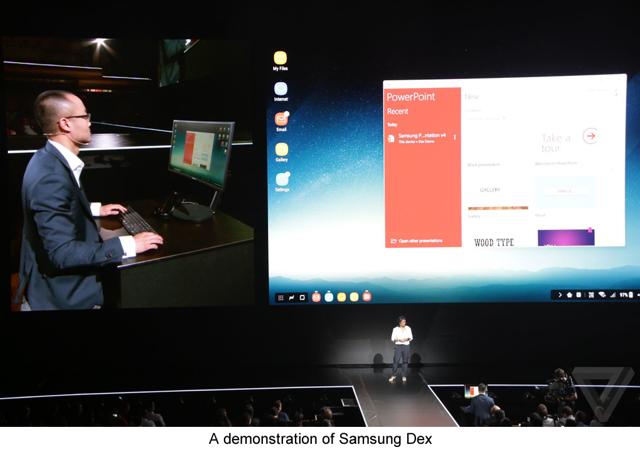 Source: Samsung
If Apple is going to pursue the concept illustrated in the patent, WWDC would probably be a good time to start rolling out the necessary iOS user interface support. This would include things like using an iPhone touch screen as a general purpose track pad, as illustrated above, as well as providing some form of "desktop" display mode within iOS.
Why this is important is that the processors in iPhone have become far more powerful than the iPhone version of iOS needs. The key mission of iOS right now is to find ways to take advantage of that processing power. Starting to offer a personal computing platform based on that processor is a way to do that.
If Apple does show new iPad Pros at WWDC, then the iOS enhancements and iPad Pro enhancements may all come together to show us the company's latest vision of personal computing based on iOS.
Apple is part of the Rethink Technology portfolio and is a recommended buy.
Disclosure: I am/we are long AAPL.
I wrote this article myself, and it expresses my own opinions. I am not receiving compensation for it (other than from Seeking Alpha). I have no business relationship with any company whose stock is mentioned in this article.
Editor's Note: This article discusses one or more securities that do not trade on a major U.S. exchange. Please be aware of the risks associated with these stocks.
About this article:ExpandAuthor payment: $35 + $0.01/page view. Authors of PRO articles receive a minimum guaranteed payment of $150-500. Become a contributor »Tagged: Investing Ideas, Long Ideas, Technology, Personal ComputersProblem with this article? Please tell us. Disagree with this article? Submit your own.Follow Mark Hibben and get email alerts