As the excessively negative market sentiment against retail appears to be fading, the best of breed retailers are the first to recover. For the auto parts industry, AutoZone (NYSE:AZO) is a clear winner. The company is more efficient than ever, more profitable than ever, expanding into more places than ever, and soon I expect the stock to reach the new highs.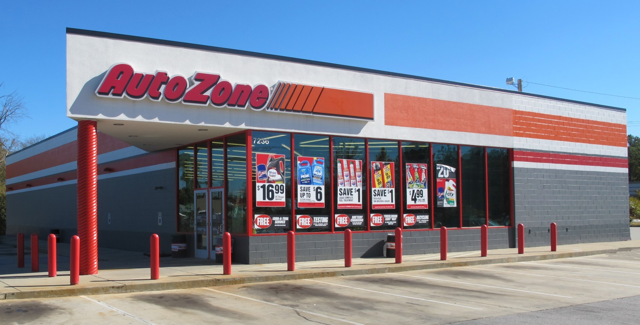 About a year ago, AutoZone (NYSE:AZO) investors got the news that Amazon (NASDAQ:AMZN) was planning on entering their market. This news, combined with a mild winter for the second year in a row, fueled a nearly 40% correction in AutoZone shares. On the conference calls this year AutoZone management explained that the weakness in their sales was mostly weather related. Readers should understand that failure rates for auto parts increase dramatically with extreme weather, and this was something we just didn't see much of last winter. In addition, the company blamed delayed tax refunds for hurting sales.
All along, the company was adamant that the threat from Amazon was not impacting the company. Here is a quote from the most recent conference call on this issue.
"There's been a lot of discussions about the effects of online sales negatively impacting the industry. While automotive parts and products have been sold online for more than a decade, we simply haven't seen any material shift in our business, past or present."
Bill Rhodes AutoZone CEO
Not only is AutoZone not going to roll over and die because of Amazon, they are constantly improving. Their new megahub stores, of which between 40-50 are planned, carry double the number of SKU's of a normal hub store. The point of these megahubs is to increase part availability to either immediate, or within an hour or two, as opposed to overnight. Fascinatingly, this sort of instant availability is exactly what everyone feared Amazon would do.
For AutoZone, these megahub stores are increasing part availability, which is driving sales between 1%-2% higher at stores serviced by the megahub. Today AutoZone only has 18 megahubs. As AutoZone rolls out all 40-50 megahubs, expect organic sales to increase further.
The company is also expanding into Brazil. Currently there are only 14 stores in Brazil, but management projects that there could be over 500 going forward. The company is still expanding in Mexico, and even in the United States. And for you real estate lovers out there, AutoZone owns the real estate at 2,888 of their 6,000 stores, nearly twenty million square feet of owned retail space.
On the issue of miles driven. This is one of the best indicators of AutoZone's business. After all, driving wears out cars and car parts. Therefore, with miles driven breaking records each year for the past few years and most years for the past couple generations, it's logical to assume that AutoZone's business fundamentals would be performing quite well.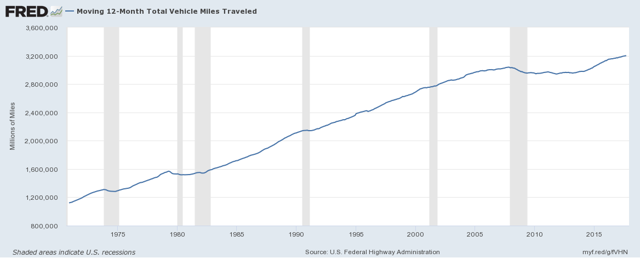 Source: St Louis Federal Reserve
And those ever increasing miles driven are only part of the beauty of AutoZone's business. Another attractive thing is that the business is driven by inelastic demand. If your starter fails you have no choice but to replace it. At the same time running a special on starters and offering discounts won't entice people to buy more. As a result, AutoZone maintains gross margins in excess of 50%, which should make most retailers salivate. It's this type of consistent, high margin growth, that allows AutoZone to grow revenue and earnings year after year after year.
Fortunately, for those AutoZone shareholders who chose to hold their shares or buy more during this year's correction, the market has warmed back up to the company. AutoZone's sales growth is accelerating again after the mild winter last year. AutoZone still feels no effect from Amazon. Underlying trends in the auto parts industry are still solid. Best of all, while AutoZone's shares were down and out this past summer and fall, the company repurchased a million of its shares, or almost 4% of the company.
This should come as no surprise to anyone who follows the company. The company has been one of the most aggressive buyers of its shares for almost two decades. Each quarter the company updates the cumulative share repurchases since the inception of their first share buyback in 1998. As of today the company has spent over $18 billion buying back stock since 1998. Fascinatingly, AutoZone's market value in 1998 was only $3 billion. And what happens when you spend twenty years and $18 billion buying $3 billion of shares while your underlying business grows year after year? This chart says it all.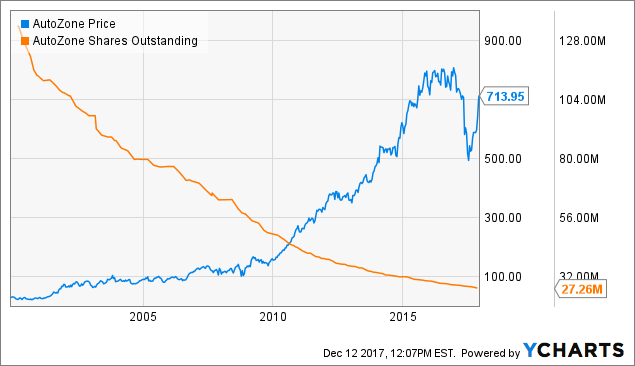 AZO data by YCharts
I wrote about AutoZone earlier this year and I hope that some of you out there were able to buy the price decline to $500 per share. Unfortunately, for those who didn't, I don't think you will get another chance at it. The sentiment around both AutoZone, and retail in general, is improving. AutoZone continues to make intelligent moves with their business, and they continue to repurchase an astonishing amount of their shares. Even small amounts of growth in earnings translate into significant growth in earnings per share when you only have 27 million shares outstanding.
All is not lost however. The fundamentals of this industry will drive AutoZone higher and higher. The company has plenty of growth ahead in the United States, Mexico, and Brazil. Miles driven will only continue to rise, and I expect that AutoZone will trade at all time highs sometime next year.
Disclosure: I am/we are long AZO.
I wrote this article myself, and it expresses my own opinions. I am not receiving compensation for it (other than from Seeking Alpha). I have no business relationship with any company whose stock is mentioned in this article.
About this article:ExpandAuthor payment: $35 + $0.01/page view. Authors of PRO articles receive a minimum guaranteed payment of $150-500.Tagged: Investing Ideas, Long Ideas, Services, Auto Parts StoresWant to share your opinion on this article? Add a comment.Disagree with this article? Submit your own.To report a factual error in this article, click here