Bitcoin prices today were up just 1.28%, as a string of lukewarm reports provided little upside for the cryptocurrency markets.
At the center of today's news, Barclays predicted that the price of Bitcoin will not climb anytime in the near future.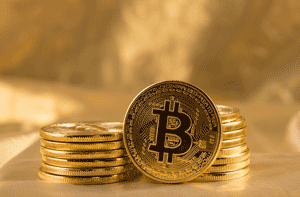 moneymorning.com/wp-content/blogs.dir/1/files/2017/10/stacked-bitcoin-75×49.png 75w" sizes="(max-width: 300px) 100vw, 300px" title="Mike Novogratz" />
In a note to clients, a team of analysts at the British bank compared the bubbles of Bitcoin and other asset prices to the spread and cure of infectious diseases.
The bank suggested that more investors had developed an immunity to the "Bitcoin infection," which was spread by word of mouth and created a frenzy of buying during the final months of 2017.
"We believe the speculative froth phase of cryptocurrency investment – and perhaps peak prices – may have passed," the analysts wrote.
Here is a recap of the top cryptocurrency prices at 2:00 p.m. EDT (returns in last 24 hours).
Bitcoin: $6,843.98, +1.28% Ethereum: $409.06, +2.49% Ripple: $0.491, +1.06% Bitcoin Cash: $653.37, +2.40% Litecoin: $114.54, -0.43%
Now that we know all of today's price movements, here's what has been moving these cryptocurrencies…
Cryptocurrency News Today
On Tuesday, the market capitalization of the global cryptocurrency sector hit $264.15 billion.
Bitcoin comprised 44% of the total cryptocurrency market, with a market cap of $116.13 billion.
The top performer in the space was ELF, which gained 48.52% over the last 24 hours.
Other top performers from the top 50 cryptocurrencies were Verge (up 23.61%), Ontology (up 19.68%), Wanchain (up 11.74%), Bitcoin Diamond (up 9.61%), Bytom (up 8.05%), Siacoin (up 7.30%), Bytecoin (up 6.46%), and ICON (up 5.92%).
The worst performers from the top 50 cryptocurrencies included IOStoken (down -3.81%), DigixDAO (down -0.92%), Litecoin (down -0.43%), Nano (down -0.43%), and Dash (down -0.37%).
George Soros Jumps into Cryptocurrencies
Fortune revealed that billionaire George Soros, the Rockefeller family, and the Rothschild family have jumped headfirst into the cryptocurrency industry.
This is a significant development among institutional investors, as it appears that the recent downturn in cryptocurrency prices has established a buying opportunity.
Never Miss a Cryptocurrency Opportunity Again
Did you know we have a free research service that finds the most profitable opportunities in cryptocurrencies today?
It gives you real-time recommendations and price updates on only the best ways to make money now.
Here's everything you need to know.
The Bitcoin Tax Man Cometh
Bitcoin and other cryptocurrency investors are reminded that they will need to file their gains and losses with the Internal Revenue Service when they file their taxes this week.
Not only do investors need to provide a breakdown of their final trades, but they may also need to list nearly every transaction that took place.
Traders will need to obtain their final net gains and losses and ensure that they pay gains taxes based on property.
Finding the Next Crypto 10-Bagger
We've spent the last few months developing a series of special, comprehensive videos and reports that we want to share with you.
Altogether, they'll give you an even stronger crypto "insider's edge."
I hope you'll take advantage of all the great research on this breakout digital coin.
To find out how to get all this, just take a look.
FollowMoney MorningonFacebook,Twitter, andLinkedIn.
Join the conversation. Click here to jump to comments…