Shares of Bellicum Pharmaceuticals (BLCM) have fallen by 10% since my mid-January article called it a 篓CAR-T play with catalysts篓.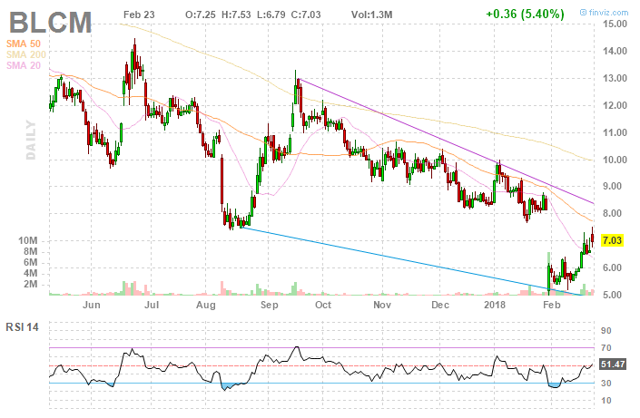 Figure 1: BLCM daily advanced chart (Source: Finviz Elite) (Disclosure: Contains affiliate link)
In my original write-up I noted that although the valuation had shrunk considerably over the past year, increased interest in the CAR-T sector capped off with Celgene麓s (CELG) purchase of Juno Therapeutics (JUNO) would likely result in increased buying interest. Weakness also came as a result of major shareholder Baker Brothers shedding much of their position.
The company refers to itself as a leader in developing novel, controllable cellular immunotherapies for cancers and orphan inherited blood disorders. Their CID safety switch technology, CaspaCIDe, is designed to eliminate cells in the event of toxicity – importantly, I pointed out that this safety switch can be used long after the initial therapy is delivered and could prove useful in the future should certain safety events pop up with CAR-T treatments.
It also brought to mind my Gilead (NASDAQ:GILD) article focusing on its purchase of Cell Design Labs for $567 million, in which I stated that advances in safety would be very important going forward as a point of differentiation versus competition. Although the stock remains off of Wall Street麓s radar, I still wouldn't be surprising to see a larger firm step up to partner with it or move for an outright purchase.
Shifting focus to their adjunct T-cell therapy BPX-501 (utilizes the CaspaCIDe safety switch and is administered after haploidentical hematopoietic stem cell transplant), I reminded readers that both the BP-004 study along with the observational C-004 study in pediatric patients could serve as the basis for regulatory filings in the EMA. Two more trials for BPX-501 are planned in adult patients with AML and in a distinct orphan inherited blood disorder patient population. This would serve to expand the eligible patient population and also help support registrational filing in the United States.
The stock cratered after the company was notified by the FDA that studies evaluating BPX-501 in the United States had been placed on clinical hold after 3 cases of encephalopathy appeared 篓possibly related篓 to BPX-501. While I believed that it could be an overreaction, I took the stock off of the ROTY Contenders List to wait on the sidelines until we received more clarification. I highly suggest readers check out the comments of the previous article as there was a very engaging discussion concerning prospects, aspects of the bear thesis, the clinical hold and related events. It麓s been noted that the rates of encephalopathy in allogeneic stem cell literature are much higher which also indicates this could be an overreaction.
A couple days ago Wall Street finally received the clarification we were looking for and the company has guided for a full response to the FDA within a few weeks. This will include revisions to study protocols (comprehensive monitoring and management of neurotoxicity) along with revision of Investigator Brochure and Informed Consent Documents. As changes appear minor, it麓s no wonder that the stock has showed strength lately and signs of a rebound.
While I take analyst ratings with a grain of skepticism, it麓s still comforting to see that recently Citi upped their price target to $27 and compared the story to other CAR-T firms that have rebounded following a clinical hold, also stating expectations of a partnership in the medium term.
Moving on, previously I reminded readers that we could see data for GoCAR-T candidate BPX-601 (utilizes iMC activation switch and is the subject of an ongoing phase 1 study in nonresectable pancreatic cancer patients who test positive for prostate stem cell antigen) earlier than anticipated as a result of a change in protocol that was supported by the FDA. I also noted that their TCR candidate BPX-701 is the subject of an ongoing phase 1 study in patients with refractory or relapsed AML and myelodysplastic syndromes who test positive for preferentially-expressed antigen in melanoma. As if that were not enough, a study is beginning in the fourth quarter as a result of a collaboration between Bellicum and certain academic partners to determine the benefit of CaspaCIDe in managing toxicities associated with CD19 CAR-T cells.
For the third quarter, the company reported cash and equivalents of $118.6 million, while management stated its expectation of finishing the year with $90 million to $95 million. Net loss rose significantly to $23.4 million while research and development expenses totaled $18.1 million.
Bellicum Pharmaceuticals Is A Buy.
Readers who have done their due diligence and are interested in the story should purchase a pilot position. I would establish half of one麓s desired stake in the near term, waiting for price action and volume to pick up before adding more.
Risks are many, including disappointing data for lead candidate BPX-501, a failure to address recent issues raised by the FDA in regards to the clinical hold or negative developments for other key pipeline assets. Looking at its cash position and burn rate, dilution in the medium term is quite possible. High competition in the CAR-T field should also be taken into account.
I will be adding (again) the stock to the ROTY Contenders List to keep a closer eye on it going forward.
For readers interested in stocks with near- to medium-term upside, I encourage you to take a look at the latest edition of ROTY (Runner of the Year), which includes our ROTY 10-stock model account and the ROTY Contenders List.
For those of you who lean more toward long-term investing, I suggest checking out the most recent edition of our Core Biotech Buys series in which we seek to build a diversified portfolio in the biotech arena via selection of stocks with multi-year upside potential and limited downside.
In response to readers' requests, I am preparing to launch the ROTY Marketplace service on March 1st (see my preview blog post). Subscribers will receive exclusive access to the ROTY model account, Contenders List, Catalyst Tracker, related articles and archived content, ego-free live chat and more. Your feedback has been very helpful and incorporated, including the need for a competitive price point that allows accounts of all sizes to continue to follow along.
For those of you who choose not to subscribe, I appreciate you following as well and will continue to publish non-ROTY ideas and the Core Biotech series as public content. While it sometimes takes me a while to respond due to a hectic schedule, I am and will continue to be available via private message for concerns or questions you have going forward.
Disclaimer: Commentary presented is not individualized investment advice. Opinions offered here are not personalized recommendations. Readers are expected to do their own due diligence or consult an investment professional if needed prior to making trades. Strategies discussed should not be mistaken for recommendations, and past performance may not be indicative of future results. Although I do my best to present factual research, I do not in any way guarantee the accuracy of the information I post. Investing in common stock can result in partial or total loss of capital. In other words, readers are expected to (and encouraged) form their own trading plan, do their own research and take responsibility for their own actions. If they are not able or willing to do so, better to buy index funds or find a thoroughly vetted fee-only financial advisor to handle your account. I am in a collaborative relationship with The Biotech Forum/Bret Jensen.
Author's Statement: My goal is to bring to readers' attention undervalued stocks with catalysts that could propel shares higher, as well as provide a fresh perspective on stocks you may already be aware of. I also touch on planning trades and risk management, as those are two areas I feel are often neglected. If you found value in the above article, consider clicking the orange "Follow" button and getting email alerts to receive my latest content. My sincere appreciation for readers who add value and join the discussion in the comments section, as well as those who share my work with others who could benefit from it.
Disclosure: I/we have no positions in any stocks mentioned, and no plans to initiate any positions within the next 72 hours.
I wrote this article myself, and it expresses my own opinions. I am not receiving compensation for it (other than from Seeking Alpha). I have no business relationship with any company whose stock is mentioned in this article.
About this article:ExpandAuthor payment: Seeking Alpha pays for exclusive articles. Payment calculations are based on a combination of coverage area, popularity and quality.Tagged: Investing Ideas, Long Ideas, HealthcareWant to share your opinion on this article? Add a comment.Disagree with this article? Submit your own.To report a factual error in this article, click here