T. Boone Pickens is one of the best energy investors on Earth, and right now hes quietly accumulating a position in one little-known pipeline company – Enterprise Products Partners LP (NYSE:EPD).
The oilman made a fortune in the energy patch; first as a wildcatter through the 1960s, then as a corporate raider in the 1980s, and most recently as a trader through his hedge fund BP Capital. For this reason, I always watch where hes putting new cash to work. And right now, hes making some big bets on pipelines.
In recent quarters, the billionaire has increased his positions in names like Kinder Morgan, Inc. (NYSE:KMI), Williams Partners L.P. (NYSE:WPZ) and Energy Transfer Partners, L.P. (NYSE:ETP). Hes also backing up the truck on a new position: a 331,000 share stake in midstream giant Enterprise Products Partners.
Investors might be wise to follow suit.
The partnership is a play on the countrys second oil boom. New technologies have unlocked vast quantities of oil and natural gas, even at todays low energy prices. The U.S. Energy Information Administration projects American oil output will average 10 million barrels per day in 2018, almost double the daily output from a decade ago.
The West Texas Permian Basin leads this revolution. The geology of the field resembles a layered cake, with fields of oil soaked rock stacked on top of one another. Back of the envelope numbers show the region could contain some 160 billion barrels of oil equivalent; a figure that could get bigger as players further explore the field.
Numbers like those have set off something akin to a modern day gold rush. Drillers have coughed up as much as $22,000 an acre just to get in on the play. Nearly 370 rigs now operate in the region, accounting for one out of every two in production across the country.
Infrastructure remains the biggest challenge. Oil producers dont have enough pipelines, terminals, and processing facilities to accommodate the boom. Output could exceed current takeaway capacity as early as the end of this year.
Enterprise has positioned itself right smack in the middle of this activity.
The partnership owns hundreds of infrastructure assets across the South and Midwest. These facilities ship, store, and process the energy which keeps the country humming. And like a bridge owner collecting tolls on each passing car, Enterprise earns extra fee income with more barrels flowing through its network.
Management, though, wont stop there. The company has plowed billions back into operations to take advantage of the boom.
In 2015, executives announced a new 416-mile pipeline to move crude from the companys Midland, Texas, terminal to its Sealy storage facility west of Houston. With demand for the route surging, Enterprise has already booked most of the pipelines capacity to long-term contracts.
Last month, Enterprise released plans to add 300 million cubic feet per day of capacity to its natural gas processing plant near Orla, Texas. In addition to oil, the shale revolution has also unlocked vast amounts of natural gas liquids (NGLs) – hydrocarbons like ethane, propane, butane, isobutane, and pentane. These plants earn lucrative profits by buying raw NGLs cheaply from drillers and selling the processed products to customers.
On Wednesday, the company announced the start of a new ethylene seaport terminal in the Houston region. Firms like ConocoPhillips (NYSE:COP), Exxon Mobil Corporation (NYSE:XOM), and Dow Chemical Co. (NYSE:DOW) have all expanded their chemical businesses in the area. The completion of a new export terminal will lock in a steady flow of supplies.
The projects provide a perfect example of Enterprises business philosophy of leveraging its integrated midstream network to link supplies and markets, Chief Executive Jim Teague explained in a press release.
By providing direct access to our extensive natural gas and NGL pipeline infrastructure, Enterprise gives Delaware Basin producers connectivity to a full slate of services and end users along the Gulf Coast, including petrochemical operators who are building new facilities and export customers with a strong appetite for U.S. production.
Most of these profits should get passed onto owners.
Since 2013, Enterprise has boosted its payout by more than one-fifth. Today, the partnership pays a quarterly distribution of $0.42 per unit, which comes out to an annual yield of 6.2%.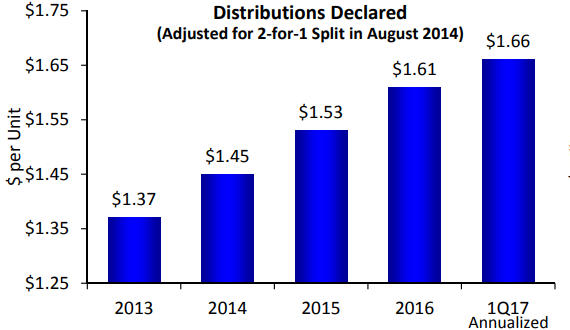 Source: Enterprise Investor Presentation
That trend will likely continue. Analysts project earnings per unit will grow at a high-single digit clip over the next five years, according to numbers compiled by Reuters. We will likely see the distribution increase in line with profits, give or take a few percentage points.
Of course, no thesis is fool-proof.
Enterprises cash flows resemble bond coupons, which is why shares often compete directly with fixed-income securities. For this reason, higher interest rates could clip unit prices. Lower spot rates for oil would also rattle investors, leaving steady-eddy pipeline operators as collateral damage.
That said, I'm not too worried. Enterprise earns most of its revenue from fees, which depend far more on the volume of crude flowing through the oil patch than the price. A big dip in spot rates could lower growth expectations, but likely wouldnt result in a distribution cut.
Bottom line: T. Boone Pickens sees a big opportunity in Americas energy revolution. Hes not betting, though, on the guys getting their hands dirty in the oil fields. Instead, the real money will go to the people supplying the energy boom; especially pipeline operators like Enterprise.
Income investors should give this partnership a second look.
Disclosure: I/we have no positions in any stocks mentioned, and no plans to initiate any positions within the next 72 hours.
I wrote this article myself, and it expresses my own opinions. I am not receiving compensation for it (other than from Seeking Alpha). I have no business relationship with any company whose stock is mentioned in this article.
About this article:ExpandAuthor payment: $35 + $0.01/page view. Authors of PRO articles receive a minimum guaranteed payment of $150-500.Tagged: Investing Ideas, Long Ideas, Basic Materials, Independent Oil & GasWant to share your opinion on this article? Add a comment.Disagree with this article? Submit your own.To report a factual error in this article, click hereFollow Small-Cap Detective and get email alerts