Facebooks (NASDAQ:FB) launch of Watch can bring big surprises in the video streaming market. Alphabets (NASDAQ:GOOGL) YouTube has cornered a huge chunk of this market. In February, YouTube announced that a billion hours of content was streamed every day on its network. With this, the share of Alphabets revenue contributed by YouTube has also increased. Facebook wants to gain a decent share of this market by launching Watch.
Facebooks management has been making it clear in recent earnings calls that they are focused on video-first platform. They have even invested millions of dollars in hiring professional content creators. This includes shows like Nas Daily, where videos are made with fans around the world and Tastemades Kitchen Little which is a food show with kids.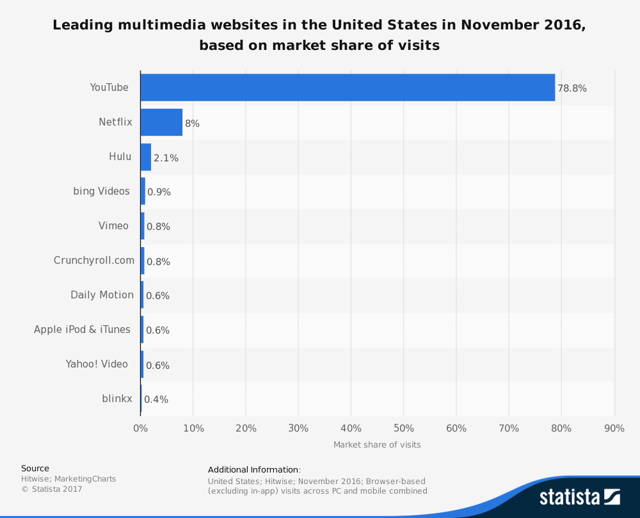 Fig: YouTube has cornered a major portion of multimedia visits. Source: Statista
The biggest advantage for FB is its strong engagement metrics. It has already shown with Instagram Stories that it can leverage its user base to help new platforms gain traction. In less than a year, this feature has gained 250 million MAUs which has put enormous pressure on rival Snap Inc (NYSE:SNAP).
Although YouTube has much stronger platform and greater financial support by Alphabet, Facebook can still attract a good chunk of its user base. Last year YouTube Red backed almost 30 programs and aims to increase its investment this year. It is also in talks with partners to release programs costing $3 million to $6 million per hour.
YouTube has grown rapidly in the past few years by putting greater focus on personalization of videos and giving smarter recommendations. Facebook can take this to another level by delivering community preferences for its videos. This will include showing videos to users based on the interest of their friends and their social interactions on the platform.
YouTube is at a disadvantage when it comes to the level of social engagement. Facebook excels in this department and will use this advantage as it puts greater focus on video content. According to an emarketer report, video ad spending is still a very small part of the larger digital ad spending. Out of a total $72.09 billion of digital ad spending in 2016, video ad spending is estimated to be only $10.30 billion which is less than 15% of the total pie. With the launch of unlimited data plans by major telecom providers, the share of video consumption will increase substantially in the next few years. This will also lead to faster growth of video ad spending.
Facebook is also under pressure to expand into new segments as the ad load on its news feed is almost saturated. At the same time, the user growth in developed markets is in single digits. The average revenue per user (ARPU) growth is also slowing in North America. In Q2 2016, the ARPU growth over year ago period was 54% in this geography. This has decreased in every subsequent quarter. ARPU growth was 49% in Q3 2016, 45% in Q4 2016 and 37% in Q1 2017. In the latest quarter, ARPU growth was only 35% compared to a year ago period.
The biggest reason behind this fall in ARPU growth has been the ceiling limit for delivering ad. Facebook cannot increase the ad load without negatively affecting user experience. Hence, the best strategy for Facebook is to increase engagement on its platform by launching video streaming. This will lead to increase in the time spent by users on Facebook which can be used to deliver more advertisement.
Impact on stock
In the short term, Facebook would need to increase investment in video content. This will negatively affect the bottom line and would hurt EPS growth in the next few quarters. However, in the long run, Facebook can leverage its user base and social engagement on the platform to gain a significant share of the video streaming market. This will help in improving ARPU growth. Due to the long runway of growth in the video segment, we can see better growth in ad revenues as the company gradually improves its monetization of video content.
Facebook is at an advantage in comparison to YouTube due to its massive user base and social engagement. The impact of community and friend preferences in increasing video streaming can be quite substantial. The consensus EPS estimate for fiscal year-end 2019 is $8.07 which means that FB is trading at close to 20 times its earnings in 2019. On the other hand, Alphabet is trading at 19 times 2019 earnings estimate.
However, Facebook has the advantage of higher engagement and a long runway for growth in its video segment compared to Alphabets YouTube. This should allow Facebook to trade at a higher valuation than other competitors making FBs stock a strong buy at the current price.
Disclosure: I/we have no positions in any stocks mentioned, and no plans to initiate any positions within the next 72 hours.
I wrote this article myself, and it expresses my own opinions. I am not receiving compensation for it (other than from Seeking Alpha). I have no business relationship with any company whose stock is mentioned in this article.
About this article:ExpandAuthor payment: $35 + $0.01/page view. Authors of PRO articles receive a minimum guaranteed payment of $150-500.Tagged: Investing Ideas, Long Ideas, Technology, Internet Information ProvidersWant to share your opinion on this article? Add a comment.Disagree with this article? Submit your own.To report a factual error in this article, click here