The technical chart for small cap used car dealer stock Carvana Co (NYSE: CVNA) appears to be showingsome sort of aconverging wedge or pennant chart pattern with shares falling 7.53% yesterday, but also rising in premarket trading:
Awedge chart pattern signals a reverse ofa trend that is currently formed within the wedge itself and isgenerally alonger-term pattern that willusually last three to six months. There are generally two types of wedges:
A falling wedge slopes downward and is considered bullish as the share price will likely break upwards into an uptrend.A buy signal occurs when the share price finally breaks through the upper resistance line in a breakout move thatshouldcome on heavy volume. In addition, the upper (or resistance) trendline should have a sharper slope than the support level. When the lower (or support) trendline is clearly flatter, thissignals that selling pressure is waning as sellers have trouble pushing the price down when shares comeunder pressure. Arising wedge slopes upward and is consideredbearish as the share price will likely break downward downward into a downtrend as it approaches the apex of the pattern.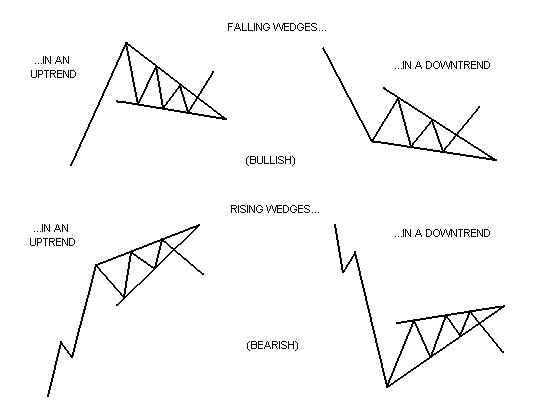 However, Carvana Cos chart is not producing a clearly falling or rising wedge pattern.
This could mean that the technical chart will produce apennant chart pattern which is a continuation pattern formed when there is a large movement in a stock (the flagpole), followed by a consolidation period with converging trendlines (the pennant), followed by a breakout movement in the same direction as the initial large movement (the second half of the flagpole).
Founded in 2012 and based in Phoenix,Carvana Cos mission is to change the way people buy cars. By removing the traditional dealership infrastructure and replacing it with technology and exceptional customer service,Carvana Co offers consumers an intuitive and convenient online automotive retail platform, with a fully transactional website that enables consumers to quickly and easily buy a car online, including finding their preferred vehicle, qualifying for financing, completing the purchase and loan with signed contracts, and receiving delivery or pickup of the vehicle from one of the Companys proprietary automated Car Vending Machines. The Company has delivered vehicles to customers in 48 states, and offers free, as-soon-as next-day delivery to residents in 37 markets: Atlanta, Augusta (Ga.), Austin (Texas), Baltimore, Birmingham (Ala.), Charlotte (N.C.), Chattanooga (Tenn.), Chicago, Cincinnati, Cleveland, Columbia (S.C.), Columbus (Ohio), Dallas, Detroit, Gre enville (S.C.), Hampton Roads (Va.), Houston, Indianapolis, Jacksonville (Fla.), Knoxville (Tenn.), Louisville (Ky.), Macon (Ga.), Memphis (Tenn.), Miami, Nashville (Tenn.), Oklahoma City, Orlando (Fla.), Philadelphia, Phoenix, Pittsburgh, Raleigh (N.C.), Richmond (Va.), San Antonio, St. Louis, Tampa (Fla.), Washington D.C. and now Los Angeles.
Earlier in the month, Carvana Co announced it hadlaunched in Los Angeles, its 37th market, with the press release noting:
All vehicles in Carvanas inventory have passed a rigorous 150-point inspection and have never been in a reported accident nor have frame damage. All features, imperfections and updated information about open safety recalls are listed on the car's vehicle description page, and all Carvana vehicles come with a seven-day, money-back guarantee, giving customers the chance to see how the vehicle fits their life if they arent satisfied, they can return the vehicle within seven days for a full refund Additionally, in 2016, Carvana customers saved an average of $1,430 compared to the Kelley Blue Book Suggested Retail Value.
In early August, Carvana Co did report that second quarter revenue was up142% to $209.4 million, butthe net loss also increased 115% to $38.9 million (cash and cash equivalents stood at $144,433 million as of the end of June). In other words and for now, Carvana Co is going for revenue or market share/volume growth rather than profitability.