Cheniere Energy's (NYSEMKT:LNG) top line growth has gathered terrific momentum since the company started recognizing revenue from its liquefied natural gas (LNG) exports in the second quarter of 2016. The good news is that the strength in Cheniere's top line growth is all set to continue in 2017 as well, which will enable the company to deliver robust upside based on its valuation.
In this article, we will take a look at the factors that will drive Cheniere Energy's revenue growth this year and how much upside investors can expect from the company.
Why Cheniere is on track for strong revenue growth
Cheniere Energy has transitioned from a development phase company into an operational phase company after it substantially completed the Trains 1 and 2 at Sabine Pass. After achieving substantial completion at both these trains, Cheniere Energy has witnessed a massive spike in its top line since it has now started recognizing revenue from its LNG sales.
The good news for investors is that the Train 2 at Sabine Pass is yet to record a full quarter of LNG exports. For instance, in the last reported third quarter, Cheniere Energy had exported 18 LNG cargoes, with Train 2 accounting for only two of the cargoes. Now, in November, Cheniere was set to export nine cargoes, which clearly indicates that the completion of the second train is having a positive impact on its export volumes.
As the company witnesses an increase in its LNG exports, its revenue will continue to rise. Additionally, Cheniere believes that it will achieve substantial completion on Trains 3 and 4 this year itself, which will lead to further growth in its export volumes, and therefore have a positive impact on the top line.
More specifically, Cheniere has achieved 92% completion at Train 3 of the Sabine Pass project, and believes that it will be able to bring it online by the middle of the year. Now, once the Trains 1, 2, and 3 are completed, Cheniere will witness strong growth in its top line since it has entered into a number of fixed fee contracts with buyers. The following image shows Cheniere's agreements: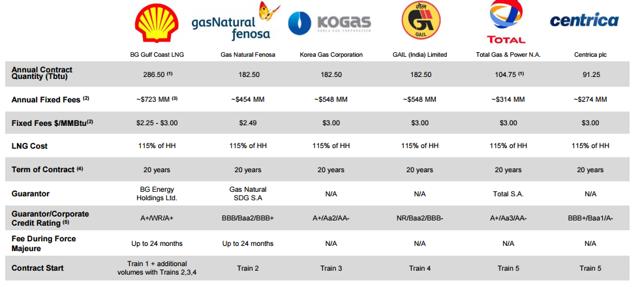 Click to enlarge
Source: Cheniere Energy
As shown above, Cheniere has entered into a contract with BG to supply a total of 286.50 Tbtu of natural gas annually at a fixed price of $2.25-$3.00/MMBtu. Of this volume, Cheniere will supply 182.5 Tbtu on completion of Train 1, 36.5 Tbtu on completion of Train 2, and 34 Tbtu on completion of Train 3.
Assuming that Cheniere completes Train 3 in June, it should export 17 Tbtu to BG from Train 3. This will bring the company's total exports from Train 1 to BG to 236 Tbtu. Now, taking the mid-point of the fee range of $2.25-$3.00/MMBtu, or $2.62/MMBtu, Cheniere will generate annual revenue of around $620 million from Train 1.
On the other hand, from Train 2, Cheniere can be expected to generate fixed fees of $454 million this year as it will export 182.50 Tbtu of LNG to Gas Natural Fenosa at a fixed fee of $2.49/MMBtu. Additionally, if the Train 3 is completed by the middle of the year, Cheniere's contract with the Korean Gas Corporation will kick in, and this should help it generate revenue of $274 million this year.
Hence, on the basis of completion of Trains 1, 2, and 3, Cheniere Energy can generate total revenue of around $1.35 billion in 2017.
Impact of revenue growth on the stock price
In the trailing twelve months, Cheniere Energy has generated total revenue of $784 million. This means that as compared to its current performance, the company's top line will grow over 70% this year. Now, given its current market capitalization of $10.4 billion, Cheniere has a price to sales ratio of 13.33.
Assuming that the company is able to keep this price to sales ratio intact and achieves its projected revenue of $1.35 billion for 2017, its market capitalization will increase to almost $18 billion. This means that Cheniere's stock price by the end of the year could rise to around $75 per share as compared to its current stock price of just under $45 per share. Hence, over the next one year, Cheniere Energy could deliver gains of more than 65% on the stock market.
Conclusion
Cheniere Energy will witness impressive top line growth this year, which will allow the company to deliver strong upside in its stock price based on the price to sales multiple. So, even though Cheniere Energy has gained 20% on the market in the past one year, it will be prudent for investors to continue holding the stock for more gains.
Disclosure: I/we have no positions in any stocks mentioned, and no plans to initiate any positions within the next 72 hours.
I wrote this article myself, and it expresses my own opinions. I am not receiving compensation for it (other than from Seeking Alpha). I have no business relationship with any company whose stock is mentioned in this article.