A rather unusual thing has just happened with Cliffs Natural Resources (NYSE:CLF). The company issued a press release which stated that Barron's and Axiom Capital Management issued materially misleading statements regarding Cliffs' CEO share purchases. Cliffs stated that it believed that the materially misleading statements were an intentional attempt to manipulate Cliffs' share price to support the bearish position of Axiom and that the company had instructed its outside legal counsel to pursue appropriate legal action against all parties involved.
I am not a lawyer and I cannot comment on the legal side of this story. However, I have a strong view regarding another comment that Axiom's Gordon Johnson, who is notoriously bearish on steel and iron ore, has made regarding Cliffs' stock. According to Mr. Johnson, the recent purchase of 200,000 Cliffs shares by Cliffs' CEO Lourenco Goncalves is bearish because Goncalves' track record in purchasing Cliffs' shares is poor.
I find it very strange that an analyst decides to share his view on a CEO market timing ability. Mr. Johnson's logic is the same as, for example, when one says: "Goldman Sachs has just issued a buy rating on XYZ, so XYZ is a sell". This is suitable for a private conversation but cannot be used for public discourse by an analyst of an investment firm. Purchases by members of the management team are not necessarily a bullish factor for the stock, however, I cannot find a single reason why management's purchase of stock could be fundamentally bearish.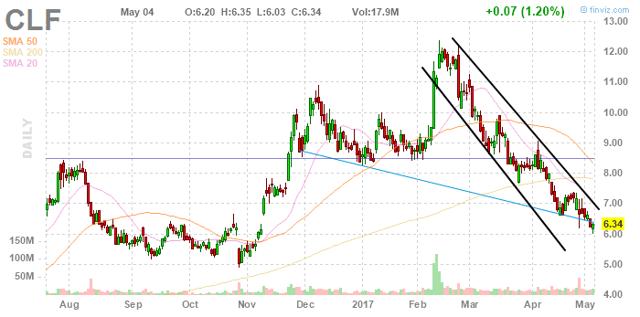 Meanwhile, Cliffs' stock continues to trend down in a downside channel following the first-quarter report. As I previously mentioned, the negativity around steel stocks like U.S. Steel (NYSE:X) or AK Steel (NYSE:AKS) will also put some pressure on Cliffs' shares as such stocks are often traded in baskets. In addition, iron ore prices dropped once again on concerns that Chinese demand is insufficient while supply continues to grow. The usual suspect here is BHP Billiton (NYSE:BHP), which seems to not have learned the lessons from the previous iron ore slump and continues to grow its production. Other majors Vale (NYSE:VALE) and Rio Tinto (NYSE:RIO) should be closely monitored as well.
In my view, there's more panic than facts on this issue. The Chinese story emerges from time to time and puts pressure on commodity market, there's hardly anything new in this. The biggest problem is that few market participants (I originally wanted to use "no one" but there are always exceptions) trust official Chinese statistics and have to come up with their own numbers, which increases uncertainty and leads to periodic panic.
Current negativity around Cliffs' shares should not be taken lightly as market perception moves stocks and the next major data point for Cliffs will be published in three months – the second quarter earnings report, which should show the increase in U.S. segment pricing and the corresponding positive effect on earnings.
Until then, the company's shares will need a pause in the constant flow of negative news to have a chance for material upside. The good part of this negativity is that short interest in Cliffs' stock will increase, and shorts have been one of the reasons why Cliffs shares moved swiftly to the upside when the company published good results in the past.
Cliffs' story is getting increasingly interesting as many factors influence the stock. I continue to believe that fundamentals are sound and that arguments like "CEO buys shares so it's time to sell" are childish at best.
Disclosure: I am/we are long CLF.
I wrote this article myself, and it expresses my own opinions. I am not receiving compensation for it (other than from Seeking Alpha). I have no business relationship with any company whose stock is mentioned in this article.
Additional disclosure: I may trade any of the abovementioned stocks.
About this article:ExpandAuthor payment: $35 + $0.01/page view. Authors of PRO articles receive a minimum guaranteed payment of $150-500. Become a contributor »Tagged: Investing Ideas, Quick Picks & Lists, Basic Materials, Industrial Metals & Minerals, Alternative InvestingProblem with this article? Please tell us. Disagree with this article? Submit your own.Follow Vladimir Zernov and get email alerts