It has been a long very dismal story since the former president of Contango Oil & Gas (MCF) passed away. Kenneth Peak built an oil company with a great reputation for growth. The current management has unsuccessfully struggled to fill his shoes. The result has been a steady decline in a stock price until more than 95% of the value of the company from its highs was lost. The company still has decent financial strength despite management inaction. So a recovery is possible if management becomes motivated to get moving.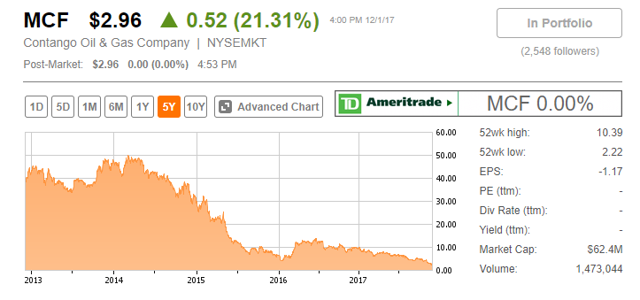 Source: Seeking Alpha Website December 1, 2017
The stock bounced off the bottom before Friday's sizable gain. It has been a long trip down since the stock approached $50 a share. Before the president passed away there was the oil spill. That completely stopped drilling and leasing activity for a time. The death of a key officer simply aggravated an already bad situation.
Then there was the merger with Crimson. This marked a sharp departure from the past strategy. Previously this company drilled few wells at shallow depths offshore. The company strung together enough successes to manage a decent growth record. But one spectacular failure changed all that. The successor president was terminated and the company management pledged to never drill offshore again. Management turned its back on what had previously been the "bread and butter".
The success of the merger with Crimson was short lived. The decline in the price of oil changed the profitability of many prospects overnight. This management cautiously ceased any growth activity. In fact for the most part, activity ceased period except to cash production checks. Even though others in the industry reported much better results with new Eagle Ford and Austin Chalk wells, this management has yet to explore either interval to any extent. Nor has there been any offshore exploration or development since the last disappointment several years ago. In fact the initial strategy was to use the remaining offshore production as cash flow to build an onshore company. That onshore company has in many ways not been built.
Now, with enterprise value at about 10% of its former highs, management finally found something to drill. Cash flow from operations is up slightly to about $27 million at the nine month report. Long term debt can still be handled despite the long decline and lack of replacement drilling activity.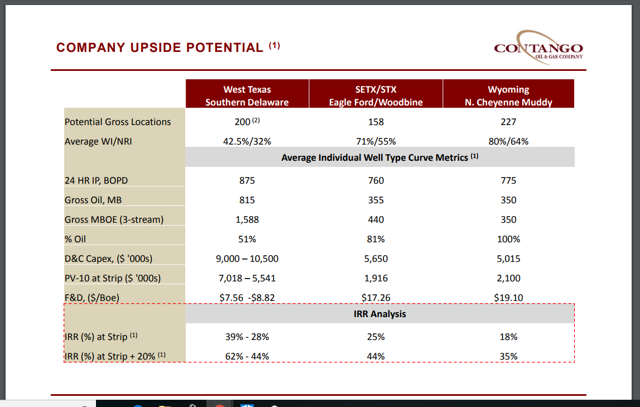 Source: Contango Oil & Gas Johnson Rice Energy Conference Presentation September, 2017
As shown above, what really needs to improve the most though is the results shown above. Sanchez Energy (SN) a highly leveraged but very efficient operator is demonstrating initial flow rates about 3 times the amount shown above. Of course, then the IRR for Sanchez Energy is also far higher with Eagle Ford wells. Less favorable acreage even does far better than what Contango shows. One of the reasons for the severe price discount is that Contango simply shows awful operating results and has for some time.
Supposedly management is practicing on the Southern Delaware acreage.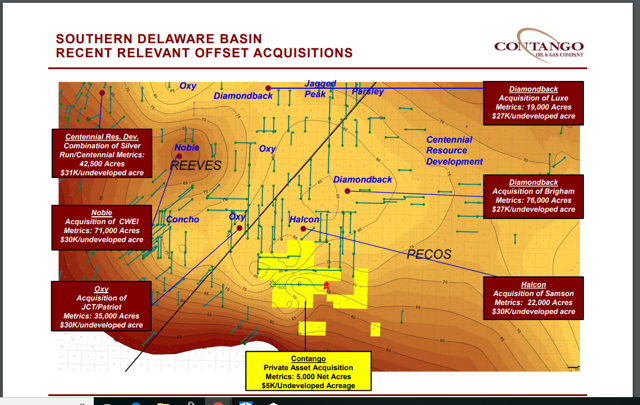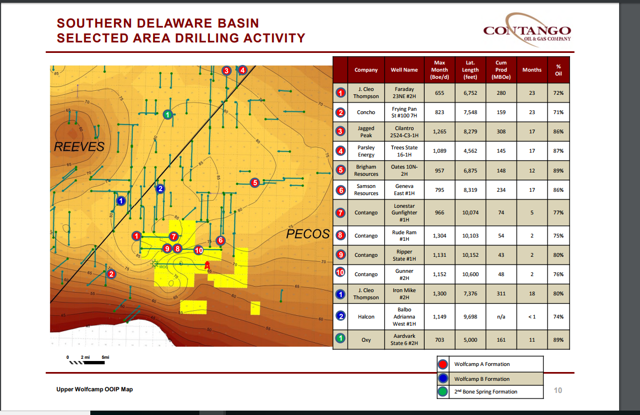 Source: Contango Oil & Gas Johnson Rice Energy Conference Presentation September, 2017
The chart above shows that management is finally beginning to catch on to superior well designs. The well results shown above appear to be very dated. Currently many of the neighbors are reporting much better results to shareholders. The neighbors did not pay the kind of money shown on the first slide to drill mere 40% returns. This management needs to catch up with the competition. All that waiting has really not benefited shareholders at all and the first few well attempts demonstrate that. Now if management can produce some of the better results then perhaps those results can transfer to other leases and this company can finally go back to the growth path it once was on.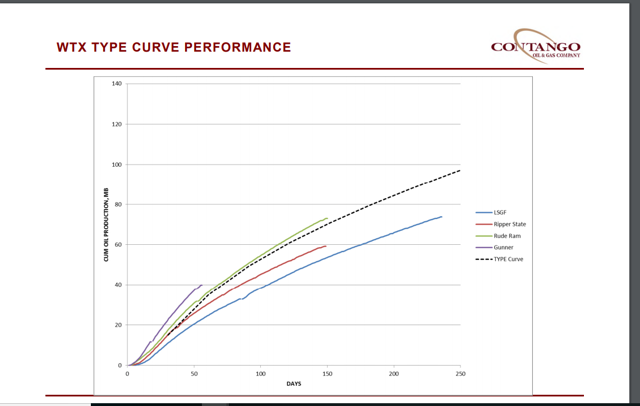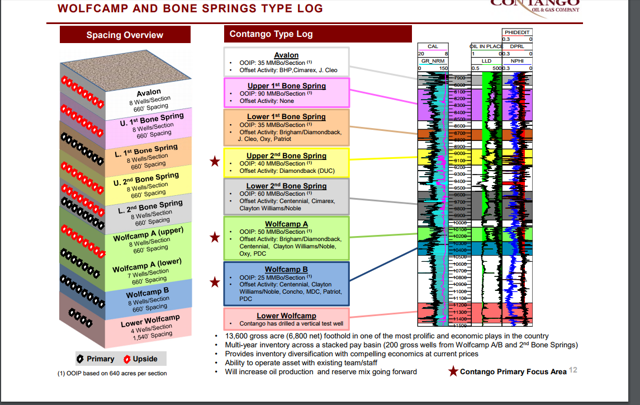 Source: Contango Oil & Gas Johnson Rice Energy Conference Presentation September, 2017
The first slide shows production approaching 100 BOE around the one year mark. However, industry leader EOG Resources (EOG) is doing many times that in a year with the top wells. A minimal improvement should be 200 BOE at the one year interval. Even the companies cited in the second slide are getting far more production within a year than Contango management reports. Clayton Williams, for example, was acquired by Nobel (NBL). You can bet that large acquisition price was for far better returns than Contango is reporting. So this management needs to get with the program fast. This management really has a lot of explaining to do. These wells may be profitable, but clearly they could be so much more than they are.
Some operators swap acreage so they can drill longer more profitable wells. Others swap acreage to increase working interest and operating flexibility. This management just purchased this acreage rather recently, and so is entering the Permian late in the game. But the low profitability with this acreage clearly explains the lack of activity elsewhere. Management needs to bluntly explain how they expect to increase profitability so activity can ramp up and profits grow.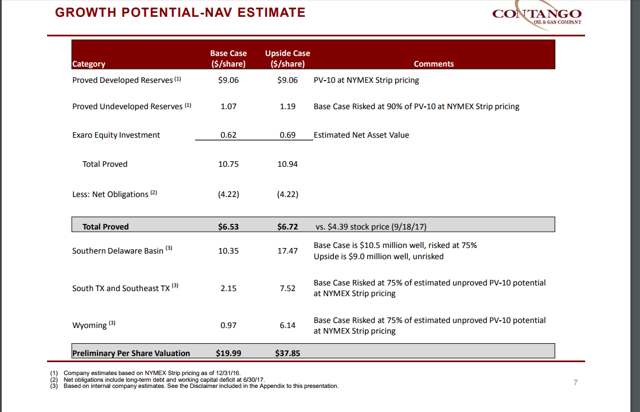 Source: Contango Oil & Gas Johnson Rice Energy Conference Presentation September, 2017
No one is going to pay anything approaching the values shown above until the wells demonstrate much better industry competitiveness. The latest management has now been in place for a few years. Supposedly that management had unconventional industry experience.
Even some of the joint ventures partners are getting restless. U. S. Energy (USEG) is partnering with another operator to test the Georgetown formation. Despite neighboring successes, Contango has not moved to explore the Georgetown on the acreage it shares with U. S. Energy. So some additional success may push U. S. Energy to negotiate the operating position on the shared leases to explore the Georgetown rather than wait for Contango management to get moving. In short, activity on some Contango leases may accelerate despite the inaction of management.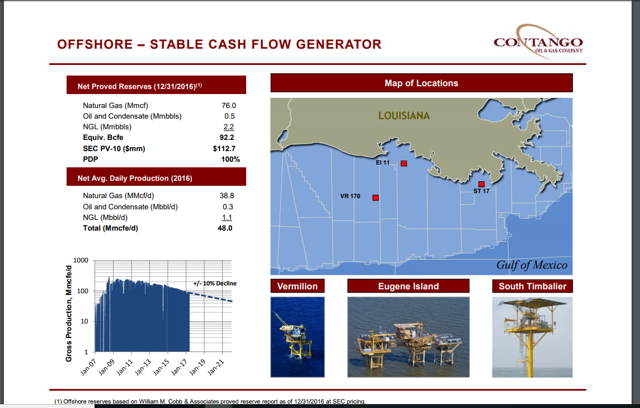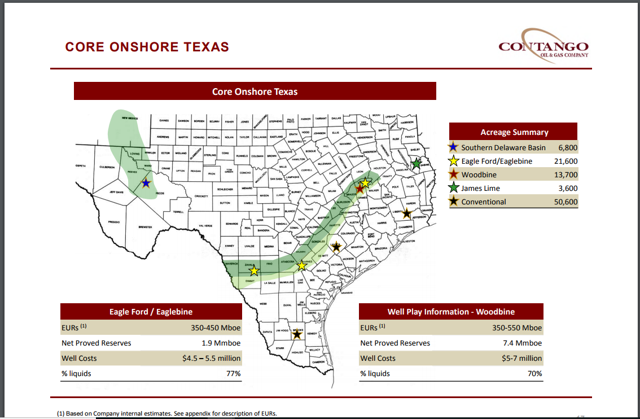 Source: Contango Oil & Gas Johnson Rice Energy Conference Presentation September, 2017
As shown above, much of the production now declines slowly because it is older production. As a result, costs are rising and cash flow is falling. This management began with a wonderful cash generator and has been slowly throwing that cash away. There was a time when drilling was justifiably not profitable. But that time has long passed. It is time that this management produces results comparable to neighboring operators and regains its former glory. There is conservatism and then there is ridiculous. The current situation is well past ridiculous. This whole current situation could have been avoided had management kept up with the steady industry improvements. The current stock price shows a well deserved discount. Management could have easily made far better decisions, and pushed much harder to improve well results. Kenneth Peak, when he was alive, never would have tolerated the current situation. The management just does not demonstrate the same drive and ambition.
This company has a slew of good locations and as a result valuable assets. But the market wants to see profits. So an investment at the current price is a bet that management gets off their chairs and does something more than they have in the past. This company finally has a rig drilling on the new Delaware Basin acreage. For the size of the company there should be three or four rigs profitably drilling. Either that or management should sell the company, pay off the debt and liquidate. At least that would put the shareholders out of their misery. This stock has the potential to sell for many times the current price. All that is needed is reasonable management action. Time will tell if that happens. In any event, the downside potential is pretty well protected by the asset values. The only question is how long shareholders have to wait to realize those values.
If you liked this article please consider hitting the follow button near the top of the article on the right for notices of more articles like this one. For those interested in safer opportunities with above average returns, I will soon be launching a newsletter titled Sensible Speculation In Oil & Gas Stocks.
Disclaimer: I am not an investment advisor, and this article is not meant to be a recommendation of the purchase or sale of stock. Investors are advised to review all company documents and press releases to see if the company fits their own investment qualifications.
Disclosure: I am/we are long USEG SNMP.
I wrote this article myself, and it expresses my own opinions. I am not receiving compensation for it (other than from Seeking Alpha). I have no business relationship with any company whose stock is mentioned in this article.
Additional disclosure: I may initiate a new position in SN or expand my position in USEG at any time.
Editor's Note: This article covers one or more stocks trading at less than $1 per share and/or with less than a $100 million market cap. Please be aware of the risks associated with these stocks.
About this article:ExpandAuthor payment: $35 + $0.01/page view. Authors of PRO articles receive a minimum guaranteed payment of $150-500.Tagged: Investing Ideas, Long Ideas, Basic Materials, Independent Oil & GasWant to share your opinion on this article? Add a comment.Disagree with this article? Submit your own.To report a factual error in this article, click here