On May 6, Reuters reported that Etihad Airways was looking into making changes to its commitments to jet makers. The airline has over 160 unfilled orders with Boeing (BA) and Airbus (OTCPK:EADSF), so the effects could be significant.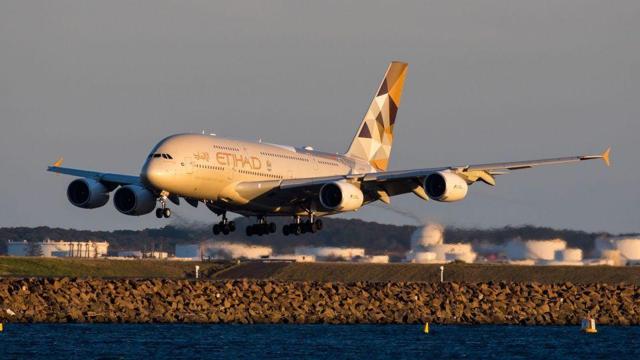 Source: Arabian Business
Last year, we wrote a report on Etihad Airways and its orders with Boeing and one of the things we noted was the following:
With its investments in European airlines, it seems that Etihad bit off more than it can chew. With pressure on yield and demand growth, it's definitely a good moment for state-owned Etihad to reflect and look where they are heading in the coming years.
Back then we expected Etihad to take delivery of its existing orders, but not to be committing to any more purchases. Since then, some things have changed that made things more troubling for Etihad Airways. The problems with the investment in European airlines Air Berlin and Alitalia were already not paying off a year ago, but shortly after we wrote the report the airline basically walked away from its investments. So any fleet growth that had to be supported by the Emirati airline's investment strategy in Europe was nixed. Additionally, there has been some regional friction that has not been in the advantage of the carrier either.
Lack of diversification
In December, on a visit to Dubai and Abu Dhabi we observed some things that led us to believe that Etihad Airways has far more aircraft on order than it actually needs based on its flawed investment strategy and economic diversification or better said the lack thereof. What we saw was that Emirates' hub Dubai International Airport and Abu Dhabi International Airport were 1.5 hours apart by car and within 500 kilometers the hub of another big carrier, namely Qatar Airways, can be found. What this means is that Etihad Airways and Emirates and to a lesser extent Qatar Airways are basically sourcing from the same pool to cater growth. Also when looking at the sectors that these emirates focus on we can see that Dubai focuses on tourism and business while Abu Dhabi still depends a lot on its oil supply.
Specifically for airlines this means that Emirates, as long as Dubai continues adding to its appeal as a tourist destination, can be expected to grow filling economy class with tourists and its premium classes being filled by business travelers. For Etihad, as long as it does not diversify or its diversification remains slow, it will depend much more on business travelers and see demand for business travel increase or decrease based on oil prices. Etihad has been trying to diversify, so the orders it had with Boeing and Airbus were risky but did make sense at some point. Now that its investment strategy has flopped, income from oil to the UAE tumbled and demand for business travel has taken hits, things have started to make less sense. It is important to observe that is not just one thing that has brought Etihad to its knees but a combination of several things.
What has further strengthened our view that Etihad had far more aircraft on order than it needs is the fact that recently it has been focusing more on partnering with Emirates, which shows that Etihad Airways is not in a very good position.
In this report, we are having a look at the Etihad fleet and the orders it has with Boeing and Airbus to assess, which orders are at risk.
Current fleet and orders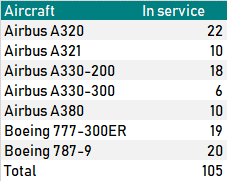 What we see is that Airbus provides all single aisle aircraft to Etihad, while it provides the Airbus A330 for medium haul operators and the Airbus A380 for long haul. Boeing also provides part of the long haul aircraft in the form of the Boeing 777-300ER. Boeing has a total share in the installed base (freighters excluded) of 37% and 47% of the wide body fleet. The fleet of 5 Boeing 777-200LR aircraft has been stored at Teruel and will be taken over by Altavair AirFinance.
Now what is more interesting to look at are the orders. When companies are expecting growth to decelerate or even stall, orders and timelines for deliveries is where you can reduce capital expenditures and sustain capacity.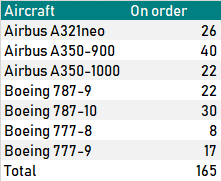 Currently Emirates has 165 aircraft on order almost equally divided between Airbus and Boeing. The value of the aircraft is $23.4B; $12.1B for Boeing aircraft and $11.3B for Airbus aircraft. What is important to note is that there are various ways to reduce the CapEx. Etihad Airways could simply spread out its deliveries over a wider timeframe, cancel some of its orders or convert some of its orders. Ideally, an airline diversifies its fleet but not to the extent that having multiple types adds significantly to the costs.
With that in mind, Etihad Airways could choose to cancel the Airbus A350 orders, which already represent over a third of its order book. The first deliveries were expected this year, though when the order was placed deliveries were scheduled for 2020. It could choose to convert the order to orders for the Airbus A320neo family. However, the A321neo order could be canceled as well, since the aircraft it could replace are averaging 3.2 years and 7.2 years, respectively.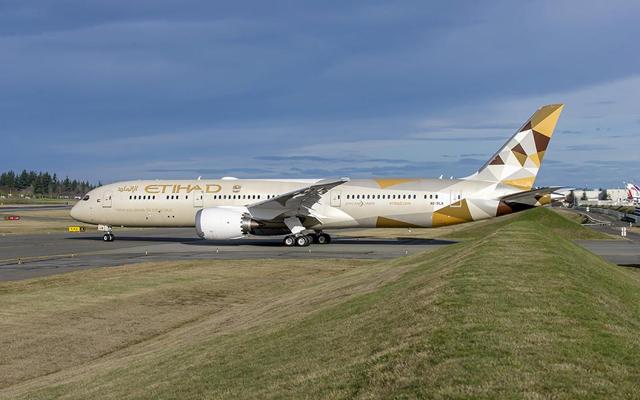 Source: The Boeing Company
Boeing has an advantage over Airbus since the Dreamliner already is in service with Etihad Airways, while the Airbus A350 is not but what needs to be pointed out is that 787-10 has not yet entered service with the airline either. So we might be seeing Etihad converting orders for the Boeing 787-10 to the smaller -9, which could potentially replace the Airbus aircraft in the Etihad fleet.
The Boeing 777X is also in an uncomfortable spot and we think that the airline wouldn't need the Boeing 777-8 at all, since the airline sold the 5 Boeing 777-200LRs it had in service. The Boeing 777-9 could replace the 19 Boeing 777-300ERs, but what can play a role there is the capacity of the aircraft. In order to improve yield, Etihad could choose to fly with smaller aircraft which would be good news for the Airbus A350 and possibly the Boeing 787. There are a lot of ways to make cuts in the order book and we don't know what will be the leading factor for the airline to decide what orders to keep or defer and in what quantities. The airline is going to make a decision based on its growth profile, its capacity requirement, possibly frequency requirement and fleet simplification but we don't know which part will be leading. One thing we do know is that especially for the Boeing 777X things are not looking good, since Etihad Airways could replace the Boeing 777-300ER with the Airbus A350-1000 instead of the Boeing 777-9.
We think that in the worst case scenario, Etihad's orders with Boeing and Airbus could fall from 165 to 55 as it might only keep orders for 35 Boeing 787s canceling or deferring 17 units and completely eliminate orders for the Airbus A321neo and Airbus A350-900 while keeping either the order for the Boeing 777-9 and increase it to 20 units while dropping the order for the Boeing 777-8 or keep the order for the Airbus A350-1000.
Conclusion
If fleet simplification will be key to Etihad's fleet review in combination with capacity requirements, it is likely that either the Airbus A350 order and Boeing 777X orders will be dropped and possibly even the Airbus A321neo order will be eliminated. As the airline will likely have a shallow growth profile going forward, it is also likely that if the airline chooses not to cancel straightaway it will defer a significant portion of its deliveries.
We think that the Airbus A350-900 could be the main victim of Etihad's fleet review and reorientation. The airline will likely have to choose between the Airbus A350-1000 and the Boeing 777X and defer or partially cancel some of its Boeing 787 deliveries.
The single aisle aircraft in the Etihad fleet do not need replacement yet, but in the event that a large number of Airbus aircraft is canceled or deferred we could see it happening that the airline will keep the Airbus A321neo order to soothe the pain somewhat for Airbus.
In the end, many of the Etihad orders that made headlines since 2013 are going to be impacted by the review of fleet requirements. For Boeing and Airbus this could be painful, but the misery of one airline's failed investment strategy should not be viewed as an industry wide problem that might impact either jet maker.
If you enjoyed reading this article, don't forget to hit "Follow" at the top of this page (below the article title) to receive updates for my upcoming articles.
Disclosure: I am/we are long BA, EADSF.
I wrote this article myself, and it expresses my own opinions. I am not receiving compensation for it (other than from Seeking Alpha). I have no business relationship with any company whose stock is mentioned in this article.
Editor's Note: This article discusses one or more securities that do not trade on a major U.S. exchange. Please be aware of the risks associated with these stocks.