Exxon Mobil Is Like A Three-Parts Elephant
Every time I attempt to size up Exxon Mobil (XOM), I remind myself of the parable where a group of blind men who have no prior knowledge of an elephant tries their best to describe the animal. Each man reported their findings based on the part of the body they came into contact with and undoubtedly, they could not come to a consensus. What complicated matters were how individual experience and perspective influenced their perception. The story ends with a wise sage advising them to combine their partial views together to get a better picture of what an elephant actually looks like. Exxon Mobil is like an elephant with its Upstream, Downstream, and Chemical divisions.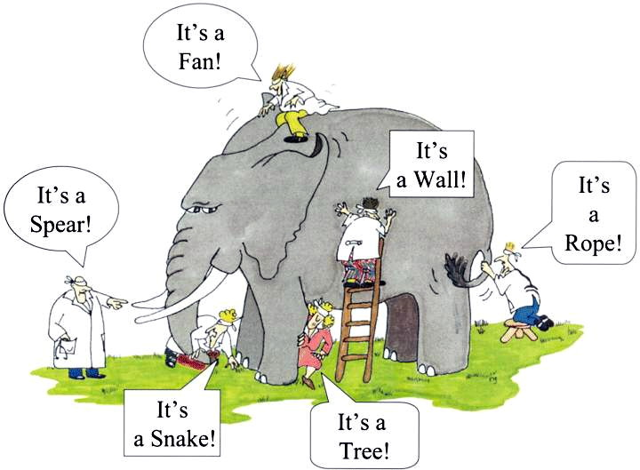 (Source: The Northstar Journal)
I read many articles on Exxon Mobil before I endeavored to fill in the part of the company that appeared to have been neglected by the other writers – Chemical. The article written was titled "Debunking The Chemical Drag" which sought to explain why the Chemical business had been much-maligned and why it should deserve greater recognition of its potential. With that, I hoped readers would have yet another piece of the picture in analyzing the giant oil company with many parts like an elephant. This time around, I will skip the deep dive and assess Exxon Mobil on a company level. The trigger for this study came after the market rout in the past couple of days brought Exxon Mobil's share price down to the multi-year support level.
Exxon Mobil's Share Price Is In A Symmetrical Triangle Formation
For those who like to include basic technical analysis to guide the buying or selling points, you might have observed that the shares of Exxon Mobil have hit the multi-year support line yet again. The last they did so was in August 2017, and before that, January 2016. The sharp decline came just a week after the share price touched the downsloping resistance line. The price ceiling coupled with the floor forms the symmetrical triangle that could break out of either trendline. As the price floor has been tested many more times and over a much longer period, it supposedly is a better support line than the ceiling is as a price resistance. Together with some of the improving metrics I see on a company level, I believe Exxon Mobil has a better chance of rebounding and eventually breaking out of the ceiling.


(Source: ALT Perspective's drawings on a chart derived from Yahoo Finance)
Despite Several Downgrades, Exxon Mobil Still Trades Below The Consensus Price Target
Seeking Alpha's news editor, Carl Surran, noted the multiple price target cuts from Wall Street analysts on Exxon Mobil. For instance, Credit Suisse (NYSE:CS) shaved $4 off its price target to $80 as it lowered earnings and production forecasts. Barclays (NYSE:BCS) went one step further to do a "double downgrade" – switching Exxon Mobil from Overweight to Underweight. Nevertheless, the consensus price target at $86.30 is still 10 percent above the prevailing share price at $78.35. BofA Merrill Lynch reiterated its investment case for Exxon Mobil and deemed the recent price weakness as a buying opportunity. Its price target at $102 was unchanged and was the most bullish among the analysts.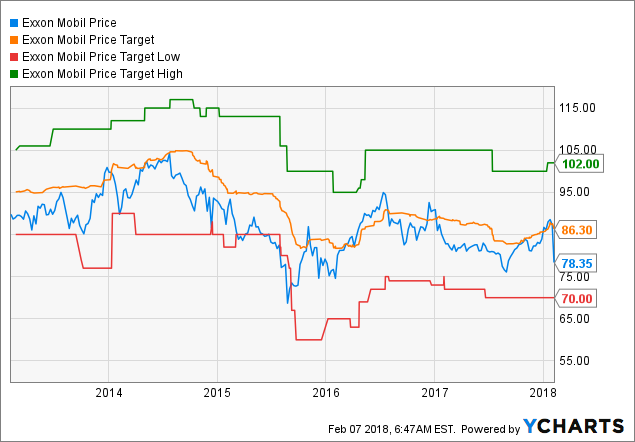 XOM data by YCharts
Exxon Mobil Is A Fundamentally Stronger Company
The oil giant deserves greater recognition for its improving fundamentals. While each of the three key divisions is complex on their own, it is actually easier to understand Exxon Mobil on an aggregate level. Take for instance its cash flow picture. Its cash from operations on a trailing-twelve-month ("TTM") basis bottomed out in 2016 and has improved to $30 billion. Its Capital Expenditures ("CapEx") have lagged behind and only began to climb back in mid-2017. As such, its Free Cash Flow has the opportunity to recover to $15 billion, the highest in three years.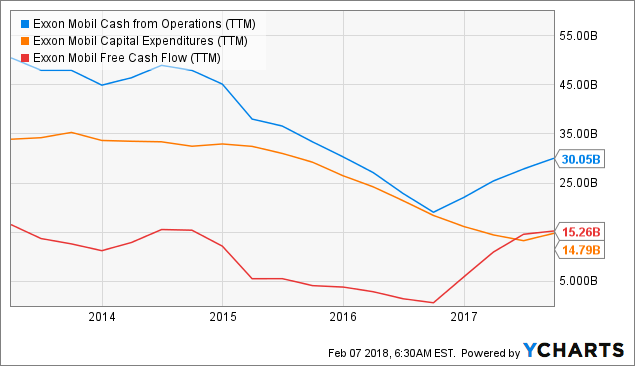 XOM Cash from Operations (TTM) data by YCharts
Its net financial debt level has stopped climbing after a substantial ascent a few years back, a sign that Exxon Mobil is becoming more prudent in its spending, following the upheaval in the crude oil market. There are many more figures and operating metrics to determine the financial health of Exxon Mobil. Academics have over the years performed extensive research on models to help predict the future of companies in a neat fashion. According to Investopedia, the Piotroski F-Score is used to "determine the strength of a firm's financial position" and in turn "determine the best value stocks," with nine being the best and zero being the worst. It is a productive way to rank stocks as the criteria involve profitability; leverage, liquidity, and source of funds; and operating efficiency categories. For Exxon Mobil, its Piotroski F-Score has improved steadily from 2016 to reach a high of 7.0 based on the figures from the last reported quarter, a clear indication of its strengthening financial position. If an even more direct approach is preferred, the Sustainable Growth Rate comes to mind. It is derived by the multiplication of the Return on Equity with the Retention Ratio (the opposite of the payout ratio). Being in positive territory, it meant that Exxon Mobil could continue to grow without the need for additional borrowing at this point.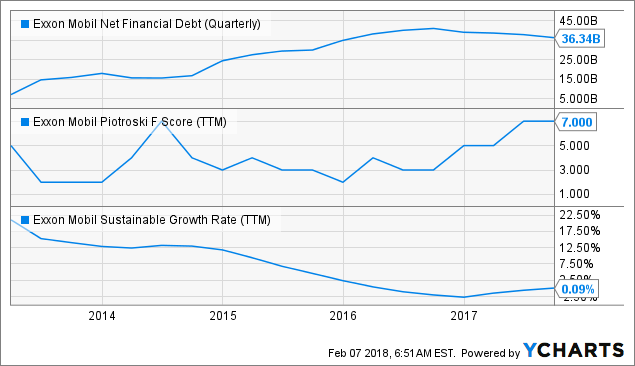 XOM Net Financial Debt (Quarterly) data by YCharts
A Rising Dividend Uninterrupted By The 2014-2017 Oil Price Slump
What is admirable about Exxon Mobil is its ability to raise its dividend steadily over the decades. This happened despite the crude oil price slump in 2014-2017 and the Great Recession of 2008-2009. This demonstrates the company's determination to reward shareholders regardless of market cycles. Based on Tuesday's closing price of $79.35, the TTM dividend yield is 3.9 percent, among the highest in decades.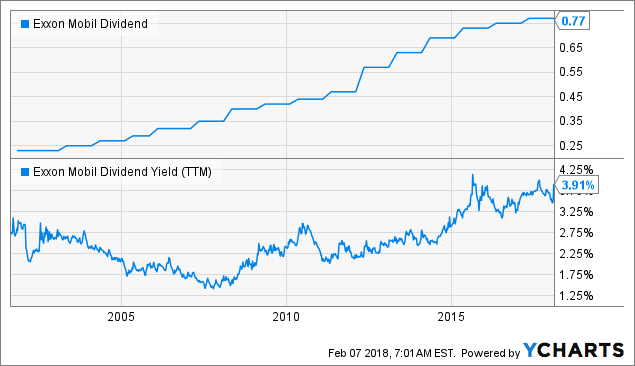 XOM Dividend data by YCharts
Outlook
Barring a recession, the crude oil price is unlikely to revisit the lows in recent years. Hence, Exxon Mobil is not expected to announce another significant reduction in its proven reserves anytime soon. In fact, consensus crude oil price forecast is trending up. Prices are comfortably above $60/bbl since the beginning of 2018, a strong start to the year for crude oil. Simply put, a rising oil price is good for Exxon Mobil.
Crude Oil Price Forecast Range As Compiled By Bloomberg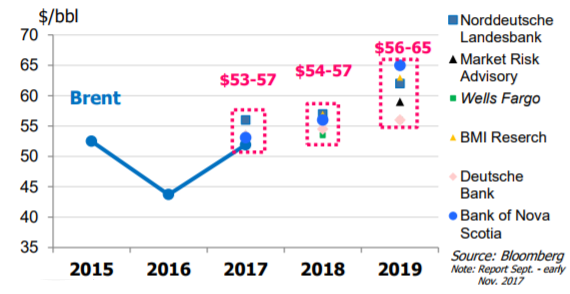 (Source: IRPC)
While Wall Street analysts tend to focus on the quarterly developments, for longer-term investors, it is perhaps more appropriate to consider what's on the horizon a few years ahead. In this respect, the chart below provided by Exxon Mobil on its unconventional liquids production is instructive. By 2025, its unconventional liquids output could become four times higher than the prevailing level and one can imagine the implication of this expansion on the revenue.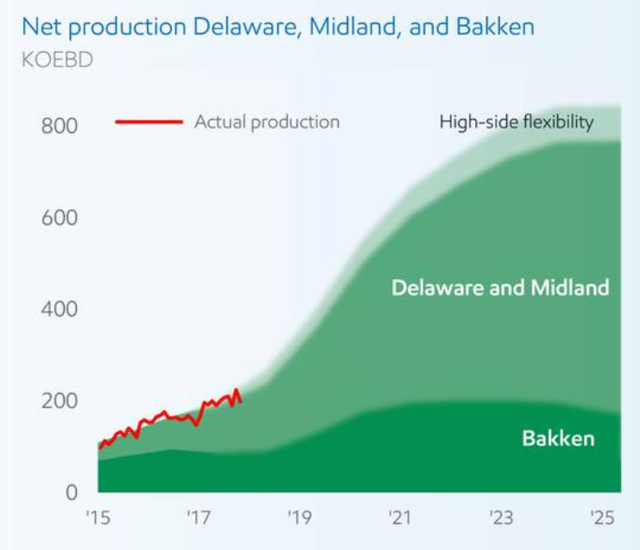 (Source: Exxon Mobil Q4 2017 Earnings Call Slides)
Conclusion
Exxon Mobil is now at a critical juncture. It has recently reported its full-year results for 2017. Its share price is now just above the multi-year support line. Its long-awaited Baytown ethane cracker has just completed construction. Its unconventional liquids production is on the cusp of an exponential increase in output. The media tends to rely on sensational headlines to attract viewership and it particularly likes to do so on Exxon Mobil, given its title as the world's largest oil company. Investors can choose to focus on the long-term outlook instead.
What's your take? You will need a PRO subscription to read this article in full after 10 days. Readers who make a comment will have access to the comment thread indefinitely. Hence, please freely share your thoughts, let me know if you found this article useful, or provide your feedback in the comments section.
Author's Note: Thank you for reading. If you would like a refreshing take on stocks that you own or are interested in, try looking here. Besides US companies, I cover a number of Asian stocks as well. If you wish to be informed of my new ideas, please click on the "Follow" button below the title.
Disclosure: I am/we are long XOM.
I wrote this article myself, and it expresses my own opinions. I am not receiving compensation for it (other than from Seeking Alpha). I have no business relationship with any company whose stock is mentioned in this article.
About this article:ExpandAuthor payment: Seeking Alpha pays for exclusive articles. Payment calculations are based on a combination of coverage area, popularity and quality.Tagged: Investing Ideas, Long Ideas, Basic Materials, Major Integrated Oil & GasWant to share your opinion on this article? Add a comment.Disagree with this article? Submit your own.To report a factual error in this article, click here