Facebook (FB) has received some negative publicity lately with the Cambridge Analytica scandal, resulting in its stock taking the heavy beating by plummeting more than 15%. As a result, much has been written about whether the current stock price level is attractive for a buy, including many articles written on Seeking Alpha. While my end-point is the same, the tools I am going to use are quite different.
I will use the DCF model, presenting my base case value per share but then, more importantly, will follow up with the Monte Carlo simulation, taking into account probabilities of low revenue growth rates and operating margins, should subscriber outflow inflict permanent damage.
I have to admit, this is not the first time I am writing about Facebook, as the one and only article about the company dates back to March, 2017. However, much has changed since that time.
First, I was skeptical at that time that the company would be able to sustain high adjusted pre-tax operating margins of 56% and I settled at an unadjusted pre-tax operating margin of 35% as the target rate. One year later (see table below), FB has managed not only to maintain that high watermark of 56% but even to improve it by 2 percentage points (pps), thanks to proportionately lower marketing and sales expenses (note).

Source: 10-K, 2017 with adjusted figures calculated by the author
However negligible these 2pps may seem in isolation, it is an impressive statistic when viewed in conjunction with Facebooks already high adjusted operating margin to put it in perspective, more than 96% of global and 98% of US companies have a figure lower than 56%. Consequently, in the valuation that follows, I will boost my previous conservative rate of 35% to a 5-year aggregate of 55%. Nevertheless, the Monte Carlo simulation afterwards will assume equal likelihood for target pre-tax adjusted operating margin being anywhere between 35% and 58% (2017 actual, as seen in the table above).
Second, there has been a tax system overhaul at the end of the last year, with the following major changes taking place:
Corporate tax rate cut from 35% to 21%. Switch from a worldwide to a territorial tax system (in other words, from all income being taxed at 35% to only domestic income being taxed at 21%). One-time repatriation tax of 15.5% on cash held overseas.
These changes paint quite a different picture for Facebooks resulting earnings and cash flows. To see the effects, let us look at, arguably, the most prominent item from the three above a cut in the corporate tax rate. The table below provides the structure of the companys tax expense, based on income earned domestically and abroad (10-K, 2017, p.80 and 10-K, 2015, p.78):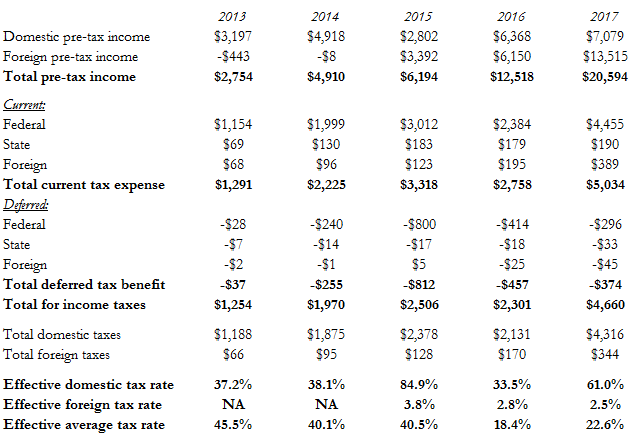 As can be seen, the average effective tax rate has been above 40% since 2013 to 2015, falling precipitously to only 18% the following year, largely due to the effect of non-US operations (significantly lower effective foreign tax rates, as seen in the table above) and also thanks to excess tax benefits related to share-based compensation (10-K, 2016, p.80). The latest fiscal year, however, merits more attention, given the tax law change.
Specifically, while the effective foreign tax rate remained virtually flat, the effective domestic one ballooned to 61%, thereby dragging the effective average figure from 18% in 2016 to almost 23% in 2017. According to the companys 10-K filing on page 80, [t]he provisional effects of the Tax Act are $2.53 billion of current income tax expense and $257 million of deferred income tax benefit for the year ended December 31, 2017. Absent these provisions, the effective domestic tax rate would be 21.7%, contributing to an even lower (vs. FY2016) effective average rate of 10.3%.
Going forward, given the territorial tax system, the effective tax rate should approach a weighted average of 24%-25% (US statutory tax rate of 21% on federal level plus 4%-5% of state and local taxes) and some international rate. Historically, Facebook incurred effective taxes on foreign income of a mere 2%-3%, as can be judged upon the computed figures from the table above.
But things may soon change, given the European Commissions investigation of illegal tax benefits given to some companies in some countries (case in point is Apples (NASDAQ:AAPL) $15bln fine over preferential tax treatment granted by Ireland) as well as FBs own admission that it is potentially subject to an investigation in the US and Ireland (10K, 2017, p.82).
On this occasion, it is conservative to assume that effective foreign tax rates will revert to statutory rates of the jurisdictions foreign income is derived from, and for Facebook that foreign jurisdiction is, not surprisingly, Ireland, given its low corporate tax rate of only 12.5%. According to Exhibit 21.1 of the latest 10-K, six out of ten foreign subsidiaries are located in that country. While it is unknown how great pre-tax income in each one of them is, the fact that Facebook International Operations Limited subsidiary is located in Ireland should, arguably, confirm what the major hub for collecting foreign income is for Facebook.
Valuation
The narrative that I will use on Facebook in the base case rests on the belief that the current turmoil is temporary. There is too much fallout from the scandal, based on the usage of data without user permission. Being a Facebook user myself, I find it really surprising that without permission argument is being used, when registration on Facebook (or any other website) already implies that at least some data is to be collected and users are notified thereof.
After all, how one could expect to receive customized news, items for purchase, or friend suggestions, if not from private data collection. Then there is also a question of where to go to, after deleting a Facebook account. While a long alternatives list is quite possible, it is highly likely for any one platform, apart from Facebook, to host at least the major part of ones friends assuming, which seems unlikely, they all elect to defect.
As a result, my FB narrative is that it will continue to grow and improve its digital advertising market share, sustaining impressive levels of profitability, low risk, and meaningful levels of reinvestments to maintain future growth.
Growth to project the revenue growth rate for the next five years, I will consider the worldwide digital ad spending figures provided by eMarketer: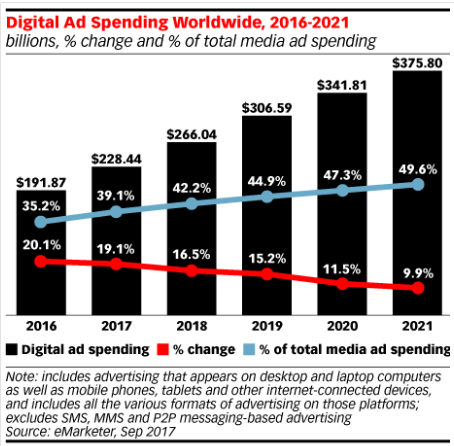 Source: eMarketer, 2017
With 2017 revenues of $40.65bln, FB has a market share of around 18%. Assuming worldwide digital ad revenues grow by 8% in 2022 and giving FB a market share of 25% (subject to distribution assumption in the Monte Carlo simulation), revenues will reach $101.47bln, or a 5-year CAGR of 20%, which will linearly adjust downwards to 2.8% (10-year T-Note) in year 10.
Note that this assumption may seem overly optimistic, given that revenues grew at a CAGR of 52% over the last five years. However, growing at the same rate from a higher revenue base is difficult and revenue growth rates will have to subside to lower levels (and then there is also Google, which I believe FB is unable to topple).
Profitability as already discussed above, the base case assumption for the target pre-tax adjusted operating profit margin will be 55%, slightly lower than the current 58%. Reinvestment as always, in order to arrive at the rate of reinvestment, I will compute the sales-to-capital ratio:

Source: Data from 10-K, 2017; authors calculations
Given the figures in the table above, the model will assume the incremental sales to reinvestment ratio of 1.69.
Furthermore, since the sustainable growth rate is computed as:
Sustainable growth = ROIC * reinvestment rate
And assuming that this rate during the terminal period is equal to 2.8% (10-year Treasury rate), with an ROIC of 12% (which assumes the company will be able to sustain its competitive advantage in the long term and achieve returns in excess of the terminal period WACC), the reinvestment rate in the terminal period can be calculated as:
Reinvestment rate = 2.8% / 12% = 23.33%;
Risk using market values of equity and debt (capitalised operating leases), we have the following:
| | | | |
| --- | --- | --- | --- |
| | Equity | Debt | Capital |
| Weight in Cost of Capital | 99.3% | 0.7% | 100% |
| Component cost | 8.7% | 5.7% | 8.68% |
The equity component was calculated using the risk-free rate of 2.8%, ERP (geographically weighted by sales) of 5.93% and a levered bottom-up beta of advertising companies of 1.00. The pre-tax debt component was computed as a ratio of an interest expense and total operating leases on the balance sheet:



Consequently, the 5-year transitional WACC of 8.68% will be linearly adjusted downwards during the remaining five years to a terminal rate of 8.24% a global median.
Apart from these major assumptions, I have also assumed the following:
Share count of 2,986.2 million, computed as 2,395.9 million Class A and 509.1 million Class B common stock outstanding as of January 29, 2018 (10-K, 2017, p.1) as well as 81.2 million of RSUs as of December 31, 2017 (10-K, 2017, p.79); Marginal tax rate of 16.45% in the terminal period, towards which the current effective tax rate of 22.63% will drift, and computed as: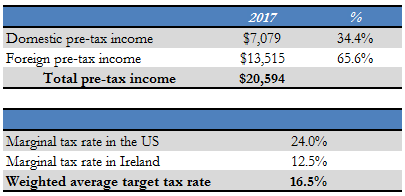 Source: 10-K, 2017 and authors calculations
Value of debt of $3,231 million. Please note that even though there is no debt on the balance sheet as of 2017 fiscal year-end, nor are there any capital lease obligations, the company does have off-balance sheet operating lease commitments (10-K, 2017, p.75), which I have capitalized by discounting to the present the future minimum lease payments and contractual commitments at pre-tax cost of debt (see above) of 7.5%. Value of options of $460.4 million, based on 3.08 million shares underlying options, average strike price of $10.06, average maturity of 2.4 and standard deviation of 55% (10-K, 2017, p.78).
The table below presents the model results: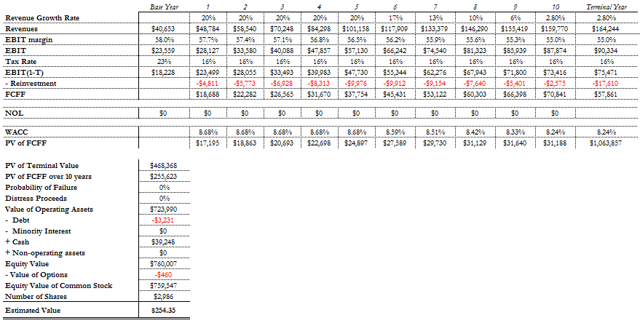 With an estimated value per share of $254 and the current price of around $159, there is a 60% upside potential. However, given the scandal and the possibility of a permanent damage in terms of lower revenue growth in the future, given an outflow of subscribers losing trust in the handling of their private data, I will use the Monte Carlo simulation attempting to account for this factor:
Revenue by applying a minimum extreme (left-tailed) distribution, with the likeliest revenue growth rate value of 20% (the base case) and the upper boundary limited to 30% (equivalent to a market share slightly above 35%) in 95% of the cases (i.e. 5% chance for growth rates being higher than 30%). Given such a distribution, there is an extremely low probability of revenue growth rates being as low as -28% and as high as 37.6%. Margin by applying a uniform distribution, with the minimum value of 35% (an actual unadjusted pre-tax operating profit margin in 2015) and maximum of 58% (an actual adjusted pre-tax operating profit margin in 2017). Reinvestment by applying a triangular distribution, with the likeliest assumption as my base case of 1.69, minimum value of 1.0 (a more aggressive rate of reinvestments), and a maximum of 2.38 (simplistically, symmetrically equal to the minimum). WACC by applying a normal distribution with a mean of 8.68% (the base-case assumption for the transition period) and standard deviation of 0.23%, such that the lower boundary is at 8.24% (global median) with 95% confidence level.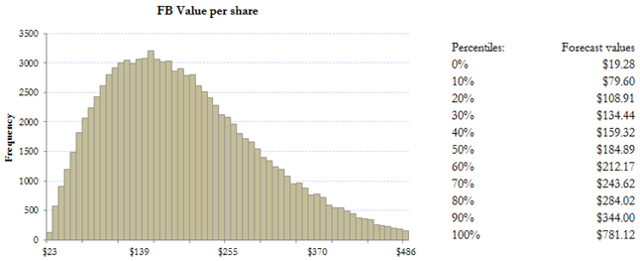 Conclusion
With Facebook having been mired in the Cambridge Analytica scandal, the stock price has taken a hit, tumbling more than 15% in a matter of days. While such drops can be temporary due to market overreaction, it is, nonetheless, essential to consider whether permanent damage has been inflicted. While my base case assumption assumed no damage, yielding a value per share of $254, the Monte Carlo simulation (with damage) resulted in a median per share value of $185. Consequently, the target price for Facebook stock, depending on how things unravel, is between $185 and $254, or an upside of 16%-60%.
Disclosure: I/we have no positions in any stocks mentioned, and no plans to initiate any positions within the next 72 hours.
I wrote this article myself, and it expresses my own opinions. I am not receiving compensation for it (other than from Seeking Alpha). I have no business relationship with any company whose stock is mentioned in this article.
Additional disclosure: It is unfortunate that I am not able to act on my own recommendations, but there are restrictions on the outflow of funds from the country I am based in currently.