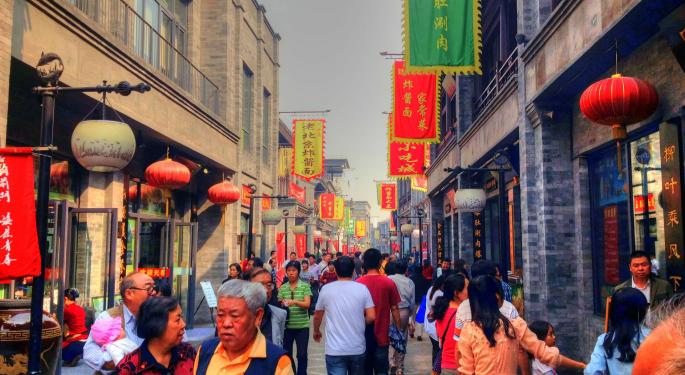 Related FXI Najarian Brothers See Unusual Options Activity In Whole Foods And iShares FTSE ETF Dan Nathan Sees Unusual Options Activity In The China ETF
Related FXP China Expected To Grow 6.7% In Q2, Leading Local Think Tanks Says How To Short The Global Economy Without Becoming A Short-Seller
Every golf course in China is equipped with cameras at almost every tee. Why? Because senior managers at state-owned enterprises are forbidden from enjoying such a frivolous pastime.
But golf courses are places where plenty of business takes place, notes Marshall Meyer, a professor emeritus of management and professor of sociology at the Wharton School at the University of Pennsylvania.
This is just one micro item that's part of a macro problem that could theoretically send China down a road that some believe brought down the Soviet Union in 1991.
"How's international business done? Can't take them out golfing, can't take them out to dinner," Meyer, who has studied the Chinese economy at the company level, told Benzinga.
"This is one very small part of some of the core issues in China. The lack of progress with the largest enterprises and party supervision has really intensified."
China's Q1 Growth May Be A Mirage
China on Monday said its economy grew by 6.9 percent during the first quarter from the year-ago period, slightly beating market expectations of 6.8 percent. The rise was attributed to increases in industrial input, spending on infrastructure, retail sales and fixed-asset investment.
But there are plenty of underlying factors behind those numbers that suggest the economy may be decelerating after China pumped $600 billion into economic stimulus money when the global markets tanked in 2008-2009.
Since then, GDP has actually slowed over the long term, this year's fourth-quarter blip upward notwithstanding.
"A lot of the stimulus went into state-owned enterprises," Meyer said. "They throw this money into the economy and the more they throw in the less return on investment. It's axiomatic of supply and demand."
Related Link: Here's Why You Should Care About Chinese Startups
Slowdown Reflected At The Factory Level
Meyer and his team at Wharton have conducted extensive interviews with senior managers of more than 30 of the largest Chinese enterprises, including Baosteel, China International Marine Container, Haier, Legend, Pearl River Piano, Shanghai Auto, Shanghai Pharmaceutical, TCL and Tsingtao Beer.
While there is huge growth in the private sector–China owns much of the world's electronics and solar panel industry–the state-run banks boosting state-run businesses is increasingly draining capital investment from the private sector.
"The state enterprises, I just watch them backpedal," Meyer said. "The hurdle is [Communist] party control. Suddenly they say the party organization must be consulted for all decisions. So they become political decisions."
The International Monetary Fund said Tuesday that China's GDP should continue to grow, but warned of its massive debt as it seeks to prop up its state-run enterprises and keep unemployment in check.
The IMF said China's credit boom continued to pose a major risk to the global economy; The total assets of China's banks were three times the size of its GDP.
How Sustainable Is China's Growth?
It's risky to underestimate China, which may figure out its structural problems.
"I think some of the enterprises are doing marvelous things," Meyer said. "That is the paradox in China. You have a vibrant, hard-working and occasionally corrupt private sector and this leviathan of the state that is gobbling all the resources. You look at the GDP [increases] and wonder if it's being driven by state investment in the leviathans, or is it being pushed forward by the private sector."
Overcapacity, an aging workforce, an overheated housing market and energy interruptions caused by unrest in the Middle East are also enormous issues facing China in the long term, Meyer said.
He noted that overcapacity for steel and coal "are emblematic."
"Tangshan, a medium-sized city near Beijing, has more steel capacity that the U.S.," he said. "Closing a steel plant in China is like moving a graveyard in the U.S.–very difficult."
The comparisons to the Soviet Union are tempting to make. Moscow pumped money into its industries to keep pace with the U.S. economically and militarily and the return on investment proved fatal.
"They were throwing more and more money [into the enterprises] and eventually things went poof," he said. "The question I keep raising is whether China is doing the same thing."