Altum Research is about finding value. While I am definitely not complaining that biotech has rallied, some very interesting companies (SAGE, FATE, PIRS, CBAY, SGMO, etc.) are just too high in price for me to put money in. However there is always value in biotech, sometimes it is just difficult to find! I'm putting up some preliminary names that I'll be following up on in the weeks and months to come. Let's take a look.
Applied Genetic Technologies Corp. (NASDAQ:AGTC)
This is a gene therapy company working on some rare diseases. Like most gene therapy companies around, it uses AAV vectors to deliver genes that repair unfunctional or mis-functional genes.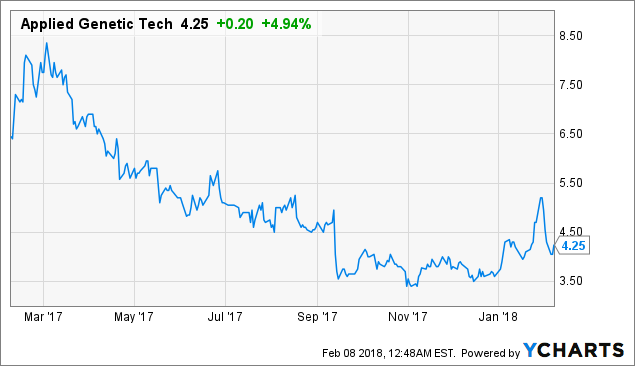 AGTC data by YCharts
Why this company is interesting is it has (as of Nov. 2017) ~$125 million in cash, but its market cap is sitting at $77 million. If it were trading at cash value tomorrow, that would give us a 60% upside! So what is the deal – why is this trading significantly below cash value?
Tah-dah: In its lead candidate trial for CNGB3-associated achromatopsia (ACHM B3), the drug showed very little efficacy. The company oddly has decided to decrease the dose as well as have a single surgeon prepare a protocol for the procedure of injection into the eye. It seems like perhaps the company knows what is going wrong, but will this solution be able to fix it?
Given the low ~$10 million cash burn per quarter, AGTC is well funded for the next 1.5 years at minimum, and that doesn't include additional milestones that may come in from Biogen (NASDAQ:BIIB) (yes, they are partnered). Together, this makes the downside fairly shallow, with any potential efficacy improvements giving us a large upside.
When can we expect new data? Around 3Q '18 – possibly into the fourth quarter. The company will likely PR that the last patient is dosed in this important trial, and the readout is six months following. So stay tuned while we dig further.
OvaScience, Inc. (NASDAQ:OVAS)
This is one seriously depressed stock: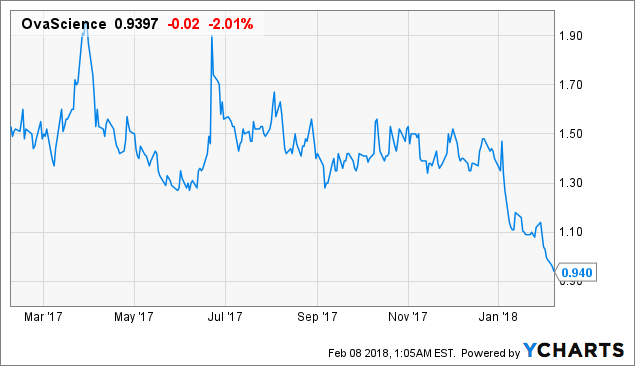 OVAS data by YCharts
Now trading under a dollar, the once $55 stock has cratered. The company is not seemingly healthy, especially within the last 1.5 years. In December 2016, the CEO and COO resigned, and the company restructured to lay off 30% of its workforce. Then, this last summer, it decided to reduce its workforce by another 50%. Then… again, in January, causing that recent drop from ~$1.40 to the now sub-$1 stock it sits at today.
So what does the company do? I find it rather interesting – it finds female egg "precursor" cells from the mother-to-be, which they call EggPCTM, and grow these into fertile adult cells and replace them into the uterus, therefore giving women with low or no fertility a chance to bear children. Does it work? Well, it seems like it does: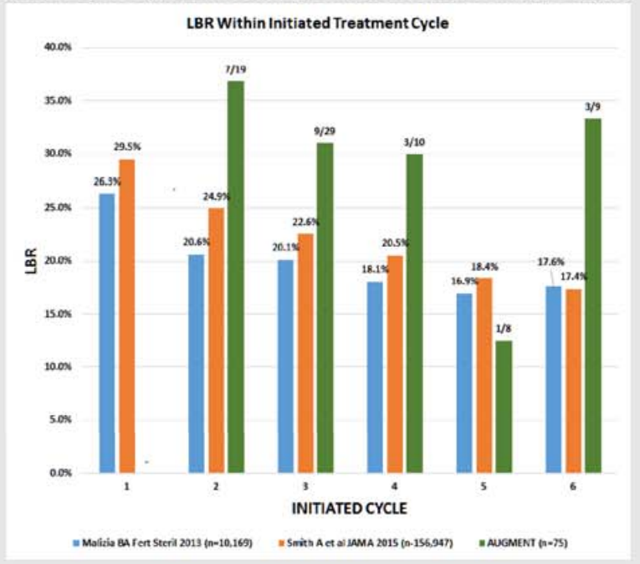 Image taken from company website
The graph above is Live Birth Rate (LBR) of OvaScience (green) technology versus other reported results in scientific journals. Are they statistically significant? Who knows. But there's clearly a trend for OVAS being better than other reported fertility trials.
Why I'm really interested in this stock though is that there isn't much downside. The company has around $100 million in cash right now; its quarterly burn rate is <$10 million and it has continually cut back on staff headcount, meaning that may diminish even further. This paints a cash runway into 2020. This doesn't happen in clinical stage biotech very often.
With a market cap 33% of the company's cash and equivalents, this is quite a safe bet that something good might be discovered in the future. We shall continue to dig further into this company as time goes on.
Affimed (AFMD)
Affimed is an interesting company, with a recent slideshow presentation you can check out here. It also recently presented some new data which can be viewed here (causing nearly a doubling of the stock).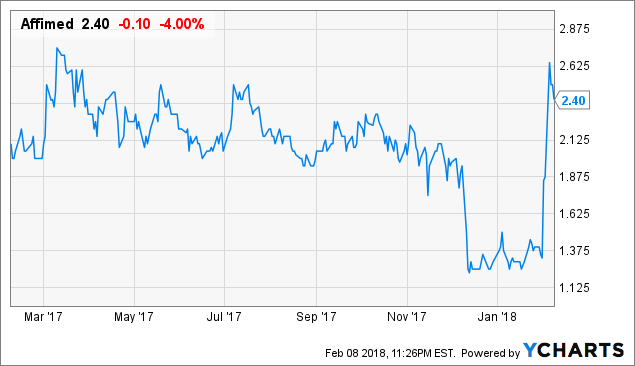 AFMD data by YCharts
From the recent data:
This ORR of 89% compared favorably to the historical ORR of Keytruda (58-63%) as monotherapy in a similar patient population.
Hence, we can see why the stock has been moving quite positively. The reason AFMD has been hit hard is due to weak potency so far to date, but perhaps this combo therapy could bring AFMD to a more appreciated market cap. It currently sits at just $100 mln, giving plenty of upward potential if this efficacy continues. In general, NK-focused therapies haven't proven as potent as other biologics like CAR-T, and thus there isn't a high optimism with AFM13, which recruits NK cells to target tumors.
Unlike the other companies, AFMD has a fairly sizable cash burn which won't last more than a year, therefore we can expect to see a capital raise in the near future. When that happens, that will trigger us to potentially buy this stock. I have long liked AFMD, but due to the low market cap but fairly differentiated pipeline, I haven't taken a very close look. Before the third quarter starts, expect a full investment thesis on AFMD.
XOMA (XOMA)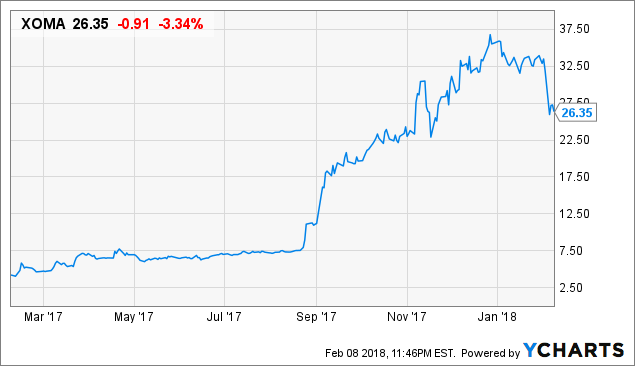 XOMA data by YCharts
Here's a name I never thought I'd look at. I heard of it a long time ago, and because of the person's history that told me, I discounted this company as nothing much. However, it's recently come back into view because of three reasons:
Low float: 8.2 million shares outstanding A decent cash position with lots of partnerships Lots of shots on goal with a $220 mln mcap
The company is mostly structured to do licensing deals with others – both out-licensing in-house products as well as in-licensing other companies' technology. Thus the company is difficult to value as there are lots of non-recurring revenues via milestone payments, and there's simply >20 pipeline candidates moving forward.
While a full analysis is yet to be done by us, it seems possible that XOMA could be funded through these milestones well into 2019, giving this company a decent margin of safety.
Other Catalysts
We still sit here twiddling our thumbs for Cidara (NASDAQ:CDTX) and Marinus (NASDAQ:MRNS) data to be read out. Word on the street is CDTX may not be until March, while MRNS could be any day. Speaking of, perhaps some of you clever followers noticed that my MRNS article has pregnanolone in the binding pocket, not allopregnanolone. This was an oversight, but lucky for us this doesn't dent the thesis and the previous article can be read as is.
Meanwhile, we wait for the 2016 Altum picks of CymaBay, Pieris, and Fate to die down somewhat into more buyable territory, and given the current volatility, other things have caught our attention as well – Spark Therapeutics (NASDAQ:ONCE) and Clovis Oncology (NASDAQ:CLVS) are both sitting in a buy zone for us.
Onwards, friends! Check back soon for some in-depth due diligence on these tickers.
Disclosure: I am/we are long AFMD, CLVS, ONCE, AGTC.
I wrote this article myself, and it expresses my own opinions. I am not receiving compensation for it (other than from Seeking Alpha). I have no business relationship with any company whose stock is mentioned in this article.
Editor's Note: This article covers one or more stocks trading at less than $1 per share and/or with less than a $100 million market cap. Please be aware of the risks associated with these stocks.
About this article:ExpandAuthor payment: Seeking Alpha pays for exclusive articles. Payment calculations are based on a combination of coverage area, popularity and quality.Tagged: Investing Ideas, Quick Picks & Lists, HealthcareWant to share your opinion on this article? Add a comment.Disagree with this article? Submit your own.To report a factual error in this article, click here