Investment Thesis
Chipotle Mexican Grill (NYSE:CMG) is trading at a discount to intrinsic value and will positively reward patient investors who are emotionally detached from any negative press surrounding CMG.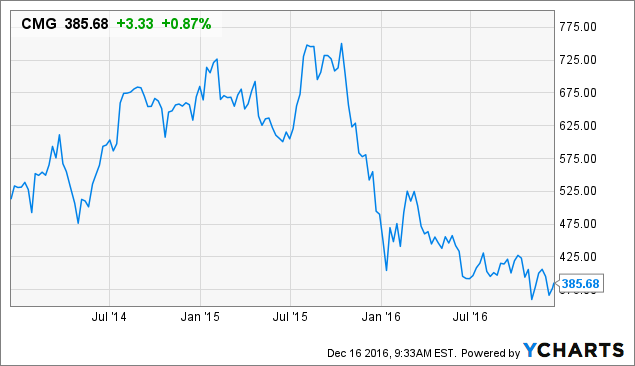 CMG data by YCharts
Business Overview
CMG is a fast-casual restaurant that sells Mexican food, mostly in the US with a small footprint of restaurants in Europe. Following several food safety incidents throughout 2015, it saw its shares sell off around 45% from its highs. While its shares continue to be very volatile, successful contrarian investors who are able to detach from the concept of volatility being equal to risk will be satisfactorily rewarded with appreciation from the current share price.
It is more than obvious that CMG's management has a lot on its plate (no pun intended), but my argument here is that is more than accounted for at the current share price. Clearly, the fact that its revenues have not fallen by 45% shows that the fall in its shares of 45% is an overreaction by investors.
One could point out that there is a Department of Justice investigation on going. But that is why the shares are currently selling cheap. Investors should try to remember that in investing, trouble brings an opportunity.
Financials


Click to enlarge
Source: Morningstar.com; author's calculations.
CMG is a successful restaurant, which is currently navigating in a difficult environment that is causing some dinners to shy away from the brand. In spite of this, CMG financials are great. The company is growing rapidly over the last 10 years at an average 21% and it has made a profit each year in the last decade.
One measure by which I define a good quality company is when a company is able to generate free cash flow margin above 5% [defined as FCF/Revenue (%)]. And CMG has a normalized FCF% of 8% (highlighted green), which, for a cyclical restaurant, is simply outstanding and should command a significantly higher trading multiple than that of other restaurants. Additionally, CMG has huge normalized ROE of 20% (highlighted green).
Bill Ackman
When going through Bill Ackman's Portfolio, and seeing that he is invested also in CMG as part of highly concentrated portfolio I thought it might be worth considering too. And it appears that he is in at a cost basis of very rough $405, and as it currently trades for a little less than when he thought it was a good idea, then I think it is more than adequate for me also.
Short Sellers
You may find it interesting that I think a large number of short sellers (~19%) as a positive. But as a deep value investor, the more shorted the stock, the better. The reason is being twofold.
First, because anyone that sells shorts is fully committed to repurchasing the shares at some point in the future. Of course, short sellers are betting that they will buy the shares at a lower price. But they are committed nevertheless.
Secondly, when a share is heavily shorted, all the pessimism is already incorporated into the share price.
Valuation
Relative Valuation
In order to confirm that there is, in fact, the required margin of safety in an investment in CMG, I performed both a relative valuation and a DCF valuation.

Source: Morningstar.com
First, from the relative valuation perspective. My favorite metric is the P/S. I like because it is quite a clean metric. I like to compare what investors have been willing to pay for a stock over the past five years and what they are willing to pay for it now. In the past five years, investors were happy to pay 4.7x P/S. Currently, investors are asked to pay only 3x P/S, at least 30% cheaper.
DCF Valuation
I confirmed the margin of safety when I performed a back-of-the-envelope DCF analysis with a normalized $330 million of FCF, with 10% growth over the next five years (which is certainly below the 10-year average growth of ~21%), before leveling off at 7% (which is less than the S&P 500 average). I then discounted this FCF back at 10%. I used 10% because in spite of CMG having been very successful in the past, there are still some overhang issues in terms of the uncertainty of CMG being able to fully restore the strength of its brand. This brings the DCF to ~$13.4 billion or roughly 15% upside to the current share price.
Conclusion
The four most expensive words in the English language are "this time it's different".
– Sir John Templeton
There is still a lot of dislike and disgust keeping both dinners and investors away from CMG. But patient and contrarian investors that keep price at the forefront of their investments will be rewarded with roughly 15% upside to the current share price over the next 18 months. Investors seeking slightly less contentious stock should look at this potash mine, or a different type of growth stock, selling below intrinsic value.
According to tipranks.com, I am ranked top 6% of Bloggers.
Thank you so much for reading my article. If you have enjoyed reading this article, please click "Follow" to get more articles of mine in real time.
Disclosure: I/we have no positions in any stocks mentioned, and no plans to initiate any positions within the next 72 hours.
I wrote this article myself, and it expresses my own opinions. I am not receiving compensation for it (other than from Seeking Alpha). I have no business relationship with any company whose stock is mentioned in this article.