Background
We have previously discussed the valuation of FreightCar America (RAIL) both in terms of its financials and relative to peers. The Company's shares have consistently sold at far less than the shares of other railcar manufacturers, primarily due to low gross margins, cost inefficiency, capital intensiveness, low ROE, and perhaps inconsistent dividend payments.
Although FreightCar America makes railcars for various purposes, it is mainly focused on manufacturing railcars for the coal industry. This has been a problem, and we believe it may continue to be so for the foreseeable future.
Brief on Coal
Coal is a "dirty" industry which has experienced declining demand in most places around the world both due to environmental reasons and more affordable alternatives, e.g. lower gas prices and the advent of renewable energy sources. The US power industry has favored the lower-priced gas whereas China is actively implementing environmental policies to curb the use of polluting energy sources (source). The use of coal is also more prevalent in less developed countries and diminishes as countries advance – this is evident by China's intent to decrease its use of coal (and, of course, lower demand in the US and Europe), while Southeast Asian countries (e.g. India) and some Middle-East countries are more focused on using coal.
The high price of coal makes it also less attractive. Since 2016, the price has approximately doubled. This has been due to "higher demand in China to meet a surge in power demand and supply issues in some major exporters" (source), pushing prices up to $95/t in September 2017.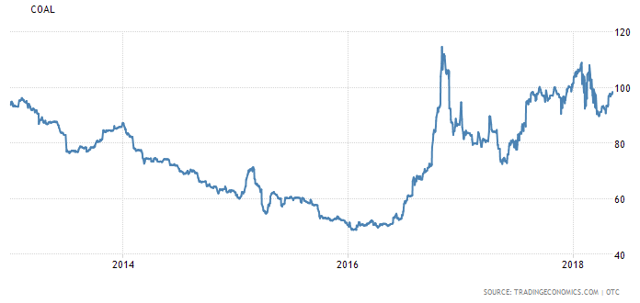 FreightCar's Downturn
FreightCar America has reported operating losses for the last four quarters, of which, gross margins have been negative in the last three quarters (Q3 '17 to Q1 '18). This has the potential to be a drag on free cash flow – the Company had a negative free cash flow of nearly $13.7 million in the first quarter of 2018. RAIL is still very conservatively financed with a healthy balance sheet and strong cash position, allowing it to weather adversities (the Company has been around for over 100 years, so they have some experience of running the business through cycles).
The downturn, which in terms of declining revenues has lasted since 2016, still diminishes returns to shareholders as the Company has had to cut its dividend and the inefficient operations with low ROE have consistently kept the share price from appreciating.
To date, the down-cycle doesn't seem to be turning when backlog is considered. "Total backlog of unfilled orders was 2,054 units at March 31, 2018, compared to 2,392 units at December 31, 2017." (Q1 filing 2018) Also, for the year 2017 compared to 2016, "backlog of firm orders for railcars decreased from 4,259 railcars as of December 31, 2016, to 2,392 railcars as of December 31, 2017." (Annual report 2017) The Company also delivered fewer railcars in the first quarter of 2018 vs. Q1 of 2017, or 1,094 compared to 1,525 respectively.
Although the recent "Back to Basics" cost-improvement initiative may be helpful in bettering gross margins, it still won't counter a sustained decline in revenues that may result from a prolonged downturn in the industry, specifically in relation to coal cars. FreightCar America is also mainly focused on North America, which means that it won't have much temporary compensation from potential exports to countries where demand for coal is still strong.
Capital Requirements
According to the 2017 annual report:
Based on our current level of operations and known changes in planned volume based on our backlog, we believe that our operating cash flows, our marketable securities and our cash balances, together with amounts available under our revolving credit facility, will be sufficient to meet our expected liquidity needs. Our long-term liquidity is contingent upon future operating performance and our ability to continue to meet financial covenants under our revolving credit facility and any other indebtedness. We may also require additional capital in the future to fund working capital as demand for railcars increases, payments for contractual obligations, organic growth opportunities, including new plant and equipment and development of railcars, joint ventures, international expansion and acquisitions, and these capital requirements could be substantial.
Based upon our operating performance and capital requirements, we may, from time to time, be required to raise additional funds through additional offerings of our common stock and through long-term borrowings.
In the last 10 years, the number of shares outstanding has remained unchanged as the Company has primarily focused its cash-flow management on issuing-and-cutting of dividends. Although, currently, the Company is well financed (decent cash position, no debt), this may change if the downturn prolongs. The capital intensity of the business and possible diversification efforts on behalf of RAIL into other sections of the industry might, thus, require capital raising. Equity issuance then seems more likely than borrowing when operating performance and cost is considered.
Conclusion
The continued decline in demand for coal as environmentally-friendly energy sources, renewables, and lower-priced alternatives become more attractive puts negative pressure on the performance of FreightCar America. Although the railcar industry is cyclical, the long-term trend of declining use of "dirty" energy sources raises concerns about the long-term outlook for the Company.
As recent financial results have shown, the Company comes under significant pressure when orders are fewer – gross margins become negative, dividend gets cut, the already low earnings become negative, book value falls, and the share price drops or stays stagnant. Although RAIL looks well managed and conservatively financed, the long-term outlook remains somewhat bleak if the Company continues to operate as is in a declining coal industry. Cost-improvement initiative may help in the short term, but long-term viability rests on stronger revenue sources, which again along with capital-intensive maintenance may require equity financing (if the downturn significantly prolongs). Thus, downward pressures remain on RAIL's shares with uncertain dividends being the main source of shareholder returns.
Disclosure: I/we have no positions in any stocks mentioned, and no plans to initiate any positions within the next 72 hours.
I wrote this article myself, and it expresses my own opinions. I am not receiving compensation for it (other than from Seeking Alpha). I have no business relationship with any company whose stock is mentioned in this article.