Time is on your side when you own shares of superior companies. – Peter Lynch
For the past 5 days, the share price of Global Blood Therapeutics (NASDAQ:GBT), a firm focusing on the development of medicine to service sickle cell disease, traded up by $15.1 at $56.55 (for 36% gains). In Dec. 2017, the stock took a small haircut due to the data regarding two deaths as presented in the 59th annual meeting at the American Hematology Society (ASH). We noted in the prior research, that those incidents were unrelated to voxelotor (of which the market misinterpreted the data). As follows, the stock rebounded to its new 52-week high of $57.70. Since we recommended the firm to subscribers of Integrated BioSci Investing via the Interview series on Oct. 31, 2017, at $39.8, the stock has now appreciated over 42%. And, most of the rebound is powered by the Jan. 09, 2018 announcement that the US FDA has granted voxelotor with the Breakthrough Therapy Designation (BTD).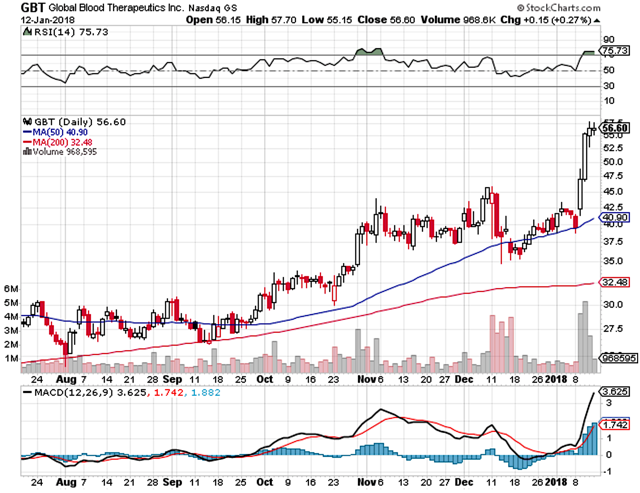 Figure 1: Global Blood Therapeutics stock chart. (Source: StockCharts).
At Integrated BioSci Investing (IBI), we have much success in finding robust performers. For instance, Nektar Therapeutics (NASDAQ:NKTR) appreciated over 282% for subscribers while Spectrum Pharmaceuticals (NASDAQ:SPPI) delivered over 150% profits. In this report, we'll elucidate the ramifications of the recent BTD for voxelotor (and how it affects this investing thesis).
Fundamental Analysis
There are two strategies for building substantial value for investors. One way is to develop a highly robust pipeline in order to increase the shots on goal of finding a blockbuster (i.e. a drug that generate over a billion dollars in annual sales). The other approach is to focus all ones efforts to ensure that the quality of the shot is superb. And, it is the latter approach is being employed by the South, San Francisco, CA, based firm Global Blood Therapeutics. Accordingly, the company is brewing the single molecule, voxelotor (an elotor, a new drug in its own class that regulates the oxygen-binding affinity of hemoglobin) as the potential treatment for the dreaded condition sickle cell disease (SCD) as shown in figure 2. We noted and depicted in figure 3,
Due to a single base pair genetic mutation, SCD is a hemoglobinopathy that causes red blood cells to form a sickle shape – in the oxygen deprivation states. Consequently, patients suffer from the repetitive extremely painful vaso-occlusive crises (VOCs) that, in and of itself, are managed with opioid pain medications. As the developmental drug in its own class (an -elotor), the oxygen affinity modulator, voxelotor, is most likely to fill the strong demand for better therapeutic options. The said drug is currently being investigated in its phase 3 trial coined HOPE with the estimated completion date on June 29, 2019. There is also another study (HOPE-KIDS1) seeking to evaluate the safety and efficacy and pharmacokinetics (PK) in the pediatric groups (age 6-17 years old).

Figure 2: Therapeutic pipeline. (Source: Global Blood Therapeutics).
Moreover, voxelotor already received the agencys rare pediatric disease designation, the EMA s priority medicine (PRIME) status, and the ECs placement as an orphan medicinal product. And, the aforesaid BTD adds the further value of voxelotor. Of note, the BTD was granted based on the various data filed with the FDA that include the followings: preliminary efficacy and safety data from Part A of the phase 3 trial coined HOPE; ongoing phase 2 HOPE-KIDS 1 study; compassionate access findings for adults with severe SCD but are not eligible for the HOPE trial.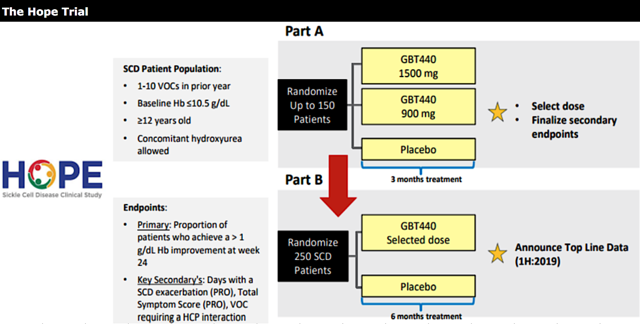 Figure 3: HOPE Trial. (Source: Dr. Tran BioSci, Adapted from Global Blood Therapeutics).
Furthermore, it is not far from the truth that the agency recognized the stellar data thus far (in combinations with the dire need for better SCD management). Per President and CEO Ted Love,
The FDAs decision to grant voxelotor the first Breakthrough Therapy designation for the treatment of sickle cell disease reflects a recognition of the promising efficacy and safety data we have collected to date for this investigational drug, as well as an acknowledgement of the overwhelming need for major advances over available therapies in the treatment of SCD patients. This designation is another significant milestone for GBT as we work to expedite the development of voxelotor.
Final Remarks
In all, the recent FDA BTD added further value to voxelotor, a novel therapeutic in its own class that has the potential to post positive phase 3 trial data. And, it is not far from the truth that the aforesaid therapeutic can deliver blockbuster sales, if and only if, it will be approved by the agency. With the current $2.6B market cap, there is plenty of room for further upsides. Be that as it may, whether Global Blood Therapeutics will make money for investors ultimately depends on the outcomes of the HOPE study. Of note, there is an in-depth Integrated BioSci version of this research, published in advanced and to subscribers of Integrated BioSci Investing (a community of expert physicians, scientists, executives, market leaders, and everyday investors).
Authors Notes: Were honored that you took the time out of your busy day to read our market intelligence. Founded by Dr. Hung Tran, MD, MS, CNPR, (in collaborations with Dr. Tran BioSci analyst, Ngoc Vu, and other PhDs), Integrated BioSci Investing (IBI) marketplace research is delivering stellar returns since inceptions. To name a few, Nektar Therapeutics (NASDAQ:NKTR) procured more than 210% profits; Spectrum Pharmaceuticals (NASDAQ:SPPI) delivered over 180% gains; Kite Pharma netted 82%. Exelixis Inc (NASDAQ:EXEL) earned greater than 50% capital appreciation. Our secret sauce is extreme due diligence coupled with expert data analysis. The service features a once-weekly exclusive in-depth Integrated BioSci Alpha-Intelligence article (in the form of research, reports, or interviews), daily individual stocks consulting, and model portfolios.
Notably, well increase our price soon. SUBSCRIBE to our marketplace research now to lock in the legacy price and save money in the future. To receive real-time alerts on our articles as well as blogs, be sure to check out our profile page and CLICK the orange FOLLOW button . Asides the exclusivities, this article is the truncated version of the research we published in advance to IBI subscribers. Further, you can read up on Dr. Trans background by following this link.
Disclosure: I/we have no positions in any stocks mentioned, and no plans to initiate any positions within the next 72 hours.
I wrote this article myself, and it expresses my own opinions. I am not receiving compensation for it (other than from Seeking Alpha). I have no business relationship with any company whose stock is mentioned in this article.
About this article:ExpandAuthor payment: Seeking Alpha pays for exclusive articles. Payment calculations are based on a combination of coverage area, popularity and quality.Tagged: Investing Ideas, Long Ideas, Healthcare, BiotechnologyWant to share your opinion on this article? Add a comment.Disagree with this article? Submit your own.To report a factual error in this article, click here