Although I have been mostly focused on pitching new ideas and exploring new terrain for my Market Adventures readers, never fear, I continue to closely monitor and remain fully invested in our GNC Holdings, Inc. (GNC) equity bet. In fact, over the past few days, we have increased our position size by 30%.
In this piece, I write to share my thoughts on GNC Holdings, Inc.'s Q1 2018 results. Unless you got long with a trading mindset and traded the big pops after the Q1 2017 earnings, Q2 2017 earnings, September 15th and 18th, 2017 leg up, positive Q4 2017 pre-announcement, and Harbin/CITIC deal day announcement, it hasn't been a scenic ride for us longer term GNC investors. Traversing this rugged terrain hasn't been fun and longs have encountered a number of monsters along the way. And on this odyssey, unlike the monsters in Homer's Odyssey, these monsters are a group of hedge funds collectively short 28.6 million shares of GNC (as of 4/13/18) and they have done a remarkably good job of suppressing every rally and controlling sentiment. I learned a long time ago, from my buy side days, securities prices including stock prices are determined by the marginal buyers or sellers, and the shorts have been in control since October 2017.
Fast forward to today, although I was hoping for GNC's management to deliver that decisive knockout punch, they didn't land it April 26th. However, I am very encouraged by Q1 2018 results and grade the performance as a high B+.
So colorful writing aside, let's get started.
As I mentioned and tried to model in my Marketplace piece (Reverse Engineering GNC's Consensus Estimates For Q1 2018), consensus estimate looked achievable. Consensus revenue of $573.2 million seemed way too low, and despite a lot moving pieces, consensus EPS looked reasonable. I was similarly hopeful that they would post positive comps and show progress on gross margins.
It turns out that actual revenue was $607.5 million (vs. $573.2 million), adjusted EPS was $0.24 (vs. $0.22), comps positive 0.5% (albeit modest), and gross margins were 34.1% vs. 33.6% (there was an accounting change adopted for 2018). So on balance, especially given the lousy stock performance, expectations were very low entering this morning's print. GNC delivered and posted good Q1 2018 numbers.
This was my pro-forma model for Q1 2018 posted to Market Adventures readers on April 7th.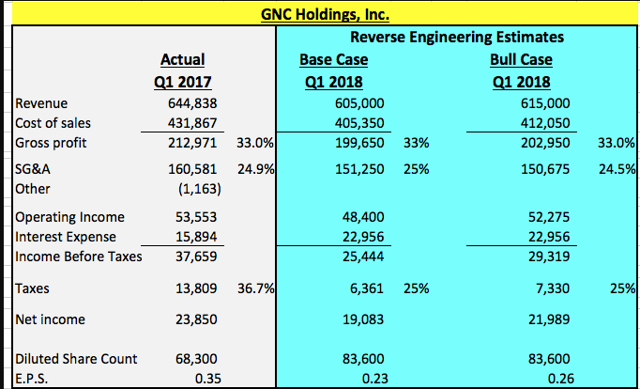 Source: (I built this pro-forma built for Market Adventures readers on 4/7/18)
Consensus Estimates (as of April 25th)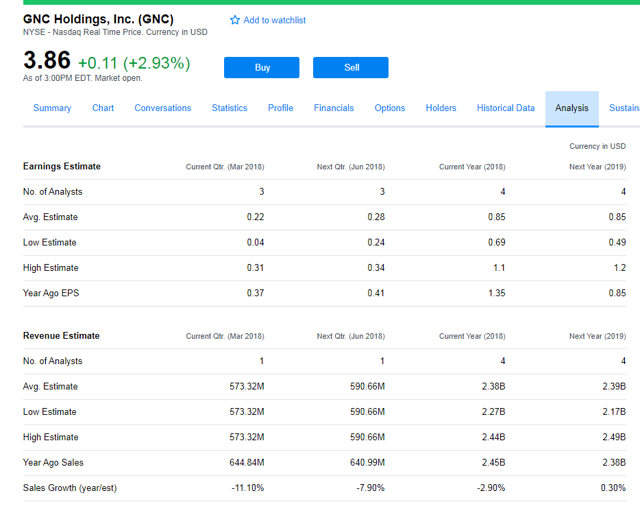 Source: Yahoo Finance
So despite very good B+ numbers, the stock reaction has been muted and underwhelming. On Thursday, GNC's shares hoovered around the $4 mark, which is the 50 DMA, and ultimately failed at resistance.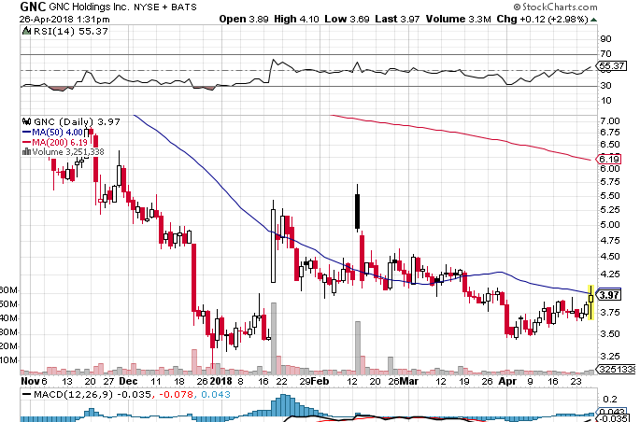 Source: Stockcharts.com
Thursday's volume (the day of earnings relative to recent history) was pretty tepid and investors' reaction, to good numbers, was apathetic. As I often say, I try to never let the "tail" (stock price) wag the dog (me). In others words, you want to avoid looking at stock prices and movements and then working backwards to derive a narrative or rationale that explains the stock price. So for GNC, I think the stock should be trading at $4.50 to $5 on this print given the consistent progress and display of sound blocking and tackling by GNC's management. Despite the missteps underestimating the hedge's ability to gum up the refinancing and the questionable convertible for equity swap, management has done a good job on the operational process.
As I compared notes with two friends, one a former fixed income hedge fund analyst and another a twenty-year Wall Street bond trading veteran (now retired), both are very sophisticated investors that made their clients a lot of money in their careers, and yet, all three of us drew similar conclusions, as I caught up with both of them via phone calls on Thursday.
If investors actually wade deeply into the weeds, waist deep, GNC's underlying operating business is stronger than the optics of year-over-year comparisons. A person with a negative bias/confirmation bias could explain away the quarter as not that good based on declining revenue and EPS on a YoY basis. They might also spin the progress on the positive comps as modest. And GNC's shareholder base is largely retail who seem to be day traders looking to capture $0.25 stock price movements, and it seems like most are too afraid to invest in the name. Therefore, the stock can do a great job of setting the marginal price. The big firepower from long-only mutual funds hasn't moved back into the stock, so at present, there aren't enough retail holders with enough conviction to actually buy and hold their shares.
However, getting back to the actual business, if you do get in the weeds, Q1 2018 revenue was down due to Lucky Vitamin ($22.7 million, Gold Card $23 million, and $7.8 million from fewer franchised stores).
Consolidated revenue was $607.5 million in the first quarter compared with $654.9 million in the prior year. The decrease is attributable to the sale of Lucky Vitamin in September 2017, which resulted in a $22.7 million reduction in revenue and the termination of the Gold Card program, which resulted in a $23 million reduction in revenue.
Revenue in domestic franchise locations was down $7.8 million due to a 1.9% decrease in same-store sales and a decrease in the number of stores.
Source: GNC Q1 2018 conference call and Q1 earnings release
More importantly, Q1 2018 EBITDA of $59.3 million is more than Q1 2017's $73.7 million because one-time $23 million gains from Gold Card less $6 million in marketing expenses (so $17 million net) equals $56.7 million in EBITDA. Therefore, YoY, Q1 Adjusted EBITDA was up 4.6% ($59.3 million vs. $56.7 million).
Management specifically called this out and the market seemed to have glazed over it.
Thanks, Ken, and good morning, everyone. In line with our expectations, first quarter adjusted EBITDA was $59.3 million compared with $73.7 million in the prior year quarter. The prior year includes a one-time $23 million benefit from the termination of the Gold Card program as well as higher marketing expense of approximately $6 million in connection with the launch of One New GNC.
Source: GNC Q1 2018 Conference call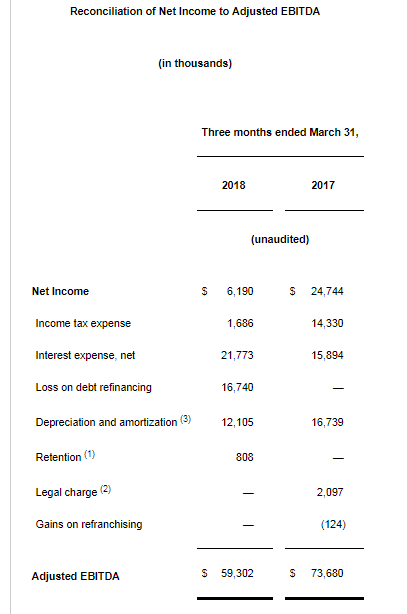 Source: GNC's Q1 2018 earnings press release
Qualitatively, GNC showed nice growth in membership sign ups which is a leading indicator for future activities.
Strong Membership growth
As of March 31, 2018, our loyalty membership increased 12.3% to 12.8 million members compared with December 31, 2017. Included in our loyalty membership at March 31, 2018 are 935,000 members enrolled in PRO Access, a 23.6% increase compared with December 31, 2017.
Source: GNC Q1 2018 conference call
Slimvance is selling well and proves the value of an exclusive launch with GNC to future partners
As part of our ongoing commitment to the development of innovative products and services, we launched Slimvance by BodyDynamics, a category-defining weight loss supplement in late December. Slimvance, which is all natural, stimulant-free, and has clinically proven results, addresses an untapped need in the $6 billion weight management market. Slimvance successfully attracted new customers, drove a larger basket, and increased our market share in the weight management category. Nearly half the customers buying Slimvance are new to GNC and nine of the top 10 items in Slimvance basket are GNC-branded products.
Source: GNC Q1 2018 conference call
Beyond Raw is selling well
So certainly, when we look at our private label increases, a significant portion of that's driven by innovation. So in 2017, we launched a new line, Beyond Raw, that we've seen very good strong performance on in 2017 and into 2018.
Source: GNC Q1 2018 conference call
Relaunch of AMP
In addition, we recently re-launched AMP, one of our highly successful sports performance brands with new products, reformulations, and new packaging, such as the GNC-exclusive Smart Scoop to drive an improved customer experience. We're pleased with the early performance of this re-launch and look forward to updating you on additional innovation in future quarters.
Source: GNC Q1 2018 conference call
Harbin/CITIC
On April 26, 2018, shareholders of Harbin Pharmaceutical Group Holding Co., Ltd ("Hayao") voted to approve the company's $300 million investment in GNC.
Source: GNC Q1 2018 conference call
On the conference call Q&A, GNC's management appeared adamant about their resolve for getting past the 50% shareholder threshold.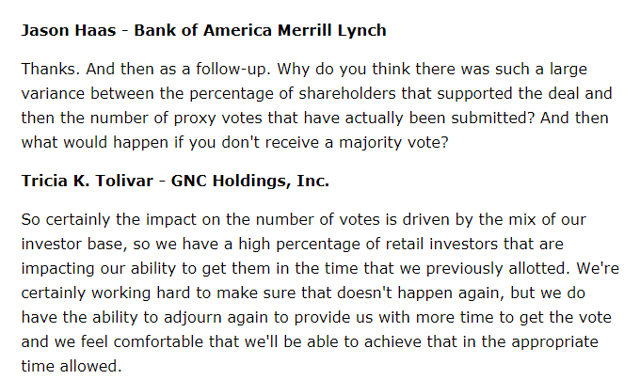 Revisiting The Core Bullish Thesis
GNC has a strong brand name, is vertically integrated, and has a growing international business. The company has made the right pivot with 50% of U.S. sales now GNC private label branded products, which helps support gross margins. Its relationship with Amazon (NASDAQ:AMZN) is working and YoY Q1 online (including Amazon sales are up 27%). I agree the company's U.S. footprint is over stored, but GNC has much more flexible rent expense and shorter leases than its smaller direct peer Vitamin Shoppe (VSI). This is positive in that there is a wide disparity between GNC's top tier stores that generate north of $1 million in annual revenue per year and the bottom of the barrel under performers (stores). Therefore, operating leases can be terminated or reduced and this should enhance gross margins.
Blue Sky Scenario
At $4 per share, GNC's market capitalization is $334 million. The company has $1.3 billion in debt. So its enterprise value is $1.634 billion. They are targeting $90 to $110 million in FY 2018 free cash flow. It is a little bit unknown what the normalized EBITDA power is, but if let's say it is around $225 million (I think it is more, but let's be conservative), interest expense for FY 2018 should be $115 million before Harbin and $96.5 million post Harbin. With GNC's footprint built out and no new store expansion, CAPEX will be minimal.
If/when Harbin exercises its convertible preferred position, GNC's debt decreases by $300 million and its interest expense declines by $19.5 million (see my pro-forma model a few paragraphs below). So then you have a company that will be growing its international EBITDA, with a strong foothold in China. Remember, China is the most exciting VMS market on the planet in terms of size and growth over the next decade.
Moreover, when Harbin exercises its convertible preferred to stock, then GNC's pro-forma interest expense drops to $77 million. Again, the free cash flow will be laser focused on debt principal reduction. And I would argue that once the debt gets to a more reasonable level and the EBITDA is growing, the total enterprise value grows, as the balance sheet gets de-risked.
Because the opportunity in China is so attractive, I would argue that GNC's international EBITDA should be valued at a higher multiple than the U.S. EBITDA. Therefore, the company simply has to keep blocking and tackling, continue to win more exclusive deals (like Slimvance), and keep innovating, and executing. "If" they string together another few B+ to A- quarters, then this stock could get back to $10, even with the dilution.
Free cash flow increased $4 million from the prior year quarter to $37.4 million. We generated $25.1 million in cash from operating activities during the first quarter, which includes $15.8 million of third-party fees paid related to the refinancing. We invested $3.7 million in capital expenditures. We expect our free cash flow to range from $90 million to $110 million for the full year of 2018.
Source: GNC Q1 2018 conference call
Consensus FY 2018 EBITDA was $205 million, as of a few days ago.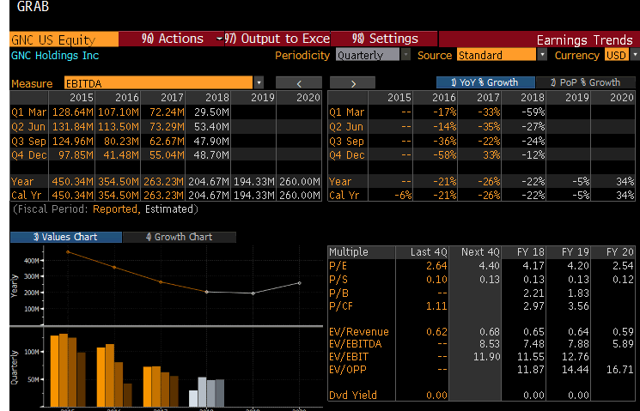 This is the interest expense model from my 3/1 piece Market Adventures piece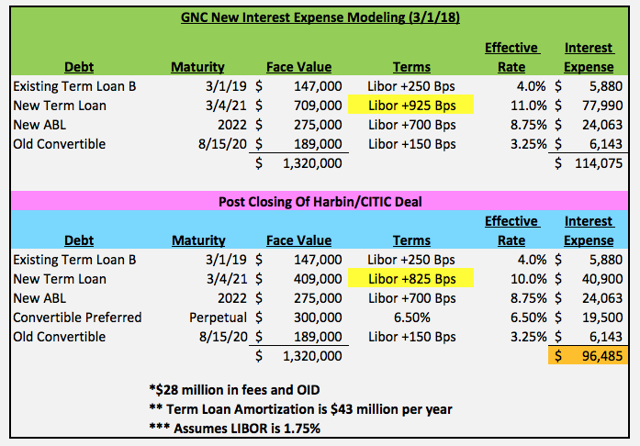 Source: My pro-forma model I built on 3/1/2018
In Search of a Catalyst And Liar's Poker
As I mentioned in "livechat", I can understand if investors don't choose to be long GNC because it isn't their cup of tea and that is fine and that makes total sense. What makes zero sense is why there are 28.6 million shares of stock sold short with the stock trading under $4 and the fundamentals are consistently improving. Besides the shorts pressing their bets against a large retail ownership base, I have no idea what shorts' exit plan is. They have to physically cover their 28.6 million shares in order to monetize their profits. That is no easy feat. One of my readers is a hedge fund manager in London (he has been doing this for more than 10 years) and he said can buy a block of 100K, let alone 250K, shares without moving the stock by $0.20 per share. So it appears that most of GNC's volume is robots (algos) trading back and forth with themselves. If there is real net buying, actual mutual funds buying and holding, not retail day traders, it would be impossible to cover those 28.6 million shares.
Recall my GNC short interest tracking sheet. The shorts have only covered a sizable amount of stock on only three occasions (1.82 million shares 6/30/17, 3.81 million 8/15/17, and 4.72 million 12/29/17) and recall that one of those three occasions was after the convertible for equity swap in December, where the price tanked. So the shorts were able to either deliver their shares when they received them by swapping their convertible bonds or they bought back some shares sold during the meltdown.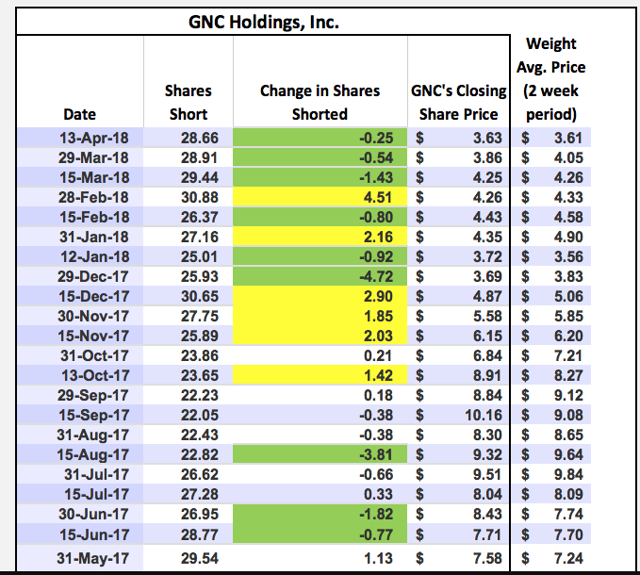 Source: My tracking sheet (data from WSJ and Yahoo Finance)
So the next catalyst is getting the Harbin vote to the 50% threshold, having an active or big mutual get long and file a 5% stake, or Bob Moran buying more shares.
In other news, the reason for Friday share price weakness was due to a Barclays downgrade by analyst Sean Stephen Kras. I haven't cared to read it, as I know this company better than any analyst on Wall Street.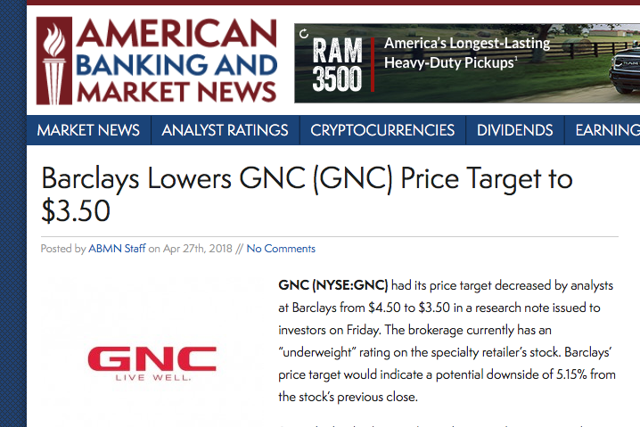 Source: American Banking And Market News
Takeaway
I thought GNC delivered a strong B+ quarter in Q1 2018. We actually increased our equity position by 30% (buying more shares in the $3s this past week) and I have my original shares. Management is vectoring in the right direction. I am encouraged by Q1 2018 and the conference call commentary. Tricia was very prepared and performed very well on this call. I would argue that GNC longs should try not to let the "tail" wag the dog. GNC is blocking and tackling well. If shares continue to trend lower, we will keep buying more shares.
Disclosure: I am/we are long GNC.
I wrote this article myself, and it expresses my own opinions. I am not receiving compensation for it (other than from Seeking Alpha). I have no business relationship with any company whose stock is mentioned in this article.