Author's note: Subscribers to the Total Pharma Tracker gained early access to this article.
Another quarter, another Advaxis (ADXS) analysis. Looking at the chart for the entire year so far, you could perhaps be forgiven in forgetting that anything happened at all aside from the dilutive secondary offering: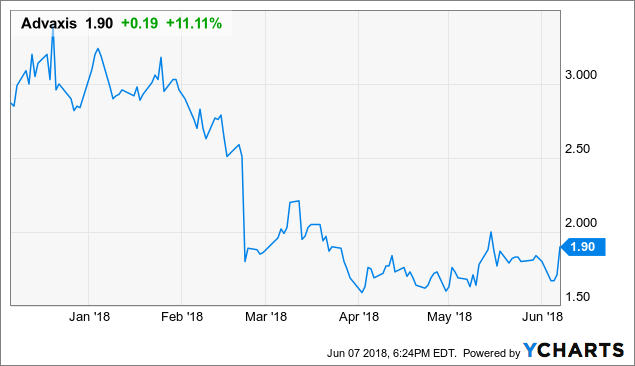 ADXS data by YCharts
This persistent decline is in spite of historic accomplishments for the company, such as filing their application with the European Medicines Agency seeking conditional approval for axalimogene filolisbac.
Now, we have the first quarterly filing under the new management of Ken Berlin and CFO Molly Henderson. And this team is shaking things up strongly on the financial and clinical ends for ADXS. This article is going to provide you with all the major updates you need to have a current picture of due diligence on ADXS, as well as how it is shaping up into 2019.
Momentous events – a supposedly catastrophic clinical hold
The last business update we got from ADXS was coupled with the decidedly bad news that their phase 1/2 study combining the HPV-targeted Listeria-based immunotherapy axalimogene filolisbac and AstraZeneca's (AZN) durvalumab was halted. This followed the submission of a safety report showing that a patient died while receiving treatment due to respiratory failure.
That hold remains in place as I write this, and the company guided as part of their most recent update that they are planning a submission to the FDA in conjunction with AZN to get this trial started again. It remains my personal belief that this patient death, tragic though it was, was not likely due to treatment with axalimogene filolisbac. I expect it will be shown to have been a complication of her late-stage cancer.
But that's not the important part. It is clear that this trial is not a high priority for either AZN or ADXS at this time, and it does not hold much bearing on the progress of axalimogene filolisbac or ADXS's other programs.
Preclinical advances at AACR
At the American Association for Cancer Research Annual Meeting, ADXS presented studies detailing for the first time their preclinical efforts with the ADXS-HOT program. ADXS-HOT is a neoantigen immunotherapy program that is designed to be specific to classes of tumor. It accomplishes this by priming the immune system to recognize antigens associated with "hotspot" mutations that crop up routinely in certain forms of cancer.
We learned that ADXS-HOT was able to promote an antitumor immune response in mouse models of cancer, particularly those associated with aberrant Ras signaling. Given the importance of RAS mutations in various human cancers, this kind of finding has important implications. ADXS guided in its Q2 business update that they would be submitting the first INDs to begin phase 1 study, with timelines placing early data reports coming as early as 2019. I won't bet the house on seeing momentous data before cash runs out (more on that below), but ADXS-HOT has shown serious potential, and it remains ADXS's program with the most value, since it has not yet been sold to a bigger company.
ADXS-NEO, on the other hand, has. But it's also much further along. We saw preclinical findings at AACR for this program, as well. While ADXS-HOT is designed to be "off the shelf" and specific to broad classes of tumor, ADXS-NEO is the company's personalized medicine approach to immunotherapy. Importantly, ADXS-NEO demonstrated the ability to elicit an immune response against antigens not predicted to be immunogenic: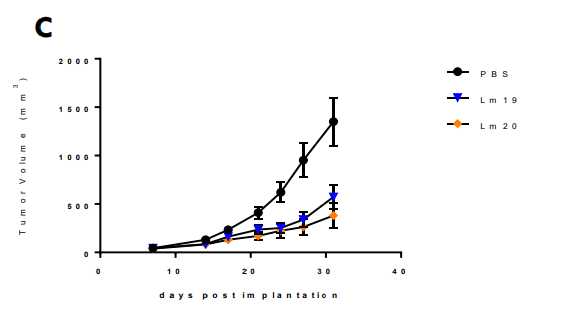 From ADXS's AACR presentation. Lm19 is the strain harboring "non-immunogenic" antigens. Lm20 is the strain harboring expected "immunogenic" antigens
In all, this is the first sign that using the Listeria delivery vector is a difference maker in terms of antigen vehicles. Why is this important? Consider the AACR presentation of ADXS competitor Genocea, who detailed findings showing the unpredictability of neoantigens predicted by computer algorithms. They were able to show that they could find neoantigens not predicted by the models. More importantly for ADXS, they showed that there were neoantigens identified by the computer that did not promote a tumor response.
But if this is due to relative "non-immunogenicity" of these particular antigens, then ADXS has evidence that using Listeria can overcome this challenge, possibly obviating the issues that are going to be faced by the neoantigen-based personal immunotherapy field in the near future. If ADXS can use the Listeria vector to sidestep the challenges posed for competitors like Neon Therapeutics, it could be a major boon in terms of efficacy. Considering Neon is about to enter the public trading market and are already in phase 1 trials, ADXS needs all the edge it can get moving forward.
The only ADXS show at ASCO 2018 – Prostate cancer
Instead of a further update on their HPV programs, ADXS's only data for Listeria-based immunotherapy came in the form of a poster with their collaborator Merck (MRK). KEYNOTE-046 randomized patients to receive either ADXS-PSA (a Listeria vector delivering anti-PSA antigens to promote a prostate cancer immune response) or the combination of ADXS-PSA and the anti-PD-1 antibody pembrolizumab.
The clearest finding from the study was that the combination was well tolerated, and that ADXS-PSA/pembrolizumab led to better reductions in PSA than did the Listeria vector therapy alone. But the number of patients was not incredibly high. Moreover, MRK is threatening to overshadow this KEYNOTE study with a larger one, KEYNOTE-199.
This was the first reasonably powered study to show some kind of benefit for pembrolizumab in prostate cancer. A comparison of the two studies would be beyond the scope of this particular article focusing on ADXS prospects, so you can read more about how KEYNOTE-046 and KEYNOTE-199 compare here.
Long story short: it looks a bit like the ADXS-PSA/pembrolizumab combo might be working better for patients, who also happen to seem to be in worse condition than those in KEYNOTE-199. But it's very preliminary to make stark comparisons here, given information that was not reported.
Furthermore, ADXS guided that they were encouraged by these data, and they will continue to follow the patients for another 6 months or so before evaluating the long-term value and viability of this program.
Financial Outlook
ADXS has made good headway, in spite of the relatively myopic hemming and hawing from the daily share price-obsessed investors. But for a clinical-stage biotech, cash is king. And ADXS has not been in an extremely strong position for years now. Where do they stand now as the new CEO's tenure begins?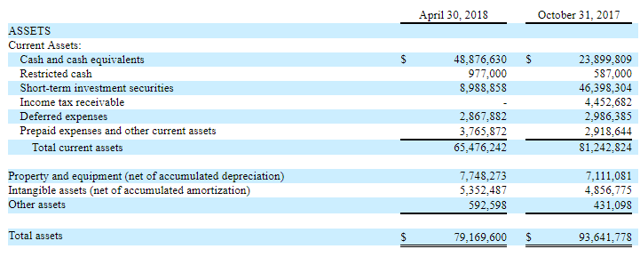 Following a secondary offering back in February that netted around $20 million in funding, ADXS's cash position stands stronger than it did at the end of Q1, despite a still-high loss from operations of $21 million. Furthermore, in their most recent financial update, ADXS announced that they were slashing their workforce by 24%, with an anticipating a cash burn reduction to $50 million annually.
The math, then, is simple. With their cash on hand and short-term investments, ADXS has approximately one year and one half of a quarter of funding left. By selling stock on the open market (as they did in the first quarter for a few million dollars more), they may be able to reasonably bring this cash runway out to one year and one fiscal quarter from April 30.
The clock is ticking, and that clock says that if nothing changes, the funding runs out in December 2019 in the best-case scenario, but more like June/July 2019 if their losses are not as well controlled as they say. Needless to say, cash is not ADXS's biggest strength moving forward, and this kind of weakness has been a huge drag on the share price and their ability to raise new funds.
Extant sources of income
Shareholders have been held largely in the dark about the developmental milestones that ADXS is entitled to from both the Aratana (PETX) and Amgen (AMGN) partnerships. On one hand, PETX recently secured conditional approval for their licensed Listeria-based canine osteosarcoma treatment. Under the original terms of their agreement, PETX is on the hook for upwards of $28 million in milestones, although it is unclear exactly when those will be realized.
In addition, the AMGN partnership is capable of generating much larger returns for ADXS. One expected (though not confirmed) milestone will be for the official start of clinical study. To date, however, no patients have been dosed with ADXS-NEO. This is looking to change in the near future, as the study is set to begin in June 2018, per the Q2 filing. And this was all but confirmed by the company's new CEO, Andres Gutierrez, in the conference call that followed:
As you know, Advaxis-NEO is partnered with Amgen, dosing for the first patient is imminent and we are working to enroll additional patients on this study with four sites and growing as of today.
We do not know whether this dosing will trigger a clinical milestone payment from Amgen, or how large it will be. There is some speculation that it could be in the tens of millions of dollars, but I think this is optimistic. However, it should be noted at any amount of money coming from AMGN support at this juncture will help to stave off the bleeding and increase the runway.
Potential sources of income
Dilution is the most obvious well that ADXS can dip into, as their last round of dilution, which added around 20% to the outstanding shares, has led to an approximately 10% decrease in the market cap of the company since that deal went through. So, like it or not, ADXS has proven resilient in spite of the dilutive funding arrangements.
Of course, that is no guarantee that another deal would go remotely smoothly for the company, and at the time I write this their total valuation is just barely reaching to $100 million. This is not a favorable position to be undertaking another secondary offering anytime in the near future.
Given their now-public intention to partner axalimogene filolisbac, this could be a likely source of upfront money, in addition to royalty income should the drug be approved. A prototype arrangement that we can draw from might be Aveo Pharmaceuticals (AVEO), who outlicensed their kidney cancer drug tivozanib to EUSA for up to $400 million in milestones, with a $2.5 million upfront payment.
Because ADXS currently has a submission with the EMA, it might be reasonable to expect that they can secure higher upfront funding. But it gives us a way to ballpark what we might expect from a Europe-only deal. Given the size of the competitive market for AVEO's drug, it is analogous, in my mind, to the revenue potential that ADXS could see for a relatively rare disease setting, even though it remains a pretty strong unmet need.
Of course, no new partnership is a guarantee for ADXS. This is an unusual drug that has not yet realized the full validation it needs to warrant what I would consider guaranteed acceptance by the regulators. So if other pharmaceutical and biotech companies don't want to touch it at this time, that may just be how it is. But the new management is signaling that all offers are on the table, and pipe dreams of partnering the European end of axalimogene filolisbac for billions of dollars do not seem to be on the forefront of managements' minds.
Strengths and Weaknesses
ADXS continues to set itself apart from its immunotherapy peers with their promising Listeria-based delivery vector. None of the recent data presentations give me strong reason to feel that they are in dire straits as far as the science goes. Therefore, I consider the science of ADXS a strength. But that's a tentative consideration. Remember, due to the areas they're tackling, we don't have any placebo-controlled data to demonstrate a clear benefit for any of their therapies.
This is an aspect of ADXS I covered in a good bit more detail in a previous article that I highly recommend you read: "What Can the EMA's Failures Tell Us About the Future?" I am optimistic, but at the same time I am realistic. I am a fan of ADXS's approach, but I am not an absolute cheerleader who will tell you that the Listeria vector has already demonstrated transformational benefit for patients. But it's still a strength, in my book. And I peg the chances that they'll get that EMA approval at around 70%-80%, given what I've seen from other programs that received conditional approval.
In addition, the company is on the cusp of exploring some very special science in the clinic, with imminent dosing of patients beginning for ADXS-NEO and INDs being planned for later this year. This kind of development provides more support for my optimism.
But to be frank? Cash doesn't. Their cash position is a notable weakness for the company, since there is no guarantee that they will be able to execute a partnership that removes this as a going concern. And unfortunately, ADXS finds itself in a position where it needs the cash badly enough that they may find themselves in a weak stance. At these price levels, another secondary offering could represent an existential crisis for current shareholders.
However, there are a lot of things that can quickly turn that perception around. A good milestone payment. A modest, but cash-frontloaded deal for axalimogene filolisbac, or lucrative partnerships for programs like ADXS-HOT or ADXS-PSA would almost immediately erase the funding concerns for years, without the need to reach into the shareholder equity well.
Conclusions
ADXS is not a company for the shortsighted investor. Expecting a turnaround on a dime is simple speculation, and it is more likely than not to put some pain in your wallet, not gains. I continue to feel that the risk-benefit for ADXS is outsized, just as I did when they were at $6 per share. There's just too much developing for the company to be ignored at this juncture.
With definitive, clear leadership running the show now, and with an apparent plan to try and resolve their cash flow problems, ADXS may find itself in its best position ever in the coming months if they can execute. And if that's the case then this trading in the $1.60-$1.90 is going to be a distant memory pretty dang quickly.
Disclosure: I am/we are long ADXS.
I wrote this article myself, and it expresses my own opinions. I am not receiving compensation for it (other than from Seeking Alpha). I have no business relationship with any company whose stock is mentioned in this article.