According to the Office for National Statistics, U.K. inflation climbed to 1.2% y/y in November, the highest level in more than two years. Consumer price inflation should remain on a rising trend over the coming months as the British pound weakness increasingly feeds through.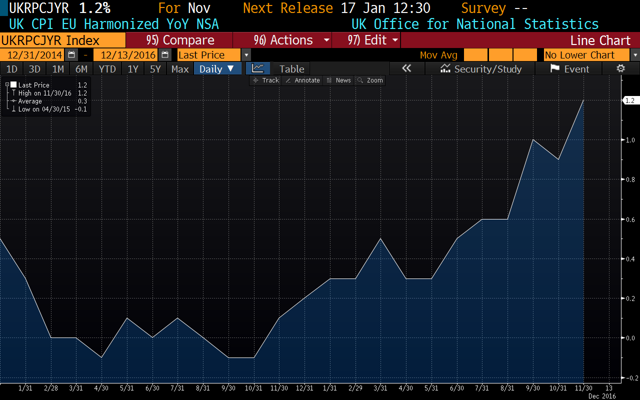 Click to enlarge
Source: Bloomberg
The British pound rose against the U.S. dollar after the data were released.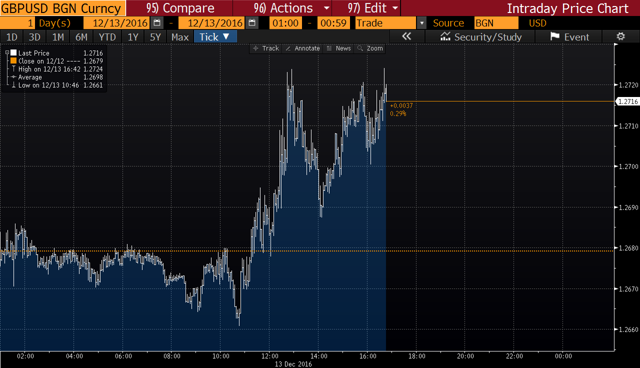 Click to enlarge
Source: Bloomberg
We think the pick-up in inflation has damped speculations that the Bank of England (NYSE:BOE) might cut rates in December or February. Importantly, inflation expectations are rising as well. The BoE also published the results of its November Inflation Attitudes Survey. According to the survey, consumers expect price growth to average 2.8% in the next 12 months, 60bps up from 2.2% in August. In addition, 41% of respondents said the U.K. key policy rate will rise by next November. That's up from 21% in August.
The interest rate market (OIS swaps) in UK is no longer pricing in a rate cut from the monetary authorities. In fact, there is a 30% chance that the BoE will increase rates by December 2017.


Click to enlarge
Source: Bloomberg
We also note that the latest GDP numbers suggest that the UK economy (NYSEARCA:EWU) looks to be in a much better shape than many had feared it would be. As a reminder, the UK's GDP growth beat expectations, rising 2.5% y/y in Q216.
Banks are highly sensitive to interest rates
As a reminder, the fear of lower interest rates has had a negative impact on UK banks. The yields on the 10-year UK sovereign bonds declined by 85bps to 0.5% after the Brexit referendum.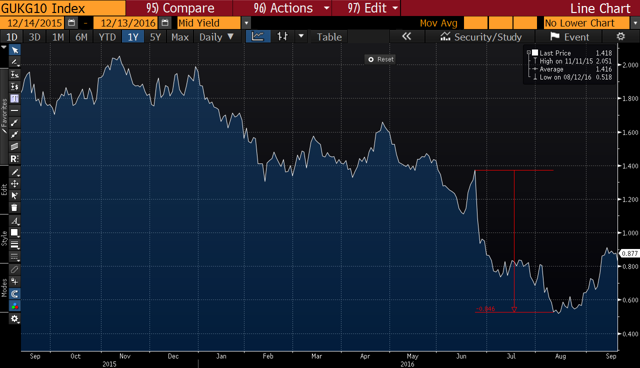 Click to enlarge
Source: Bloomberg
The below chart shows that there is a correlation between Lloyds' (NYSE:LYG) share price and yields on the UK's 10-year bonds. The reason why there is such a strong correlation is the bank's interest income sensitivity to sovereign yields.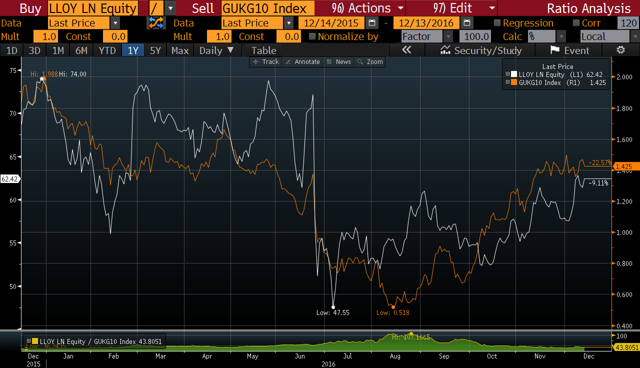 Click to enlarge
Source: Bloomberg
How to play higher U.K. rates? Buy Lloyds
Lloyds is our top pick in the UK banking space. We view Lloyds as a quality dividend story, well supported by resilient margins, a de-risked balance sheet and robust organic capital generation. The bank is still trading at a discount to its peers.
P/B vs RoE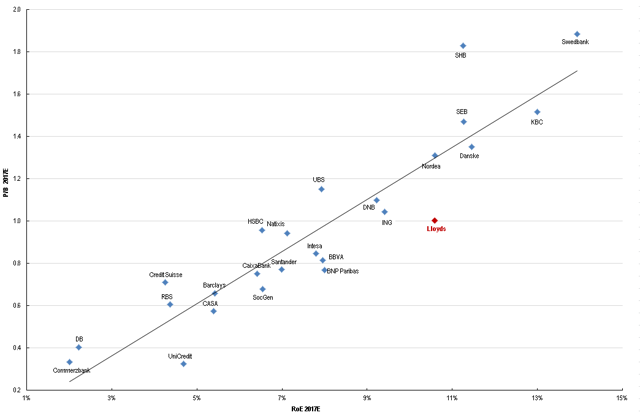 Click to enlarge
Source: Bloomberg, Renaissance Research
P/TB vs RoE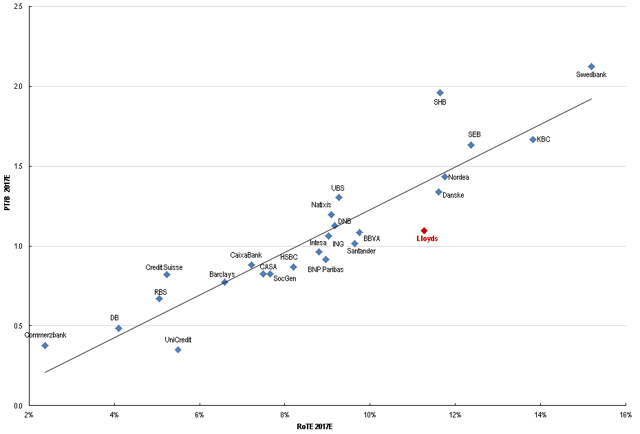 Click to enlarge
Source: Bloomberg, Renaissance Research
As a buy-side analyst and a deputy portfolio manager, I oversee a financials-focused fund, and will be continuously providing research coverage on developments with Lloyds and other global banks, insurers, asset managers and other financial companies. If you are interested in the topic, consider following us by clicking the "Follow" button beside our name at the top of the page. Thank you for reading.
We also invite readers to take a closer look at our recently launched subscription service. Get in-depth fundamental research, stock recommendations, trading ideas, exclusive access to professional databases, sophisticated valuation models and expert commentary on Wall Street recommendation from an award-winning hedge-fund analyst with a proven successful track-record. For more info, please click here.
Disclosure: I am/we are long LYG.
I wrote this article myself, and it expresses my own opinions. I am not receiving compensation for it (other than from Seeking Alpha). I have no business relationship with any company whose stock is mentioned in this article.