IFO is Germany's No. 1 Think-Tank and its Business Climate report has a significant impact on the Euro.
The Market Impact Tool shows trading opportunities in both upside and downside surprises on this event.
Buying EUR/USD Scenario
Tradable Positive Trigger: +1.37 deviation [BUY Pair]
Key Resistance Level: $1.2300
If it comes out at higher than expected with a deviation of +1,37 or higher, the pair may go up reaching a range of 29 pips in the first 15 minutes and 75 pips in the following 4 hours.
$1.2300 was a temporary low in mid-April. The temporary cap of $12340 that was seen in March also coincides with the 50-day Simple Moving Average. $1.2413 was a high point in mid-April.
Selling EUR/USD Scenario
Tradable Negative Trigger: -1.87 deviation [SELL Pair]
Fundamental Support Level: $1.2155
If it comes out lower than expected at a deviation of -1,87 or less, the EUR/USD may go down reaching a range of 35 pips in the first 15 minutes and 48 pips in the following 4 hours.
$1.2210 is the low seen in early April. $1.2155 was the swing base in February. Below, the 2017 high of $1.2090 is a strong line of support.
EUR/USD Levels on the Chart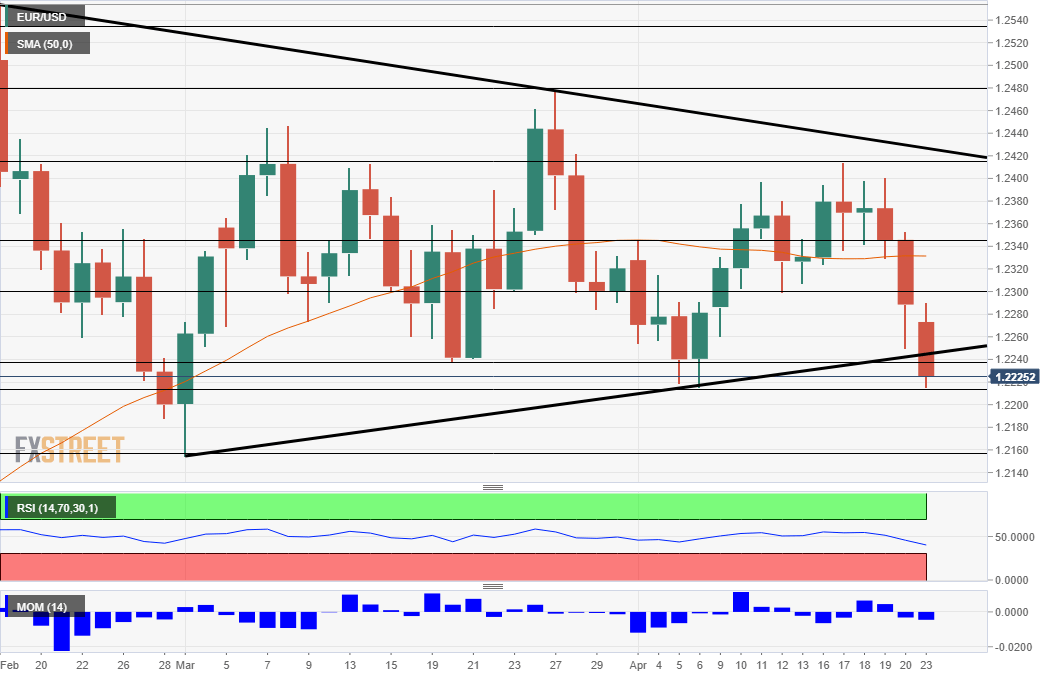 More data
The Information and Forschung (IFO) institute's survey of around 7,000 businesses is closely watched. After the ZEW Economic Indicator fell sharply to negative territory but PMI data stabilized, the last forward-looking indicator for April will have the final word. A high score implies improving economic conditions and higher chances for the European Central Bank to remove its ample stimulus. A deterioration means that the economies of the euro-zone, or at least the largest one, is suffering a slowdown that could delay any exit.
IFO recently changed its formula, and the updated number for March is now 103.2. A rise to 104.7 points is expected.
Follow the publication of the figure on the economic calendar. Watch out for the data from the Market Impact tool, projecting the potential price changes according to the deviation. Here is the Market Impact Studies Users Guide.
The preceding article is from one of our external contributors. It does not represent the opinion of Benzinga and has not been edited.