Peter Krauth
As expected, the gold price has struggled to regain the $1,300 level last week, but it won't stay below that price for long…
After reaching a monthly high of $1,305 on Friday, Oct. 13, the metal fell 1.8% last week to close at $1,281 on Friday, Oct. 20.
Sentiment toward gold prices is badly bruised as stocks continue to make new highs, causing interest in precious metals to wane. The Dow Jones Industrial Average closed at new record highs every trading session last week, gaining 1.9% over the five-day period.
Although the U.S. dollar has been mostly sideways for the past month, it has regained some strength in the past week. The U.S. Dollar Index (DXY) – which tracks the dollar against the euro, Swiss franc, and other currencies – is up from 93.09 on Oct. 13 to 93.90 today (Monday, Oct. 23).
Part of the dollar's rally comes from renewed talk of passing U.S. President Donald Trump's promised tax cuts. Last Friday, the GOP-controlled Senate approved a budget measure that would let Republicans start drawing up a tax-cut plan without support from Democrats.
In my view, the price of gold will likely stagnate over the next few weeks. News around the tax cuts and the 91.7% chance of a December rate hike should support the dollar and stocks, attracting money away from the gold market.
On the other hand, I find it interesting that Goldman Sachs Group Inc. (NYSE: GS) recently came out in favor of gold. The bank said it believes precious metals are still a relevant component of investors' portfolios, even though they offer no yield.
My sense is that we're going to get a surprising upside move from gold prices and gold stocks before this year is out. That's why I'm going to show you my bullish gold price target for the end of the fourth quarter.
First, here's a closer look at gold's decline last week…
The Gold Price Posted a Weekly Drop of 1.8% (Oct. 13-20)
Gold settled at $1,305 on Friday, Oct. 13, for the highest close since Sept. 25, but it couldn't maintain that high on Monday, Oct. 16. Although the price of gold opened higher, at $1,306, it fell throughout the day as the DXY rose from 93.09 to 93.31. The metal ultimately closed the session at $1,303 for a 0.2% loss.
Overnight trading into Tuesday morning didn't help, as the DXY kept running higher. As it peaked near 93.70 in morning trading, gold prices fell back to $1,284. They settled the day 1.3% lower, at $1,286.
Here's a look at the dollar's performance last week…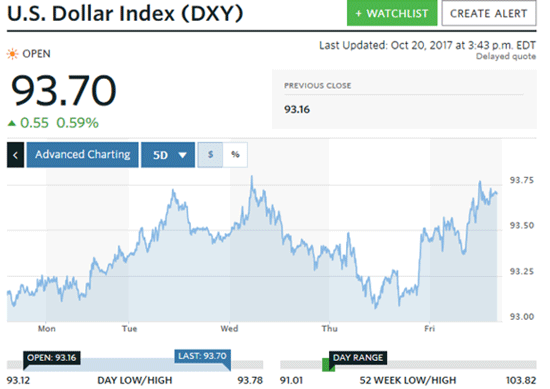 moneymorning.com/wp-content/blogs.dir/1/files/2017/10/US-Dollar-Index-Oct-20-300×212.png 300w, moneymorning.com/wp-content/blogs.dir/1/files/2017/10/US-Dollar-Index-Oct-20-75×53.png 75w" sizes="(max-width: 550px) 100vw, 550px" title="gold price" />
The gold price weakness continued into Wednesday even as the DXY fell from 93.49 to 93.36 by the end of the session. This dragged gold 0.2% lower, to $1,283, by the close.
On Thursday, Oct. 19, the price of gold bounced higher as the DXY fell back below the 93.25 level. This dollar weakness was enough to lift gold higher, opening at $1,286 and closing at $1,290. That marked a 0.5% gain for the session.
Urgent: Executive Editor Bill Patalon just saw something on his precious metals charts he's only seen twice in 20 years. He calls it the "Halley's Comet of investing" – and it could lead to windfall profits. Read more…
But the specter of tax cuts dominated market news on Friday. Stocks rallied as the Senate passed a tax reform blueprint aimed at cutting the corporate tax rate down to as low as 20%. This boosted the Dow Jones by 0.7% and lifted the DXY from 93.27 to 93.66.
Of course, that again spurred gold selling, dragging the metal down to $1,281 by the end of the day. With that, the gold price posted a 0.7% loss for the day and 1.8% decline for the week.
And gold prices today (Monday, Oct. 23) are down again as the dollar climbs toward its highest level in nearly three weeks. The DXY is up to 93.90, while the metal is down 0.4% to $1,276.
As I mentioned, I think the gold price could keep heading lower over the next few weeks. The dollar's rally doesn't seem to be over, which could likely cap any gold gains in the short term.
But my longer-term gold price forecast over the next two months is much more bullish. In fact, I expect gold to reach this bold target before the end of 2017…
My Gold Price Prediction Shows a Double-Digit Gain Before 2018
Join the conversation. Click here to jump to comments…

Peter Krauth
About the Author
Browse Peter's articles | View Peter's research services
Peter Krauth is the Resource Specialist for Money Map Press and has contributed some of the most popular and highly regarded investing articles on Money Morning. Peter is headquartered in resource-rich Canada, but he travels around the world to dig up the very best profit opportunity, whether it's in gold, silver, oil, coal, or even potash.
… Read full bio