The Acquisition Of Frutarom Did Not Go Down Well With The Shareholders Of IFF
International Flavors & Fragrances Inc (IFF) announced on May 7, 2018, the acquisition of Tel Aviv-based Frutarom (OTCPK:FRUTF) in a cash and stock transaction valued at approximately $7.1 billion, including the assumption of Frutarom's net debt. The shares of International Flavors & Fragrances closed $15.26 or 10.7 percent lower on the day after the acquisition news which was announced in conjunction with its Q1 2018 results. Given that the quarterly results beat on both the revenue and the earnings, the disappointment was clearly directed at the acquisition announcement. Not surprisingly, the shares of Frutarom jumped as the purchase price representing a 13 percent premium to Frutarom's 30-day VWAP for the period ended May 6, 2018, and an 11% premium based on the closing price on May 6, 2018, at current exchange rates.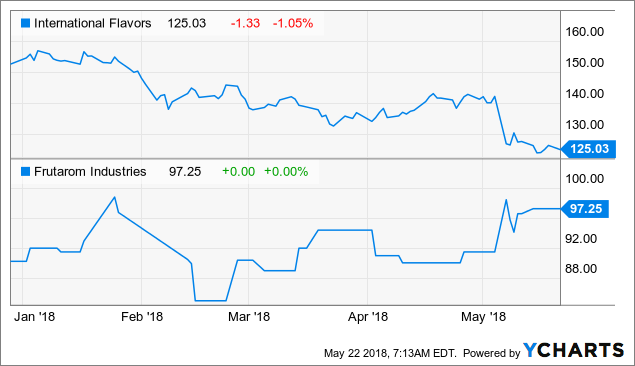 IFF data by YCharts
Rationale For The IFF-Frutarom Combination
The deal will combine the second and sixth largest flavor houses by sales. According to the joint press release by IFF and Frutarom, the transaction will enhance the combined entities' offerings in natural taste, scent, and nutrition, as 75 percent of Frutarom's sales are considered natural. Frutarom's portfolio enables IFF to enter "attractive and fast-growing categories", such as natural colors, enzymes, antioxidants, and health ingredients. IFF will also increase its exposure to the fast-growing small- and mid-sized customers, including private label, given that around 70% of Frutarom's sales are to these two customer groups.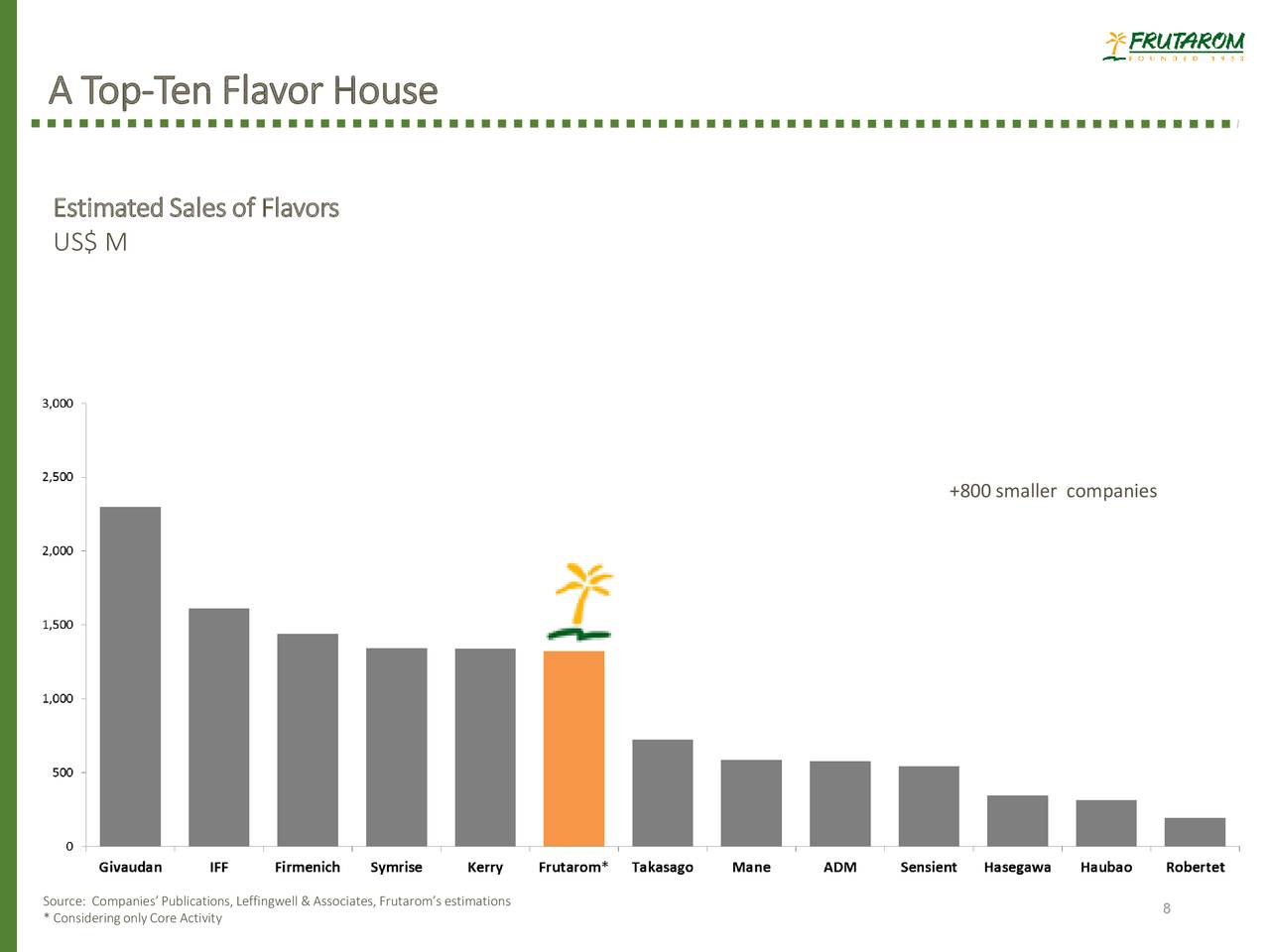 (Source: Frutarom Investor Presentation 2018 January)
The trend towards natural is unstoppable. Frutarom summarized this phenomenon succinctly in one slide (below) in an investor presentation. Whether the impetus to acquire Frutarom is customer-push or product-pull, it is inevitable that IFF needs to get into natural in a big way somehow.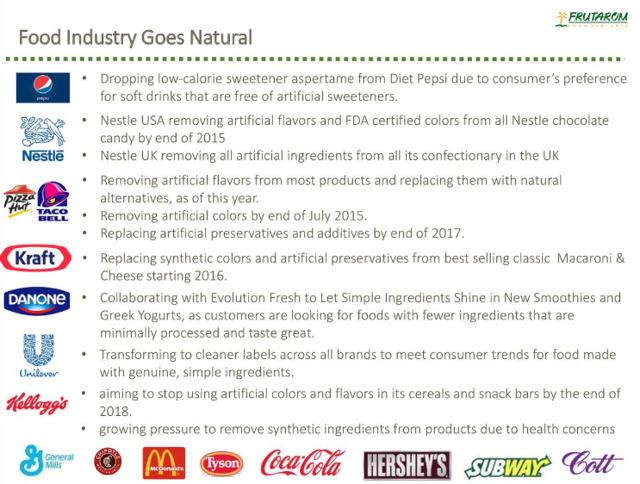 (Source: Frutarom Investor Presentation 2018 January)
Frutarom's Sweet Spot In The Flavors & Fragrances Industry Is Well Reflected In Its Valuation
Frutarom's strong natural portfolio and its focus on the fast-growing small- and mid-sized customers meant it was able to expand its revenue rapidly. Over the past five years, Frutarom more than doubled its revenue (+118.8 percent) while IFF only managed to increase its revenue by one-fifth (+21.8 percent). Correspondingly, Frutarom's enterprise value ("EV") skyrocketed 471 percent in the same period while IFF rose by a comparatively weaker 60.3 percent.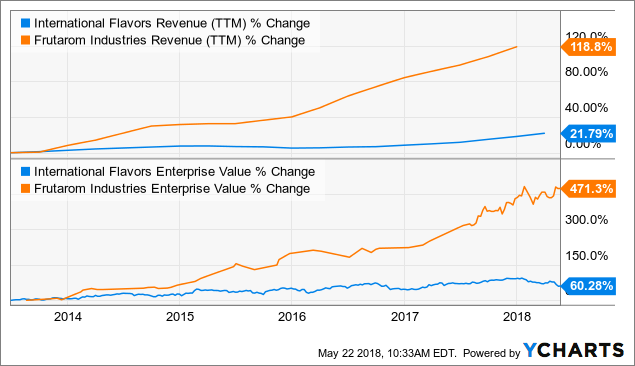 IFF Revenue (TTM) data by YCharts
With that kind of strong growth, Frutarom is justifiably valued at a higher multiple than IFF. Frutarom's P/S ratio on a trailing-twelve-month ("TTM") basis stood at 4.3 times while IFF's P/S ratio declined from the beginning of the year to 2.8 times currently. Frutarom's EV/EBITDA ratio is also clearly higher than IFF at 26 times versus 15 times respectively. On a P/E basis, however, IFF is only a tad lower at 32 times against Frutarom's 39 times.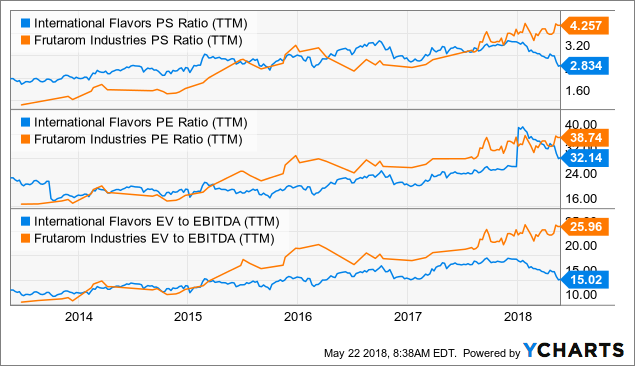 IFF PS Ratio (TTM) data by YCharts
Looking from the free cash flow angle, however, IFF is perhaps considered overpriced relative to Frutarom's growth trajectory. IFF's EV/FCF ratio is 50 times, higher than Frutarom's 42 times, despite the latter's faster revenue growth. IFF's FCF/Debt is almost half that of Frutarom at 0.133 times, while its Debt/Assets is higher than Frutarom at 37.8 percent against the latter's 32.6 percent. In absolute terms, IFF's net financial debt at $1.46 billion is nearly thrice that of Frutarom.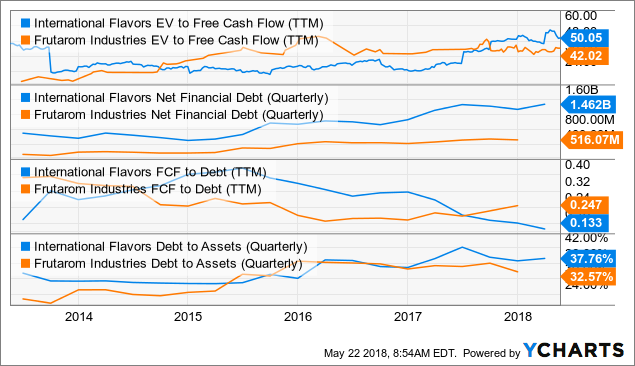 IFF EV to Free Cash Flow (TTM) data by YCharts
IFF estimated its pro forma net debt to adjusted EBITDA ratio at the close of the transaction to be approximately 3.7 times. Cognizant of the high debt level, IFF has targeted to deleverage to 3.0 times net debt to adjusted EBITDA or lower within 18-24 months after the closing of the acquisition. IFF plans to achieve this by suspending its share repurchases until the target is met. IFF would be wise to continue its share repurchases in the meanwhile such that it could snap up the shares at a discount following disappointment over the deal.
Steady Accumulation Of IFF Shares By Top Shareholder
Over the past one year, IFF's top shareholder, Winder Investment Pte Ltd., has been growing its stake in IFF. Its share purchases represented the majority of the insider trade volume. Winder Investment Pte Ltd. is owned by William Cornelius Lexmond, a former Managing Director of UBS AG (Singapore).
Insider Trades At International Flavors & Fragrances

(Source: Nasdaq)
After a series of purchases, Winder Investment now owns 15.5 percent of IFF. Note that the pace of purchases has accelerated following the Frutarom announcement, indicating the confidence in the deal by the top IFF shareholder. With two more weeks to go, the volume of insider buys has already exceeded that of the prior months since 2017 March.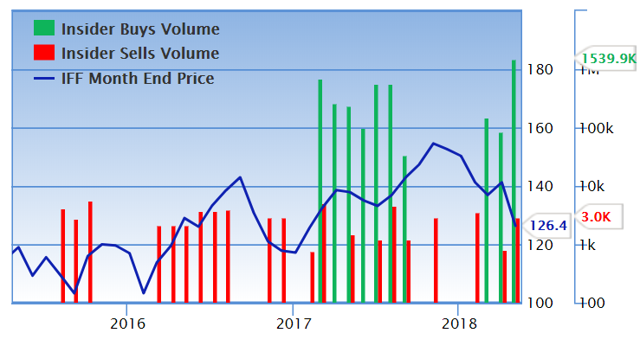 (Source: Gurufocus)
Conclusion
The acquisition of Frutarom by IFF, a fellow industry peer not much smaller than itself, was deemed unfavorable by IFF's shareholders, as seen from the share price dip following the announcement. The market might have considered the price paid for Frutarom as steep given the already sharp share price appreciation in the company in the past years.
Nevertheless, as Frutarom has consistently grown its revenue and free cash flow, its seemingly rich valuation is actually well justified. In fact, on an EV/FCF basis, Frutarom is valued lower than that of IFF.
Another clue that the deal is positive, top IFF shareholder, Winder Investment Pte Ltd., has recently accelerated its share purchases in IFF. Readers who are looking for a growth-at-a-reasonable-price ("GARP") play can consider IFF, especially after its recent dip.
What's your take? Do you think the Frutarom acquisition is overpriced? Please freely share your thoughts, let me know if you found this article useful or provide your feedback in the comments section.
Author's Note: Thank you for reading. If you would like a refreshing take on stocks that you own or are interested in, try looking here. Besides US companies, I cover a number of Asian stocks as well. If you wish to be informed of my new ideas on Seeking Alpha via email so that you have time to read them before the articles get locked behind a paywall 10 days from publication, please select "Receive email alerts" when accessing on a desktop computer.
Disclosure: I/we have no positions in any stocks mentioned, and no plans to initiate any positions within the next 72 hours.
I wrote this article myself, and it expresses my own opinions. I am not receiving compensation for it (other than from Seeking Alpha). I have no business relationship with any company whose stock is mentioned in this article.
Editor's Note: This article discusses one or more securities that do not trade on a major U.S. exchange. Please be aware of the risks associated with these stocks.