Editor's note: Seeking Alpha is proud to welcome Villamayor Capital as a new contributor. It's easy to become a Seeking Alpha contributor and earn money for your best investment ideas. Active contributors also get free access to the SA PRO archive. Click here to find out more 禄
With $311 million in goodwill, if Evo Payments (EVOP) can successfully integrate previous acquisitions, then the upside potential will be very significant.
In May, this global merchant acquirer and payment processor will try to sell 14 million shares at $14-$16 in order to raise a maximum of $224 million. The proposed ticker symbol is EVOP.
The Nasdaq exchange and prestigious underwriters are behind the initial public offering, which, in fact, speaks a lot about the company. Take a look at the image below:

Source: S-1/A
Whats my initial thesis? With a 20.4% increase in revenues in 2017, the growth of the company is very significant, but I dont believe that its most interesting here. Most companies executing an IPO usually show approximately similar revenue growth. What I like the most is that EVOP has acquired a large amount of companies in 2016 and 2017. Bear in mind that 41% of the total assets in the balance sheet are goodwill and intangible assets. In my view, if the management is able to execute the post-merger integration in a befitting manner, the large amount of goodwill and know-how should help the company expand in the next few years.
Business
Founded in 1989, EVOP bills itself as a global merchant acquirer and payment processor, which is providing services to approximately 525,000 merchants in North America and Europe.
Whats the business rationale? EVOP is a non-bank merchant acquirer. Its role is to help in interaction among various stakeholders in the payments ecosystem. Merchants, issuers, banks, card networks and other business providers use the services provided by EVOP to settle their electronic payments.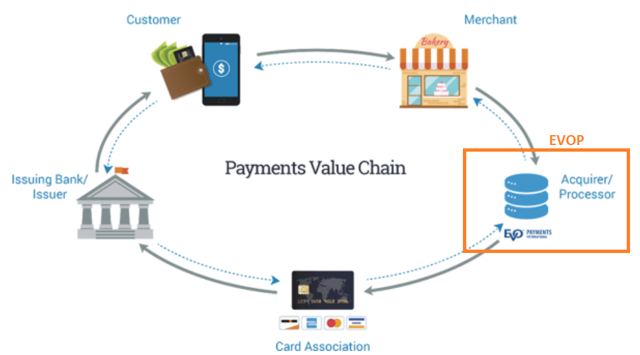 Source:S-1/A
How does the company charge for its services? EVOP receives gross merchant charges from each payment. After realization of each transaction, the issuer bank charges its portion of the fees. Once this is done, EVOP facilitates in the payment of the card network fees and provides connectivity to the card networks besides converting card transactions to cash funds.
Take a look at how the process works in the image below: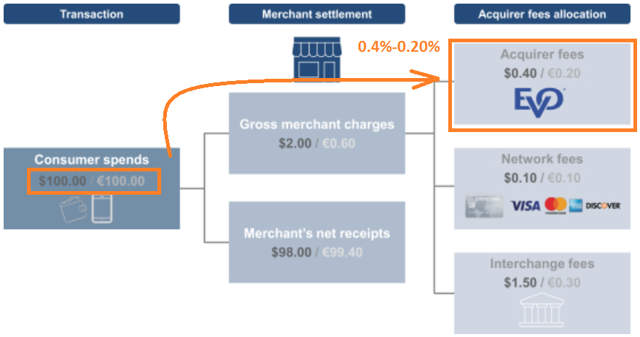 Source: S-1/A
How is the company different from other payment processors? Having been in the business for 29 years, EVOP not only brings its accumulated expertise. The following are three important competitive advantages noted in the S-1/A:
(1) a highly productive and scaled sales distribution network, including exclusive global financial institution referral partnerships
(2) our three proprietary, in-market processing platforms
(3) a comprehensive suite of payment and commerce solutions.
Source: S-1/A
Market Growth And Company Growth
EVOP is an old company, but it operates in a market that does not seem at all mature. According to the Nilson Report, only in the US, the card transaction volume is expected to reach $10.0 trillion by 2026, which means that the market will be growing at a CAGR of 6.8%.
In addition, EVOP operates in the countries where the card transaction volume is growing at a higher pace. Take a look at the image below: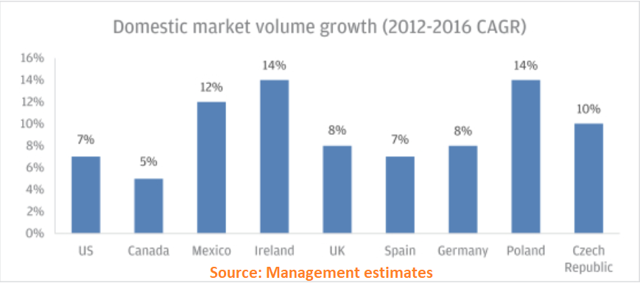 Source: S-1/A
Having said so, I believe that the company is very well positioned to benefit from the market growth in the countries outside the US. 61.2% of the companys revenues are made from the countries like Germany, Ireland, Mexico, Poland, and UK as show in the following image:

Source: S-1/A
The companys revenue growth in 2017 was equal to 24% and 15.5% in North America and Europe respectively. Have a look at the image below:

Source: S-1/A
Thats an impressive growth pace, which could have not have been possible without several acquisitions made by EVOP in 2016 and 2017. With that in mind, if the company keeps showing this type of inorganic growth, I will expect that the investors will benefit from it. EVOP is growing at a large pace, which is usually what market leaders show.
Whats my take on this strategy of mergers and acquisitions? If the company does not buy out other companies in the future, the revenue growth may decline, which may push the stock price down. In my view, long-term investors will do good by looking closely at these features in the future. I will also do so.
Valuation – Is there more room for acquisitions?
Yes, I believe so. The company has noted in its documentation that there is a variety of merchant acquirers. While the company notes the largest competitors, it also clarifies that there are many others:

Source: S-1/A
The following is a list of peers and direct competitors of EVOP:
First Data (NYSE:FDC), which has a market capitalization of $18 billion and EV/EBITDA ratio of 12.72x
Global Payments (NYSE:GPN), which shows a market capitalization equal to $18 billion and EV/EBITDA ratio of 19.5x
Worldpay, Inc. (NYSE:WP), which has a market capitalization of $25 billion and EV/EBITDA ratio of 32.98x.
Total System Services, Inc. (NYSE:TSS), which has a market capitalization of $16 billion and EV/EBITDA ratio of 18.83x.
Bearing the size of these competitors in mind, I believe that smaller competitor EVOP is currently acquiring other small companies to gain size and defend itself from takeover attempts. Consequently, I expect EVOP to continue executing transactions with other companies.
How much can the company be worth?
Direct competitors FDC, GPN, WP and TSS show an EV/EBITDA ratio of 12x-32x. However, they are large competitors. It does not really make sense to compare EVOP with them.
In addition, previous transactions show that buyers are acquiring companies in this sector for less amount of money. According to First Annapolis, which is part of Accenture plc., in 2017, the average multiple was up to 15.3x. Taking into account these figures, I believe that in case of EVOP, using an EV/EBITDA ratio of 14x-18x is reasonable.
EVOP showed an adjusted EBITDA of $128 million in 2017 and a CAGR EBITDA of 24% in the period from 2014 to 2017. Taking into account financial figures and assuming a CAGR of 15%, I obtained a FY2018 EBITDA of $147 million.
As a result, I calculated the implied Enterprise Value, which becomes $2.0-$2.3 billion (14x-18x * $147 million).
Lets calculate now the implied equity:
$2.0-$2.3 billion
Plus cash of $205 million as of December 31, 2017
Plus cash of $224 million from the IPO.
Minus long and short-term debt of $855 million as of December 31, 2017
Implied Equity = $1.569-$1.869 billion
Taking into account different share classes, the number of shares outstanding after the offering is:

Source: Prepared by the author
As a result, I got an implied share price of $59-$70 ($1.569-$1.869 billion/26.374 million). Taking into account the fact that the company is selling shares at $14-$16, we are missing something here; the interest expenses to be paid.
The financial risk of EVOP is quite significant. In 2016 and 2017, the subsidiaries of the company entered into credit agreements, for which EVOP will have to pay large sums in the future. The following image taken from the S-1/A shows interest rates of 5.57%,7.50%, and 10.57%:

Source: S-1/A
The following image shows the contractual obligations of EVOP. EVOP shows approximately $855.633 in total long-term debt and a total amount of interest payments equal to $453 million. Thats a large amount of money:

Source: S-1/A
Whats my take? EVOP will use the money received from the IPO to repay some of the debt. I believe that EVOP will need to raise more money in the next 3-5 years to repay further debt payments. While I believe that the stock dilution could be significant, in my opinion, if the company can grow at the previous rate, it will offset the potential dilution.
Balance Sheet And Goodwill
The current state of the balance sheet is not clean, but I am not really worried. In my view, once EVOP repays its debt and the merger integration of the new acquisitions is done, it could look much better.
The most interesting assets, besides the cash in hand worth $205 million, are the goodwill and intangible assets. They are worth $624 million, which is 41% of the total assets. Have a look at the image below: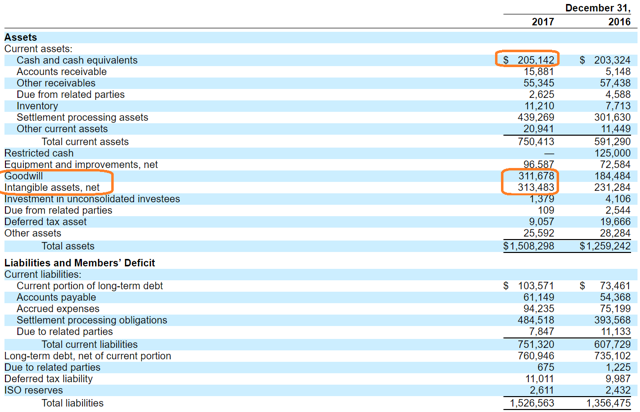 Source: S-1/A
Whats the origin of these assets? According to the company documents, these assets come from previous acquisitions:

Source: S-1/A
The following is a list of the most recent acquisitions:
In 2017, EVOP acquired Sterling Payment Technologies, LLC, for $196.8 million.
In March 2017, EVOP bought Vision Payments Solutions, LLC.
In April 2017, 75% of the assets of Pineapple Payments, LLC, were acquired for $8.4 million.
In May 2017, the remaining 49% membership interest in Zenith Merchant Services, LLC, was acquired for $9.2 million.
In December 2016, the company acquired 100% of the gateway processing business of Intelligent Payments Group Limited for $3.2 million.
In February 2016, a subsidiary of EVOP acquired Raiffeisenbank S.A.s, Czech merchant, for a cash consideration of $8.2 million.
Whats my take on the goodwill? I believe that it is an opportunity. The goodwill is large since the management expects to benefit from the post-merger integration of previous acquisitions. Shareholders who buy right now could make good profits if the process is successful.
What about the balance sheet? In my view, the balance sheet will be subject to many changes in the near future. EVOP will need to integrate all the new employees and reorganize the business, which may change the cost structure and the financial situation of EVOP significantly. For these reasons, judging right now the balance sheet state does not seem logical.
Risks
The first obvious risk is that the previous acquisitions are not successful. In this case, the company would write off related goodwill. The maximum erosion value could be equal to $11 per share ($311 million in goodwill/26.3 million shares), which is quite unlikely and will not happen suddenly. Additionally, in my view, in this case scenario, the management will try to sell some assets. Thus, the decline in the share price will not be so significant.
The second risk is the existing net debt of EVOP. While the debt was necessary to acquire other competitors, it has become a problem for EVOP. In my opinion, the company has options to repay it. The most obvious is raising more capital in the capital markets, which could lead to share price decline. Having said so, I would not expect the price to fall significantly. The company is already quite undervalued at $14-$16 per share.
Conclusion
Currently showing a revenue growth of 20% worldwide, EVOP is selling shares at $14-$16, whereas it could, in fact, sell them at a higher price. In my view, the price is so low since the underwriters want to raise a large amount of money. They dont want to ask a high price and receive a few dollars. Bear in mind that the company needs to raise capital to repay its debt.
Having said that, if the company is successful in reorganizing its business and more acquisitions are made, EVOP shares could trade at a higher price. After the IPO, I will be a buyer at $14-$16 per share, but I will be studying closely what EVOP says about the new companies acquired. In my opinion, thats the best play here.
Disclosure: I/we have no positions in any stocks mentioned, but may initiate a long position in EVOP over the next 72 hours.
I wrote this article myself, and it expresses my own opinions. I am not receiving compensation for it (other than from Seeking Alpha). I have no business relationship with any company whose stock is mentioned in this article.