Nvidia (NVDA) is one of the most impressive growth stories in the semiconductor industry over the past several years. Management has done a great job at expanding into the right end markets, and this has produced explosive returns for investors in Nvidia stock over time.
However, past performance does not guarantee future returns, and Nvidia stock is now priced at aggressively high valuation levels. Moving forward, it makes sense for investors to wonder if the stock still offers attractive upside potential from current prices or if the best is already in the past.
In order to try to answer this question, the following paragraphs will be looking at Nvidia stock based on quantitative factors. Statistical research has proven that variables such as financial quality, valuation, momentum, and relative strength can be powerful return drivers for stocks over the long term. Let's find out what the numbers are saying about Nvidia stock on a forward-looking basis.
Remarkable Financial Performance
Nvidia is a top player in digital media processors and related software. The company pioneered the GPU – graphic processing unit – a high performance processor that generates high-quality graphics on personal computers, smartphones, game consoles, and other platforms.
The company is benefitting from booming demand for gaming products over the past several years, and it has expanded into areas with promising potential such as artificial intelligence, deep learning applications, autonomous vehicles, and cryptocurrency mining.
Being in the right places at the right time has benefitted Nvidia in a big way. In 2014, the company was making 4.13 billion in annual revenue, and the business is now expected to produce $12.38 billion in sales during fiscal year 2019. Key metrics such as earnings per share and free cash flow have performed even better than sales over the long term.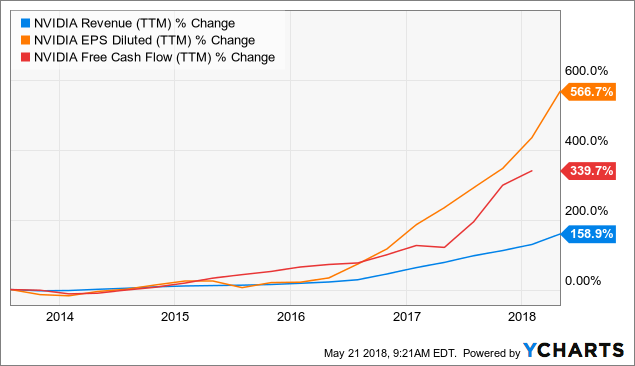 NVDA Revenue (TTM) data by YCharts
The most recent earnings report from Nvidia confirms that the business continues firing on all cylinders as of the first quarter of fiscal year 2019. Total revenue amounted to $3.21 billion during the period, growing by 66% versus the same quarter in the prior year. GAAP earnings per share came in at $1.98, an increase of 151% year over year.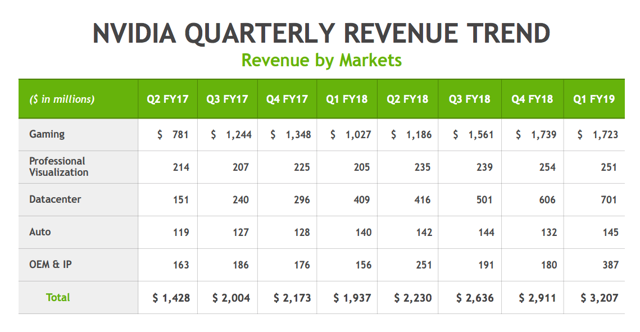 Source: Nvidia
Importantly, the business is performing soundly across its different segments, which speaks well about Nvidia's ability to sustain performance going forward.
Aggressive Valuation
Nvidia is trading at demanding price levels, and this is one of the main risk factors to consider when evaluating a position in the stock. Expectations are remarkably high for the company, and the stock price could be vulnerable to the downside if Nvidia fails to meet those expectations.
Wall Street analysts are on average expecting the company to make $6.26 in earnings per share during 2019. Under this assumption, the stock is trading at a forward price to earnings ratio above 39. As a reference, the average price to earnings ratio for companies in the semiconductor and equipment industry currently stands at less than 24 times earnings.
The chart below shows key valuation metrics such as price to earnings, enterprise value to EBITDA, and price to free cash flow for Nvidia over the past three years. Valuation is not at record levels, but the stock is not particularly cheap by historical standards either.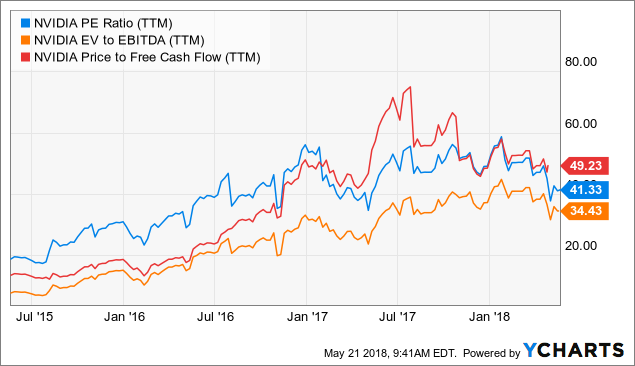 NVDA PE Ratio (TTM) data by YCharts
Nvidia clearly deserves a valuation premium due to its outstanding growth rates and promising potential. That being acknowledged, current price levels don't offer any kind of buffer in case there is a disappointment down the road.
Explosive Momentum
Stock prices reflect market expectations. When a company is delivering better-than-expected numbers and forward-looking expectations are also moving upwards, this generally means the stock price is moving in the right direction too.
Nvidia doesn't leave much to be desired when it comes to business momentum. The company has reported earnings numbers above Wall Street forecasts in the past eleven consecutive quarters, quite an exceptional track-record of consistently beating expectations.
The chart below shows the evolution of the stock price and earnings expectations for Nvidia in both the current year and next fiscal year. It's easy to understand why earnings expectations and the stock price tend to move in the same direction.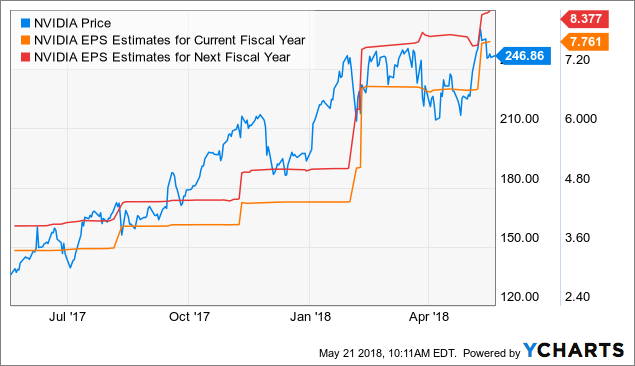 NVDA data by YCharts
This shows why valuation needs to be interpreted in its due context. Nvidia looks expensive based on traditional valuation metrics, but the company is growing at full speed and consistently doing better than expected, which explains why the market is willing to buy the stock at above-average valuation levels.
Nvidia Is Crushing The Market
In the stock market, as in life in general, winners tend to keep on winning over time. Stocks that are outperforming the broad market in general and the industry in particular tend to continue doing so more often than not.
Nvidia looks quite solid in terms of relative strength. The stock is up by more than 80% year to date, downright obliterating the SPDR S&P 500 Trust ETF (SPY) and the iShares PHLX SOX Semiconductor Sector Index ETF (SOXX) in that period.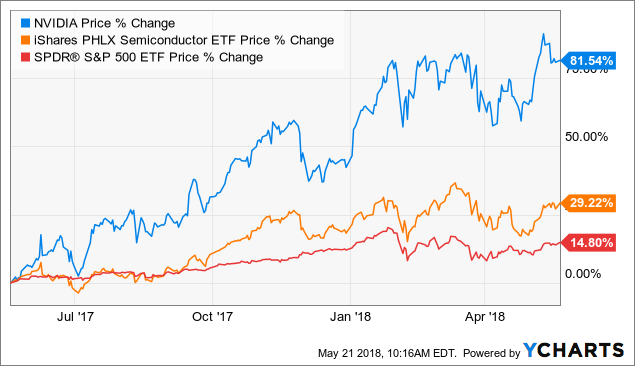 NVDA data by YCharts
Putting It All Together
The PowerFactors system is a quantitative investing system available to members in my research service, "The Data Driven Investor." This system basically ranks companies in a particular universe according to the factors analyzed in this article for Nvidia: quality, valuation, momentum, and relative strength.
The system has produced solid backtested performance over the long term. The chart below shows how the 50 stocks with the highest PowerFactors ranking in the S&P 500 index performed in comparison to the SPDR S&P 500 ETF since 1999. The backtesting assumes an equal-weighted portfolio, monthly rebalanced, and with an annual expense ratio of 1% to account for trading expenses.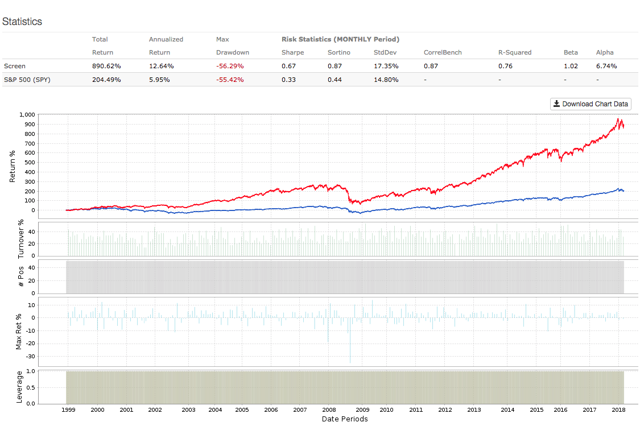 Data from S&P Global via Portfolio123
The system more than doubled the benchmark, with annual returns of 12.64% per year versus an annual return of 5.95% for the market-tracking ETF in the same period. In cumulative terms, the system gained 890.62% versus 204.49% for the benchmark.
Nvidia is one of the 50 stocks currently picked by the system, which means the stock is among the best 10% of those in the S&P 500 based on a combination of quantitative indicators that measure financial quality, valuation, business momentum, and relative strength together.
Nvidia has a weak score in the valuation factor, but the company more than compensates for such weakness with remarkably solid numbers in terms of financial quality, momentum, and relative strength. All things considered, the quantitative indicators for Nvidia look quite strong from a broad perspective.
Value investors who are hunting for stocks priced at bargain-low levels may want to look somewhere else, since Nvidia is priced at comparatively high levels. On the other hand, Nvidia could be a strong candidate for growth-oriented investors who are not afraid to pay premium prices for a company growing at full speed and delivering explosive business momentum while materially outperforming the market.
Capitalize on the power of data and technology to take the guesswork out of your investment decisions. Statistical research has proven that stocks and ETFs showing certain quantitative attributes tend to outperform the market over the long term. A subscription to The Data Driven Investor provides you access to profitable screeners and live portfolios based on these effective and time-proven return drivers. Forget about opinions and speculation, investing decisions based on cold hard quantitative data can provide you superior returns with lower risk. Click here to get your free trial now.
Disclosure: I/we have no positions in any stocks mentioned, and no plans to initiate any positions within the next 72 hours.
I wrote this article myself, and it expresses my own opinions. I am not receiving compensation for it (other than from Seeking Alpha). I have no business relationship with any company whose stock is mentioned in this article.