There seems to have been an overreaction to the downside in L Brands (NYSE:LB), as shares are now down well over 20% from their December highs. It would be interesting to see if the stock's 200-day moving average of about $46 per share will be able to put a stop to this very steep recent decline. Sentiment at present is at the lowest point it has been over the last 12 months, and I would be very surprised if value investors didn't step in here pretty soon. The reason for the steep decline in the stock was the change in the earnings estimates for Q4 in the company's fiscal 2017 year.
However, if we look at the December numbers, for example, in detail, we can see that L Brands has a lot going for it and definitely is going in the right direction with respect to some of its segments. For example, its Bath & Body Works segment continues to remain strong, reporting 4% comparable sales growth both with its direct model and in stores.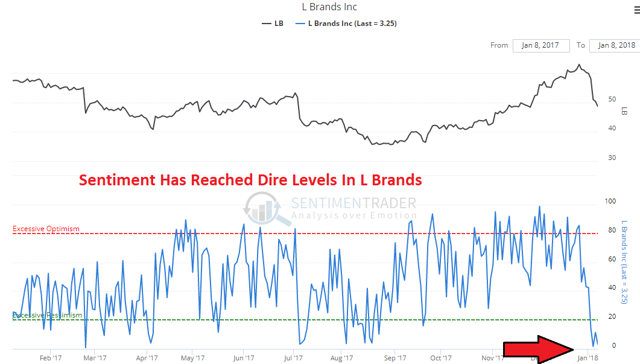 (Source : SentimenTrader)
Furthermore, and although Victoria's Secret lingerie is still a weak point for the company, you have to say that its Beauty and Pink businesses are more than holding their own. We have been long this stock since mid-2017, and will possibly double down if this stock continues to head south for no apparent reason. For example, L Brands' present sales multiple is 1.1, which is a good six points below its five-year average of 1.7. From a valuation standpoint, but also from a dividend standpoint (as the dividend yield is now close to 5%), the stock looks compelling at any price under $50. Here are more reasons why we could possible double down on our position.
The first, most obvious, reason why I see value investors stepping in here is the company's generous dividend yield of 4.9%. The present dividend yield is more than twice its five-year average and more than three basis points above the average in the S&P 500. Some investors may be worried about the strength of this dividend, especially when you consider the lack of equity on the balance sheet at present. However, I would remind investors that L Brands' CEO, Les Wexner, has a long history of rewarding shareholders very generously. For example, the company's five-year dividend growth rate comes in at almost 25%. These types of growth rates really excite investors, and even more so when you take into account the company's current valuation.
Speaking of dividend growth, I like to look at the interest coverage ratio to gauge how much of a problem the interest payments are. In fact, this profitability metric comes in at 4.42 on a trailing 12-month average, which looks sound enough. Also, I like to look at projected earnings growth over the next three to five years, and again, analysts following this stock are projecting growth rates of over 11% over the next five years or so. So, I would say to investors to ignore the long-term debt on the balance sheet and concentrate on the difference between the company's earnings per share and dividend per share. As long as space exists between these two metrics, I feel Wexner will continue to grow the dividend aggressively.
Secondly, there's nothing to suggest that L Brands has lost its strong competitive advantages in this sector. I like to look at the company's financials over at least a decade to see if there have been any key metrics that have been going in the wrong direction in the recent past. One would think that some key metrics would be under pressure at present, given that the stock has literally been cut in half over the past 2 years or so.
However, over the last 10 years, revenue has grown from just over $10 billion to over $12.2 billion over a trailing 12-month average. Furthermore, L Brands' top line is well up since 2015, when shares made their all-time highs. Probably the most important metric to gauge if a company still has its competitive advantages intact is the gross margin metric, which currently stands at a strong 39.5% over a 12-month trailing average. Now this is well up from 2008, but more importantly, the highest percentage we have had in this metric over the last decade has been 42.8% in 2016.
Yes, we have lost some margin over the last 18 months or so from both an operational and gross margin standpoint. However, there is nothing to suggest that a 3%+ loss in gross margin in 18 months constitutes a 50% decline in the share price over the last while. Therefore, I would recommend investors to pick up the low-hanging fruit here.
Again, from a long-term perspective, there is nothing to suggest in the company's financials that it has lost its competitive advantages. Just look at other companies in this sector, such as Guess? Inc. (NYSE:GES), whose operating margins have been obliterated over the past few quarters. Yes, there are companies that are really struggling in the face of online competitors, but L Brands (as we saw again in December with direct sales in its Victoria's Secret channel), should in time pull through its recent difficulties.
Disclosure: I am/we are long LB.
I wrote this article myself, and it expresses my own opinions. I am not receiving compensation for it (other than from Seeking Alpha). I have no business relationship with any company whose stock is mentioned in this article.
About this article:ExpandAuthor payment: Seeking Alpha pays for exclusive articles. Payment calculations are based on a combination of coverage area, popularity and quality.Tagged: Investing Ideas, Long Ideas, Services, Apparel StoresWant to share your opinion on this article? Add a comment.Disagree with this article? Submit your own.To report a factual error in this article, click here