(Editors' Note: This article is meant as an introduction for OfWealth 3D Stock Investor, a new Marketplace service by Rob Marstrand).
The evidence is clear: stocks are easily the best and most profitable investments. Every investor should own them.
Since 1900, US stocks have returned 9.6% a year, on average, outstripping inflation at a compound rate of 6.5% a year. By comparison, returns from bonds beat inflation by just 2.0% a year and bills (a proxy for cash deposits) made just 0.8% real return.
But which type of stocks should you own for the best results?
Should they be "growth stocks", of fast-expanding companies? Should they be "income stocks", of companies with high dividend payouts? Or should they be "value stocks", where the current market price looks cheap in relation to the underlying business prospects?
Growth, Income, or Value? It can look like a difficult choice.
But why would anyone pluck only a few leaves from the money tree and not others? Personally, I'll take all the ones I can reach, provided the risks aren't too high.
After all, a dollar is a dollar is a dollar. Whatever causes a dollar of profit, it's still worth the same amount to the investor.
My conclusion – based on decades of analysis and experience – is that it's best to invest in stocks which combine all three profit drivers of Growth, Income, and Value at once. So that's the approach I take with all recommendations.
In the end, it's total returns that count, not one single driver. Combining all three drivers improves the chances of profitable outcomes and also reduces the risk of losses.
That's what OfWealth 3D Stock Investor is all about. It's my exclusive, total return stock service that's now available via the Seeking Alpha Marketplace.
My free articles on Seeking Alpha – which you're already familiar with – tend to focus on investment strategy, country ETFs, and stocks to avoid. But this service takes things to another level.
OfWealth 3D Stock Investor is the only place where I share my very best stock recommendations.
With that in mind, let's take a closer look at the three drivers of stock profits and how they contribute to profitable outcomes.
The Three Drivers of Stock Investor Profits
Growth: the company can become bigger and more valuable over time, adding assets and growing earnings, which pushes up the stock price
Income: the company can distribute cash to shareholders via dividends (or stock buybacks)
Value: a rising valuation multiple, such as price-to-earnings (P/E) ratio or price-to-book (P/B) ratio, will push up the stock price (and, conversely, a falling multiple will push the price down)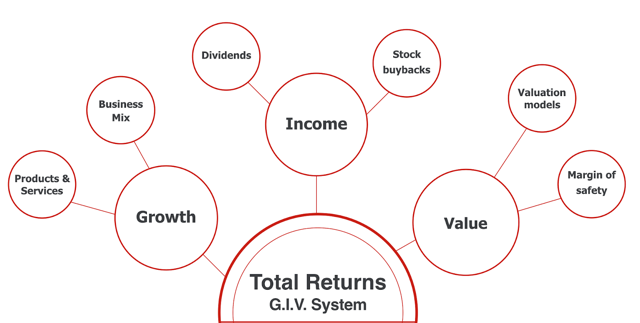 Since the aim of investing is simply to make a profit, it shouldn't matter which of these three sources cause that profit, or which combination. A successful and profitable stock investment can be the result of one factor alone, any two together, or all three at once.
In fact, most successful stocks contain elements or all three drivers, although the relative weightings can vary widely. Investors that focus too heavily on one area – only growth, only dividends, or only value – often end up missing out on the best opportunities.
That's why I carefully screen potential stocks using all three drivers, using my unique "G.I.V. System".
How does it work?
Before making a recommendation, I score each stock on a scale of 0 to 10 for each of the three profit drivers. That's with 0 being the worst and 10 being the best.
I can't share the full details of the scoring scales with you here, as it's the "secret sauce" that sets my service apart. If I laid it all out it now, it would make it too easy for my competitors to copy my system.
But I explain it to all subscribers in greater detail. So, if you sign up for a free trial, you'll soon get a better idea of how and why it works.
What I can tell you is that the bar is set high for each individual factor. Then I only recommend stocks that score at least 20 in total, once I combine the three individual scores.
This is what I call the "G.I.V. Score". The maximum theoretical score is 30, but those kinds of stocks are as rare as unicorns. Most of my recommendations group between 20 and 25, which already sets a high bar.
Adding together the growth and income pieces give a baseline expected return, assuming the valuation multiple doesn't change.
For example, there's one stock in my recommended portfolio that has a long track record of growing cash earnings and dividend payouts at 10% a year and with a current dividend yield of 2.6%.
Putting those together points to a baseline expected return of 12.6% a year. That's 10% a year from capital gains, linked to business growth, and the rest from the dividend income.
But, there's much more potential investor profit on top.
That's because I also estimate that there's 42% upside between the stock's market price and its true value. The "margin of safety" exists because the market hasn't yet understood important changes at the company.
Specifically, the growth prospects in the company's ever-larger and fast-expanding US and Asian businesses. This is something I discovered during my detailed analysis.
Typically, that kind of discount disappears over one to three years, although sometimes it can take longer. In this case, if it happens over two years, it will add 19% a year to the compound return.
That's the icing on the cake that I expect investors to enjoy, sooner or later. In this scenario, the total annual return on the stock would be close to 32% a year in the first two years.
Of course, there's never a guarantee that this will happen. But my in-depth analysis – as always written in clear, non-technical language – has shown subscribers the huge potential for this stock.
Scoring the results
This particular example got a total G.I.V. score of 21 when I recommended it. That was 9 for growth, 5 for income, and 7 for value.
Given the company's long track record and the excellent prospects for the stock, this demonstrates how high I set the bar with my minimum score of 20.
The following chart shows how the pieces add together.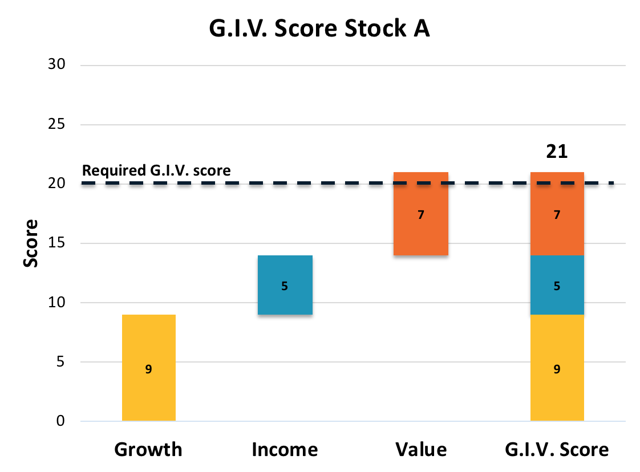 Some stocks I recommend are slightly more weighted to growth potential… others more to income… but they're always downright cheap at the current market price.
The next chart shows how a portfolio subset of five stocks would meet my strict criteria, but how the mix of profit drivers varies for each one.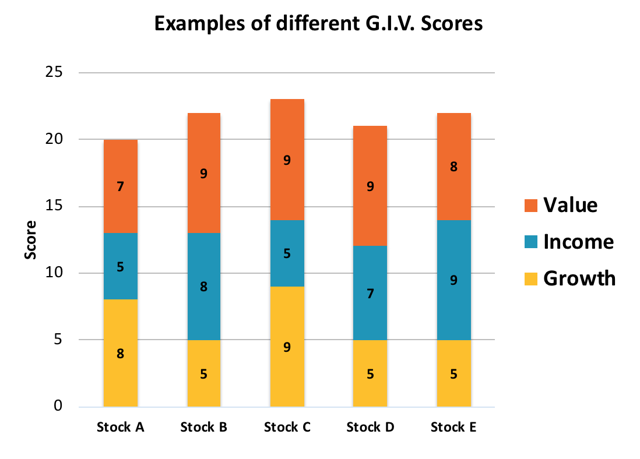 As I said before – but the point is worth stressing – it's total returns that count when it comes to stocks. By looking at all profit drivers and their combined potential, I ensure focus, discipline, and that only the best ideas get through.
Very few stocks get through
Choosing the right stocks always relies on experience and analysis, of both the financial and non-financial kinds. (In my case, I have 25 years of international experience in finance, business, and investment.)
I do a lot more than just screening stocks with the G.I.V. System. There's both art and science to stock analysis and using a screening system is just the tip of the iceberg.
Elements such as the general environment for an industry, market leadership, management quality, and a company's financial condition are essential too. As an example, two of my recent recommendations have massive net cash positions, making them low risk.
That said, using the strict G.I.V. System ensures there's always discipline in the process. It sets the bar very high and removes emotions from the decision making.
Without that, it's all too easy to get swept along by the business prospects of a company. In the end, it's cold, hard analysis that counts.
Sometimes I'll really like a company and its business prospects. But if the stock can't meet the required G.I.V. score of 20, at its current price, then it won't get recommended.
In short, my promise to you is that I won't recommend anything that I wouldn't put my own money into. You should know that I'm very picky when it comes to my own investments.
OfWealth 3D Stock Investor examines all three drivers of stock profits – Growth, Income, and Value. Specifically, it looks at their total return potential when combined.
This service is now live in the Seeking Alpha Marketplace. I'm so confident that you'll like it that it's currently open for a free trial.
This is a special introductory offer because the service is new. So, I recommend you seize the opportunity now, as I can't guarantee for how long the free trial will remain open.
To find out more and to claim your free trial, click this link to join OfWealth 3D Stock Investor today.
In the meantime, if you have any questions at all, please send me a message. I look forward to welcoming you to OfWealth 3D Stock Investor.
Sincerely,
Rob Marstrand
Disclosure: I/we have no positions in any stocks mentioned, and no plans to initiate any positions within the next 72 hours.
I wrote this article myself, and it expresses my own opinions. I am not receiving compensation for it (other than from Seeking Alpha). I have no business relationship with any company whose stock is mentioned in this article.