By Parke Shall
We honestly wouldn't be surprised if we saw somebody come in and make a bid for Mylan (NASDAQ:MYL) at this stage in the game.
We have written several articles talking about why we think the company is significantly undervalued, and now that some of the gray skies have cleared from in front of the company and it has settled with the Department of Justice, we believe it will be blue skies ahead for MYL. We wanted to take a second and talk about what we believe will be a very unique opportunity to own this company at a price significantly under fair market value.
Our last article on MYL talked about the opportunity to buy the company after it had settled with the Department of Justice over the classification of its EpiPen product. We made a prediction that the stock would eventually head back to $49 per share, which is where it was trading prior to the EpiPen scandal going mainstream. We also stated that the company could have about 75% upside over the course of the long term, a price target that we arrived at by putting a 12X multiple on recently reiterated $6 EPS estimates for 2018. With the stock now at $36, that upside potential moves to about 100%.
An amazing thing has happened since then. Rather than continuing to move upward, towards the $40 per share threshold, MYL has once again pulled back to the $36 region, amidst the entire pharmaceutical sector pulling back and the overall market not having a very ceremonious week last week.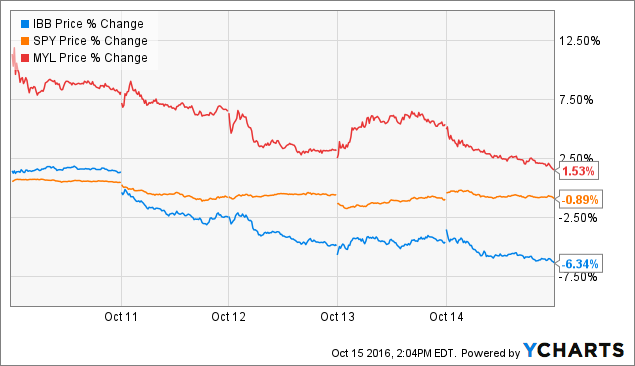 IBB Price data by YCharts
We think that this represents an immense buying opportunity, and we were buying last week and will continue to buy MYL shares as it moves lower. We think that after the election, MYL will get some significant breathing room and we also think that MYL is an undeniable target not only for activist investors but also for a potential acquirer here.
MYL has given back all of its gains from the Department of Justice settlement and then some. Given that the company's one major potential legal ramification now seems to be behind it in its entirety, this is simply just a question of the public narrative surrounding the company continuing to drag operations lower. After all, after the settlement, the company did also come out and reiterate that it expects to do $6 in EPS in 2018.
At some point, companies simply get too cheap to ignore. While we are not enormous believers in the efficient market hypothesis, we do believe there comes a several sigma deviation from fair market value in either direction, at which point the market simply cannot ignore it. We believe we are at such an inflection point with MYL.
Again, as we have said in the past, we think MYL is getting this extraordinarily depressed valuation because it is reminding people of the narrative that Valeant (NYSE:VRX) went through. We have to reiterate again all of the major differences between VRX and MYL.
VRX was over levered and was arguably committing channel stuffing fraud on several of its only super high margin drugs while using crazy non-GAAP measurements to give the street the impression it was earning significantly more than it was earning. MYL has a great balance sheet and is diversified with over 1000 products worldwide. As a generic drug corporation, its main goal in the past has been to reduce cost for consumers, not raise them. Unlike VRX or Turing, there was no monopoly on the drugs that it decided to raise the price on, and consumers had ample choice to decide to use Adrenaclick, a widely available alternate drug that administers epinephrine through an auto injector similar to MYL. VRX decided to not do much after it was called to task by Congress. While it stated in front of Congress that it had intentions of capping prices going forward, it really didn't take much action. MYL, on the other hand has already offered to go out and manufacture a generic EpiPen for less cost, and it has also provided significant marketing and anaphylaxis awareness documentation to the broader public in order to try and move their product in the traditional fashion of marketing and advertising.
It is time to get over the EpiPen saga. It was a red herring from the beginning. As an investor, your job is to look into the future and try to gauge what sentiment will be like six months from now, 12 months from now, 5 years from now, and 10 years from now. Is the pharmaceutical industry always going to be cast in such a negative light? The answer is no.
There will be a time where the industry becomes the darling of the stock market once again, and although it is tough to imagine that at this point, we believe it to be a certainty going forward. When this occurs, valuations will return to relatively normal numbers, and companies like MYL will likely have no issues trading at 12x forward earnings or above going forward.
We believe strongly, and we stated in another article that once this election is over, we expect some of the pressure to come off of the pharmaceutical companies. This sector has been a favorite target for both sides of the aisle heading into November and we believe that complacency will likely take over after the election takes place.
Whether we see a broader market rally, we think, depends on who is ultimately elected. If you'd like to read more about our prognostications regarding the election and its effect on the market, you can read this article that we wrote just days ago. However, for the sector, we think it finally sees some relief and we think that the companies that will have issues moving higher will be clinical stage speculative biotech companies or companies with significant amounts of debt.
MYL is just the opposite. It is a company with an extremely diversified product portfolio and a decent balance sheet. It is a company that generates significant amounts of cash, as you can see below.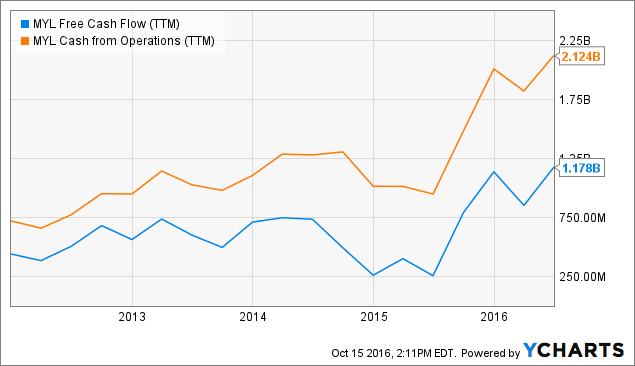 MYL Free Cash Flow (TTM) data by YCharts
We think that this valuation can only be ignored by the market for so long, and we believe that the lower the valuation goes from here, the more likely it is that we see an acquirer or activist investor step in to try and unlock some value. We think that for long-term oriented investors, MYL represents a significant opportunity here and we are investing our capital as such.
We also took the time to identify the company's historical EV/EBITDA number going back a year.
MYL EV to EBITDA (Forward) data by YCharts
We find that although we are not technical analysts first, there seems to be some support here around the 7.3x area, and we expect that support hold in full going forward towards the end of 2016.
We continue to be long Mylan.