Nike (NYSE:NKE) has not had the kind of year that investors associate with a strong performing company. Year to date the company has underperformed the S&P 500 by a little over 20% and are that far off their 52-week high as well. With a fresh 52-week low that was established following the fiscal 2017 first quarter Nike looks pretty attractive especially when comparing their fundamentals and balance sheet with competitors Under Armour (NYSE:UA)(NYSE:UA.C) and Adidas (OTCQX:ADDYY) (OTCQX:ADDDF).
First Quarter
Investors bid down the shares following what was received as disappointing results for their first fiscal quarter. On one hand revenues increased by 8% when accounting for currency and 10% on a currency neutral basis. On the other hand their gross margin was hit by 2% due to leaving the golf industry and what is now becoming a regular issue of foreign currency exchange rates. Growth in the bottom line looked good until you peel it back and see the tax rate dropping to 2.5% from 18.4% last year was likely what helped it along. Were it not for that drop in the tax rate the slipping gross margins and rising expenses would have resulted in a very different quarter with just over $.61 in earnings per share being reported, a full six cents lower than last year's quarter.
Fast forward to where we are now with a share price just above the 52-week low and it is hard to not be interested in Nike even with the growth concerns.
Slow Growth > No Growth
A popular point brought up when comparing Nike and Under Armour is the speed at which the latter is growing compared to the former. Under Armour has been growing at an annualized rate of 24% over the last 10 years and Nike has only averaged 7% revenue growth annualized over the same period. That 24% growth in revenue each year is a big reason why I invested in Under Armour but we have to keep in mind that a 7% growth in revenue for Nike is a $2.3 billion increase from 2016 levels. For Under Armour to catch Nike in the next 10 years they'd have to maintain that 24% rate and Nike would have to go completely stagnant. The point I'm trying to make is that a comparison of the two isn't fair or helpful to investors. Nike may be experiencing slow growth relative to their younger peer but the slow growth is still pretty remarkable for a company of it's size.
Investors are rightfully concerned with the increased competition coming from Under Armour and Adidas. Athletic shoes and clothing are not an infinite market and every dollar spent on a competitor is a dollar not being spent on Nike. With the exception of tactical and hunting clothing all three companies manufacture the same type of products.
Competition
Among Nike, Under Armour and Adidas only the latter has had a good year. Adidas is up a shocking 76% so far as the company has found its groove and returned to prominence in the athleisure market. The other two big players cannot say the same.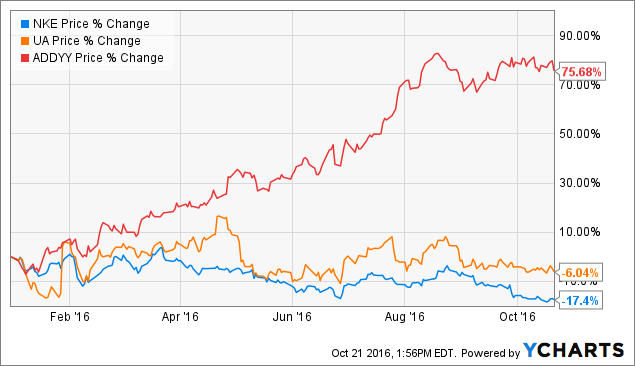 NKE data by YCharts
Looking at share price it is apparent Adidas is eating the lunch of Nike and Under Armour. Valuation matters, however, and Nike at this price may not be a bad place to jump in or buy some more.
A "Bargain"
With shares hovering around $51.50 Nike is trading at just 23.3 times earnings. Compared to Under Armour, Adidas and even the S&P 500 this is a bargain price for the historically great performing company.
| | | |
| --- | --- | --- |
| Company | P/E | Forward P/E |
| NKE | 23.3 | 19.2 |
| UA | 45.1 | 49.1 |
| ADDYY | 33.3 | 29.3 |
Click to enlarge
Even the S&P 500 is trading at a premium to Nike at 24.3 times earnings on October 14th.
The discount being applied to Nike seems a bit overdone given its sustained strong performance, even during the 2008 era crisis in the markets. During that time the company even maintained their revenues which is a strong testament to the brand's power and appeal to consumers.
If we factor back in the taxes that helped them this last quarter the picture does change slightly. Adjusting the EPS down to $.61 a share and taking into account the previous three quarters the company would have made $2.10 during that time which would be about a 24.5 P/E. Even at that ratio the company is still discounted relative to their peers and about on par with the S&P 500.
Risks
With the price where it is the risk to the downside is much lower than at $62 a share, which is where I started my position. The company has some things it needs to address, however, and investors need to be wary of the issues they face.
Competition is heating up and threats are coming from all angles. Not only is Nike facing competition from Under Armour and Adidas but bargain brands such as Champion (NYSE:HBI) and Starter (NASDAQ:ICON) being peddled from racks in Target (NYSE:TGT) and Wal-Mart (NYSE:WMT) are cutting into the market.
What were once footwear fortresses for Nike are also coming under attack. In the NBA and NFL and even the MLB we are witnessing incursions from Under Armour and even Adidas. Adidas is perhaps the most alarming because it was previously written off as a non-threat but is aggressively pursuing the NBA and some of the young standouts in the draft. Under Armour is encroaching on their NFL turf with stars such as Cam Newton and Tom Brady sporting their cleats. While I am not a big believer in tracking sponsorships to forecast who will be successful I do understand that whatever famous athletes wear, kids will want to wear as well. For quite some time, from when I was in little league baseball at least, if you wanted quality purpose-built products for any sport Nike was the sturdy veteran product and that is now being challenged. With Nike's dominance in these arenas being called into question investors should remain vigilant for a long-term shift in consumer preferences.
In Closing…
With Nike below $52 it is worth it to take a closer look. The company continues to execute and do what has to be done despite all the challenges it is facing. The business is still a very high-quality one and as far as long-term reliability Nike is the most tried and tested in this area of the market. Should shares get below $50 or show some signs of heading north again I would very much like to average down a bit. Taking a look at FAST Graphs it appears that $50 is about fair value, but Nike rarely goes "on sale."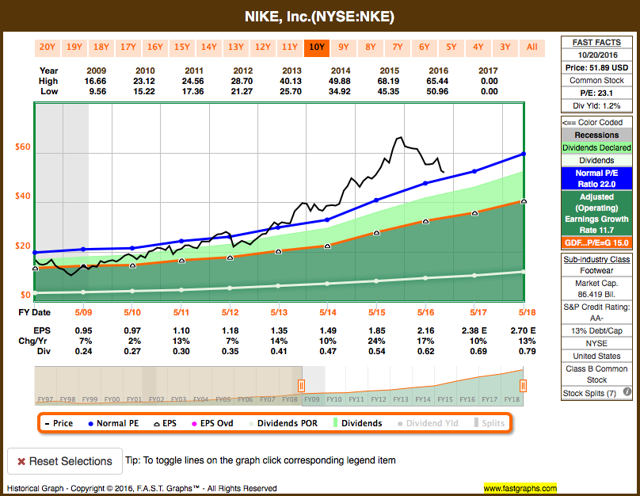 Click to enlarge
I hope you all got something out of this article. I do appreciate the time you took reading it. If you are one of those who follows me here, I appreciate it; if you'd like to include yourself amongst those individuals, please hit the "Follow" button next to my name as well as following other contributors whose work you enjoy. As always, please leave any feedback and questions you may have in the comments below. Best of luck to you all.
Disclosure: I am/we are long NKE, UA.
I wrote this article myself, and it expresses my own opinions. I am not receiving compensation for it (other than from Seeking Alpha). I have no business relationship with any company whose stock is mentioned in this article.
Editor's Note: This article discusses one or more securities that do not trade on a major U.S. exchange. Please be aware of the risks associated with these stocks.