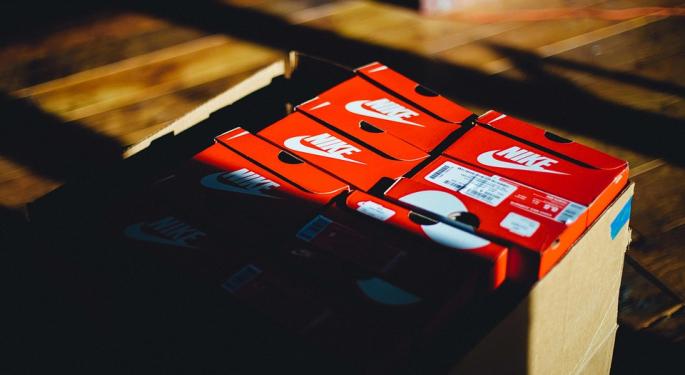 Related NKE Benzinga's Bulls And Bears Of The Past Week: Apple, Amazon, Nike And More Sneaker Wars: How Adidas Was Able To Overtake The Jordan Brand
Nike Inc. (NYSE: NKE) reports first quarter fiscal 2018 earnings on Tuesday, September 26 after market close. Nike shareholders have been on quite a ride so far this year; since the beginning of August alone, shares have gone from being up about 16% year-to-date to a low-single digit increase as of this week.
Competition has been growing in the athletic footwear and apparel market between Nike, Under Armour Inc (NYSE: UA) (NYSE: UAA) and Adidas. In recent months, Adidas has doubled its market share in the U.S. sport footwear market, according to market intelligence firm NDP, and both Nike and Adidas have continued to focus on Asia as an area for growth.
While competitive dynamics have been ongoing for years, Nike's recent selloff was widely attributed to weak results from Foot Locker, Inc. (NYSE: FL) earnings report in August. According to its annual report, 68% of all merchandise Foot Locker purchased in fiscal 2016 was from Nike. Richard Johnson, Chairman and CEO of Foot Locker, partially attributed the weak quarter to sales of some recent top styles of premium sneakers coming in well below management's expectations. Johnson also cited "the limited availability of innovative new products" as another factor that affected the company's results.
Weaker-than-expected results at footwear and apparel retailers, combined with some high-profile bankruptcies among sporting goods stores over the past several years, has resulted in a large amount of discounted merchandise available to consumers. That's one of the factors that CFRA analysts have highlighted as a reason for their estimates for Nike's operating margins in fiscal 2018, which they expect will decline to 13.6% from 13.8% in fiscal 2017.
In addition to a higher off-price mix, CFRA analysts expect foreign currency headwinds, increased marketing expenses and labor cost inflation to be some of the additional factors impacting operating margins in fiscal 2018.
Nike, along with many other companies that rely on wholesale business, has taken steps to expand its sales channels and react more quickly to evolving consumer trends. As part of the "Consumer Direct Offense" it announced in June earlier this year, the company emphasized its focus on direct-to-consumer (DTC) sales, which are typically a higher-margin sale and allow Nike to interact more directly with its customers. CFRA analysts expect growth in higher-margin DTC sales, along with lower raw material costs and some productivity gains, to boost operating margins to 14.1% in fiscal 2019.
On top of its internally focused efforts, Nike has also taken steps to partner with other companies to expand its sales channels. Last quarter, it announced a pilot with Amazon. com, Inc. (NASDAQ: AMZN) where the company would test selling a limited assortment of products, as well as a new partnership with Facebook Inc (NASDAQ: FB) Instagram that will allow consumers to purchase Nike products directly through the Instagram app.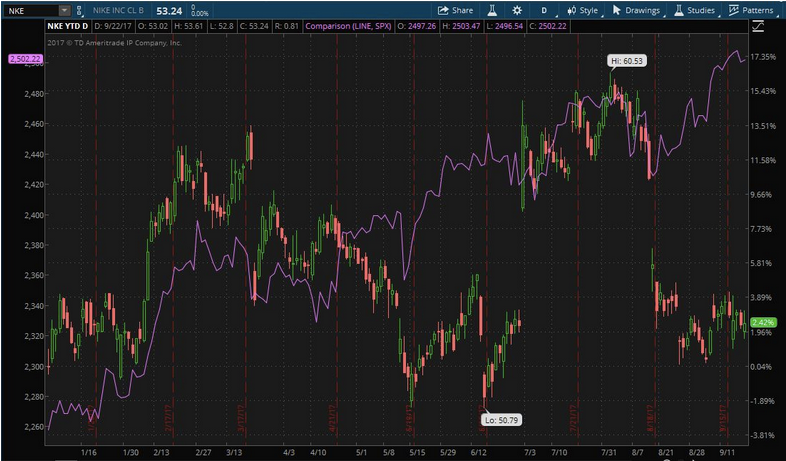 FIGURE 1: UP SLIGHTLY ON THE YEAR. Nike shares have been on a roller-coaster ride for much of the year. The stock dropped significantly after reporting results on March 21, but shares surged in post-earnings trading after releasing better-than-expected fiscal Q4 results and confirmation of the company's partnership with Amazon at the end of June. The stock had another big drop in mid-August after Foot Locker's reported disappointing results, which Foot Locker CEO Richard Johnson partially attributed to weak sales in recent top styles and limited availability of innovative new products. After the recent drop, Nike's shares are up 2.42% year-to-date, compared to just under an 11% increase in the S&P 500 (purple line). Chart source: thinkorswim® by TD Ameritrade. Data source: Standard & Poor's. Not a recommendation. For illustrative purposes only. Past performance does not guarantee future results.
Nike Earnings and Trading Activity
For the first quarter, Nike is expected to report earnings of $0.48 per share, down from $0.73 in the prior-year quarter, on revenue of $9.07 billion, flat to last year, according to Wall Street consensus analyst estimates.
Nike's stock has had some pretty big moves in the trading days following its last two quarterly reports, dropping about 7% on March 22 and gaining almost 11% on June 30. Around the upcoming earnings release, options traders have priced in about a 5% potential share price move in either direction, according to the Market Maker Move indicator on the thinkorswim® platform.
In short-term options trading at the September 29 expiration, calls have been active at the 53.5 and 54 strike prices, while puts have been active at the 53 and 53.5 strikes. As of this morning, the implied volatility is at the 69th percentile. Before last quarter's earnings, implied volatility was around the 62nd percentile.
Note: Call options represent the right, but not the obligation, to buy the underlying security at a predetermined price over a set period of time. Put options represent the right, but not the obligation to sell the underlying security at a predetermined price over a set period of time.
Looking Ahead
Beyond Nike's earnings, there's several economic data releases to consider keeping an eye on this week. Thursday brings the government's final estimate for Q2 gross domestic product (GDP). New Home Sales for August and preliminary Consumer Confidence for September will be released on Tuesday morning, August Durable Orders on Wednesday, and August Personal Consumption Expenditures (PCE) data, generally the Fed's preferred inflation indicator, comes out this Friday.
It's also the end of the quarter, so there could be heightened volatility as larger investment firms maneuver positions, potentially looking to lock in profits after another positive quarter for the major indices. That maneuvering can sometimes lead to big price swings if firms are exiting larger positions.
If you have time, make sure to check out today's market update to see what else is happening.