When it comes to picking the winners of 2016, there is no doubt that chipmaker NVIDIA (NASDAQ:NVDA) has to be on the list. As seen in the chart below, the stock has continued to soar after a spectacular earnings report. While the name is forecasted to show growth that's well ahead of many other names in the space, the continued surge puts the stock's valuation in an extremely lofty space.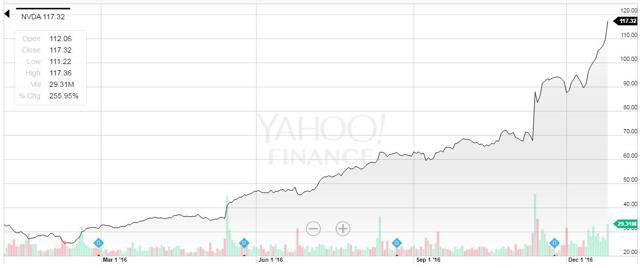 Click to enlarge
(Source: Yahoo! Finance)
It appears that short sellers have started to take interest in the name once again. As seen in the table below, over the past four-and-a-half months, we've seen a more than 60% rise in short interest. Based on float data from Yahoo Finance, this means about 13.9% of the stock's float was short at the mid-December update. To put that in perspective, Advanced Micro Devices (NYSE:AMD), which is a favorite of short sellers in the chip space, has just 10.6% of its float short.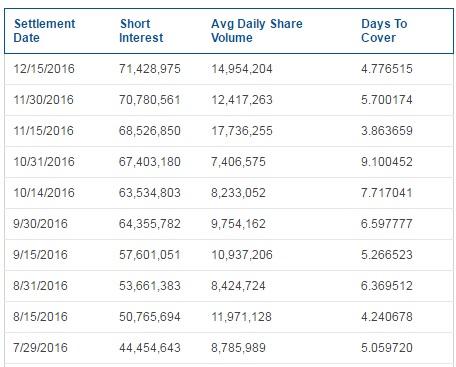 (Source: NASDAQ NVIDIA short interest page)
It is the exceptional growth NVIDIA is currently seeing that has investors extremely excited. After reporting 53% revenue growth in its Q3 period, analysts currently expect 50% growth in Q4, but that's likely to be beat. Unfortunately, it creates an extremely hard comparison for calendar 2017 (the company's fiscal 2018 period ends in January 2018). Whereas analysts forecast 36.5% revenue growth this fiscal year, they see that number declining to 15.4% next year. Yes, the company could continue to easily beat these numbers, but the law of large numbers does come into play.
Analysts right now are looking for about $7.9 billion in revenues from the company next year. Even if the company were to do an extraordinary $9 billion, shares would cost you more than 7 times next year's sales. Peer Qualcomm (NASDAQ:QCOM) goes for just over 4 times its projected sales for its September 2017 fiscal year, while Intel (NASDAQ:INTC) goes for less than 2.9 times and AMD for less than 2.5 times (Intel and AMD are calendar 2017 periods). That's a scary looking comparison, as seen below.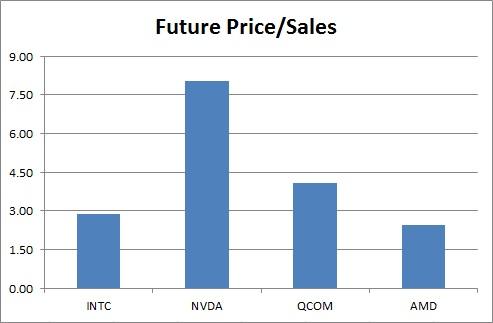 On an earnings basis, the situation looks just as extreme. NVIDIA shares go for more than 43 times analysts' forecast for GAAP EPS next year, while Intel and Qualcomm each trade for about 15 times. Based on the last trading price in after-hours, NVIDIA would need nearly $4.00 per share of earnings next fiscal year just to trade for twice what INTC/QCOM do, and analysts currently expect $2.70. While these other names don't offer as much growth, some of them do offer more attractive capital return plans.
Interestingly enough, NVIDIA management chose not to repurchase any shares of common stock during Q3, and that was at much lower share prices. In fact, the early 2016 accelerated share repurchase plan came at an average of $42.06 per share, according to the 10-Q filing. If management wasn't buying in the $60s, do you think they are going to step in at nearly $120? If they do, they might be overpaying, or at least are not going to get anywhere nearly as much for their money as they were previously.
NVIDIA has definitely been one of the winners of 2016, but I'd be shocked if investors see anywhere near these returns next year. In the next couple of quarters, the company's revenue growth rates will start to slide from over 50% to the low-double digits, perhaps even single digits as tough comparisons from current times kick in. With a valuation that's several times other names in the space, this seems like a tough buy with the market at all-time highs. With the 200-day moving average at basically half the current value and the average analyst price target at $92.65, NVIDIA may certainly be in bubble territory. Given this year's rally, the stock might be a very scary one to short for many, but as NVIDIA matures a bit with slowing growth rates, investors that take a bearish bet should be rewarded if this irrational exuberance subsides.
Disclosure: I/we have no positions in any stocks mentioned, and no plans to initiate any positions within the next 72 hours.
I wrote this article myself, and it expresses my own opinions. I am not receiving compensation for it (other than from Seeking Alpha). I have no business relationship with any company whose stock is mentioned in this article.
Additional disclosure: Investors are always reminded that before making any investment, you should do your own proper due diligence on any name directly or indirectly mentioned in this article. Investors should also consider seeking advice from a broker or financial adviser before making any investment decisions. Any material in this article should be considered general information, and not relied on as a formal investment recommendation.