Going into Nvidia's (NASDAQ:NVDA) upcoming earnings on Thursday, I felt it was important to highlight to readers that while I am highly bullish the company's long-term prospects, at its current valuation I believe Nvidia stock simply leaves no room for inevitable business mishaps.
Furthermore, at the end of the day, the stock does not know you own it, only you know you own it. If management fails to impress the Street, Nvidia's red-hot valuation might suffer a correction which investors might not be adequately prepared for.
Medium-Term Prospects
In my previous Nvidia article (still free at the time of writing), I highlighted how not only Huang, but others from Nvidias management team, have sold its stock in the past year. I also highlighted how, excluding Huang, the reminder of management collectively sold 40% of their total ownership. I then went on to say:
I truly understand Huang wanting to diversify his [stock ownership] – it has done wonders for his wealth. But the rest of the insiders? Do all of the insiders really have better opportunities to increase wealth outside of Nvidia? Well, collectively, they certainly appear to think so. Which makes me question further why, if those who understand Nvidia best from the inside (excluding Huang) brought their undoubtedly biggest holding down by 40%, [why] wouldn't readers of this post do the same?
Nvidia has spent a lot of time in the last several quarters explaining to investors its automotive opportunity. However, when we look for strong tangible evidence, we see that at the moment, the company's Automotive segment, in spite of increasing by 14.6% YoY, stood at less than $570 million. Said another way, Nvidia's Automotive revenue was roughly 5% of its consolidated revenue. Which means that even if this segment were to double or even triple over the next 3 years, it would still only be around $1.5 billion in revenue, which is not a whole lot when we look at Nvidia's market cap of $150 billion.
Furthermore, this is its revenue and not its profit. Of course, one could argue that Nvidia's opportunity is not solely focused on the automotive industry – which is true. However, that is one of the main reasons that investors keep highlighting about the company. In fact, during its year-end 2018 earnings call, when SunTrust's (NYSE:STI) analyst asked for a time frame on Nvidias ramp-up of its Automotive segment, Huang answered that it would start "very strongly in 2022". Which makes me immediately think, how many investors holding today will still, in all honesty, still be invested in NVDA in 2022?
Intel/Mobileye
Another problem for Nvidias current valuation is the fact that its success has attracted the competition – which is now also repositioning itself to target the same end market. For instance, Intel (NASDAQ:INTC) recently acquired Mobileye, a global leader in mapping for advanced driver assistance systems and autonomous driving. Intel has, in the past year, managed to turn around its business and after years of struggling to find meaningful growth, and to pull away from its dependence on the declining PC market is now looking for new avenues for growth. Furthermore, the company certainly has the financial resources at its disposal to make a meaningful stab into the self-driving car market.
Valuation
If you have read my articles before, you will know that I focus on high free cash flow margin businesses (defined as free cash flow/revenue expressed as a percentage). I use this as a proxy for an ROE metric. I seek out businesses with free cash flow margins above 5%, which very roughly translate to an ROE above 15%. A strong free cash flow margin, such as Nvidia's normalized 24%, describes the amount of cash that investors could conceptually take out of the business for every dollar of revenue. Having said that, in Nvidia's case, this margin comes down ever so slightly due to management's stock compensation. Thus, its free cash flow margin very roughly normalizes to 20%, which is still phenomenal.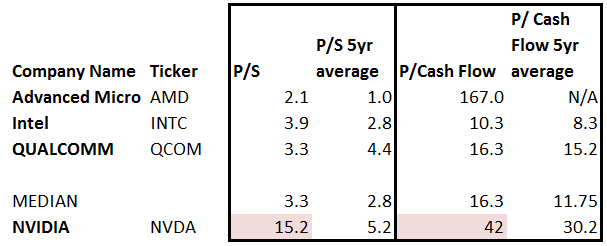 (Source: Author's calculations, Morningstar.com)
Moving on, the above table tells the whole story. No matter how bullish investors are of its long-term prospects, Nvidias Price/Sales ratio is 3 times more expensive than its 5-year average. As the company becomes bigger, Nvidia's opportunity for outsized growth becomes smaller – because size, ultimately, is the enemy of growth. However, ironically, investors are actually willing to pay more for its stock as it grows and is more widely known by all.
Takeaway
Investing is never easy. However, from time to time, there are slightly easier investments to be made – and at other times, more difficult investments. Nvidia's share price heads into its Q1 2019 full of hope and optimism. I argue that in spite of the company's phenomenal success, its future is now more than accounted for, as its stock has had a magnificent rally over the past 12 months and by far has outpaced Nasdaq (NASDAQ:QQQ).
Disclaimer: Please do your own due diligence to reach your own conclusions.
Note: The only favor I ask is that you click the "Follow" button so I can grow my Seeking Alpha friendships and our Deep Value network. Please excuse any grammatical errors.

Disclosure: I/we have no positions in any stocks mentioned, and no plans to initiate any positions within the next 72 hours.
I wrote this article myself, and it expresses my own opinions. I am not receiving compensation for it (other than from Seeking Alpha). I have no business relationship with any company whose stock is mentioned in this article.