Long-term uptrend of AAPL
When we compare the long-term performance of Apple's (AAPL) stock price with the performance of the S&P 500 Index (SPY) and the NASDAQ Index (QQQ), we can see Apple has strongly outperformed the market index in the last 12 years, delivering over 3,400% return.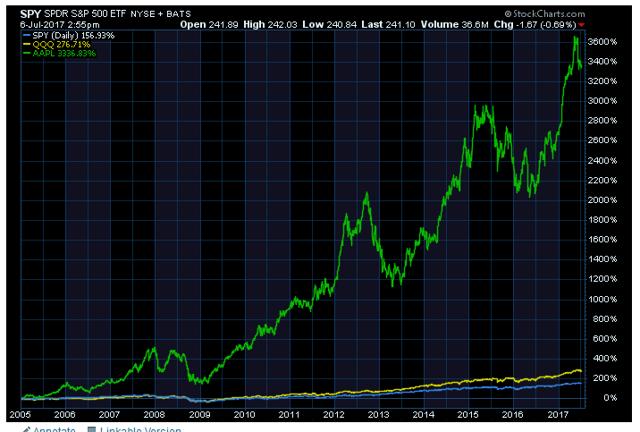 Source: stockcharts.com
Since the beginning of this year, AAPL has continued this outperformance versus these two main stock market indexes. As of today, the year-to-date price return of AAPL is 24.4% compared with 8.8% for the S&P 500.
In June this year, the stock price did start to pull back from its high price of $156 to $142, bringing the current market value to $745 billion (the highest market capitalization value on the stock market).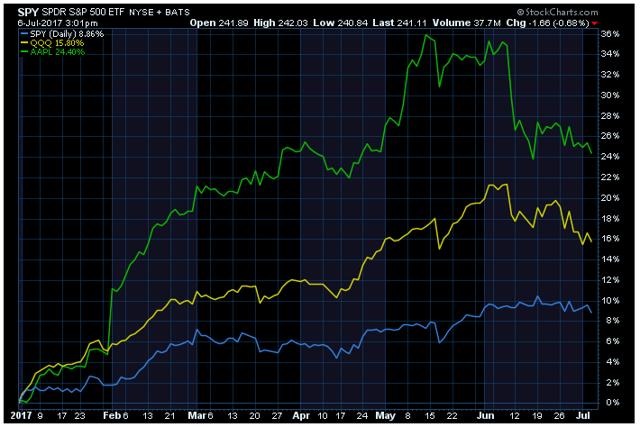 Source: stockcharts.com
In this article we will take a high-level look at the reasons behind the recent decline in the stock price of AAPL. Which factors are behind this decline and were are they seriously enough to explain a trend change?
Main reasons for the recent decline of the stock price:
A general pullback in stock prices, especially for tech stocks as investment firms fear stocks like Facebook (FB), Amazon (AMZN), Netflix (NFLX) and Alphabet (NASDAQ:GOOG) (GOOGL) in particular have risen too quickly in the previous months.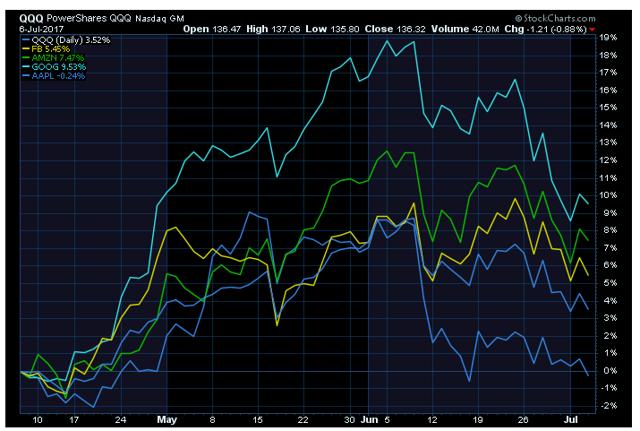 Source: stockcharts.com
Investment banks recently downgraded their expectations of AAPL as they believe the excitement surrounding the new iPhone 8 appears to be priced in the current stock price of AAPL. The lack of a positive earnings consensus is not helping the stock price at this moment.
Disappointment from the recent WWDC event, which is traditionally negative for AAPL stock price as investors seem to anticipate new announcements of AAPL which rarely come to materialize A surprise drop in iPhone sales in 2017 Q2.
Looking forward
Should these events have an impact on the long-term intrinsic value of AAPL? In my opinion they should not. While the long-term uptrend of Apple is impressive, there is still upside potential for Apple in the coming months:
AAPL is still generating high revenues from their classic product assortment which remains highly competitive with competing products, with gross margins around 38%. The recent events have not changed their business model or their profit potential in a fundamental way. Solid price valuation multiples compared with those of the competition:

Source: finviz.com
This becomes especially clear when we look at the P/E ratio and the forward variant, which are surprising low comparing them with AMZN orFB.
Dividend yield: The dividends paid out by AAPL to shareholders have been on the rise in previous years and were increased 10% again in the previous quarter. The company also increased its buyback authorization. These actions indicate the company is shareholder oriented, even with the recent strong run-up in stock price. Similar dividend hikes in the future will keep attracting new buyers of AAPL shares. Upcoming iPhone 8: The new iPhone will likely stimulate the revenues flow of Apple as most analysts expect a fresh new model with an elevated price going up to $1,000. Apples stock price has known similar price declines in the past due to similar events as we see today, and the stock price has managed each time to rise above its resistance levels.
Options Opportunity
Considering the points abov e, we think the price correction will be short lived and AAPL will continue its long-term uptrend in the coming months. Instead of looking at this price correction as a threat, we should consider it as an opportunity to initiate a leveraged investment on AAPL stock.
For this we can purchase call options on AAPL stock instead of simply purchasing common shares. A call option contract gives the holder the right to purchase 100 shares of AAPL before a certain date, at a fixed exercise price. This right can be purchased and sold at any time before the expiration date.
If we look at the call options which are listed on AAPL we can see the recent slowdown in price momentum has an advantageous effect on the premium of these call options.

When we look for example at the $150 Jan 2018 AAPL call option, we see this call option could have been purchased for $12.5 when Apples stock price was still at $155 on the second of June 2017. Now, a month later, we see the stock price of AAPL has declined with 6.8%, while the call options have nearly lost half their premium value.
Investors who are bullish on AAPL stock can leverage their ROI by purchasing these call option contracts instead of just buying common AAPL stock. This investment would have the following advantages:
The required investment to purchase these options is relatively low ($705) compared with buying 100 common AAPL shares at todays price of $144.5 ($14,450). The implied volatility of AAPL (and the stock market in general) remains on the low side. The current implied volatility pricing for example is still below the actual historical volatility movement of AAPL, meaning the call options are currently not overpriced.
Lets assume for a moment this price correction is only temporary and AAPL can rise again to the $155 price level in the coming months. This would result in an appreciation of 80% in the call options premium, compared with its current premium.

The forecasted call option price is based on the delta of the call option contract of 0.53. This figure represents the expected price change in options, as the price of the underlying will appreciate:
New_Call price = Old Call_Price + ( delta * change in underlying )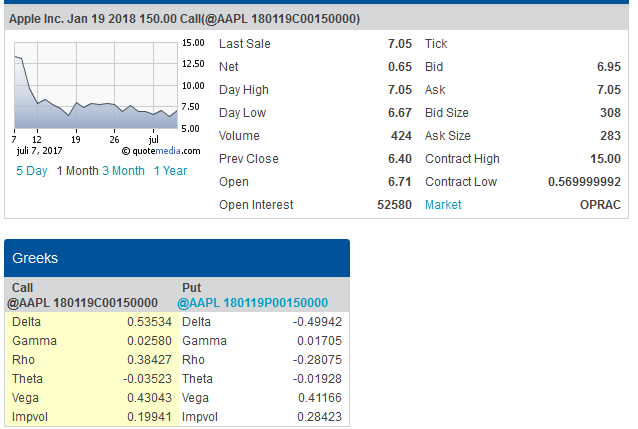 Source: nasdaq.com
There are aslo risks involved in this option investment:
The options expire in January 2018, which means the stock appreciation needs to take place before this date, otherwise the options will expire worthless. Declines in stock value of AAPL will have a stronger negative impact on the ROI of the options compared to the ROI of the common stock.
Taking these two risks into consideration, the amount invested in AAPL call options should be limited to the maximal amount you are willing to risk on AAPL. This way you will not be overexposed to potential declines in AAPL stock and you will know the exact amount you are risking on this investment.
In summary: AAPL has been rising strong in price value during the past years, strongly outperforming the stock market in general. In the past weeks, the stock price of AAPL declinede moderately, falling 7% from its 52 week high.
This price correction offers a renewed opportunity to b uy long-term call options on AAPL and reap a leveraged ROI on this position. If we assume AAPL will rise again to its previous highs of just one month ago (to the $155) level, the premium of the call options could appreciate up to 80%.
Disclosure: I/we have no positions in any stocks mentioned, but may initiate a long position in AAPL over the next 72 hours.
I wrote this article myself, and it expresses my own opinions. I am not receiving compensation for it (other than from Seeking Alpha). I have no business relationship with any company whose stock is mentioned in this article.
About this article:ExpandAuthor payment: $35 + $0.01/page view. Authors of PRO articles receive a minimum guaranteed payment of $150-500.Tagged: Investing Ideas, Long Ideas, Technology, Personal ComputersWant to share your opinion on this article? Add a comment.Disagree with this article? Submit your own.To report a factual error in this article, click hereFollow Opportunity Trader and get email alerts