Shares of Ovid Therapeutics (OVID) are up >35% since we recommended them in our premium Marketplace service recently but have room for more price appreciation.
Ovid Therapeutics was founded in 2014 and is based in New York City and Cambridge, Massachusetts.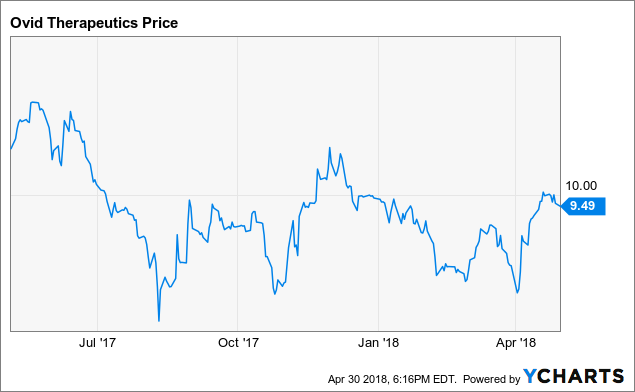 OVID data by YCharts
The company is targeting rare/orphan diseases like Angelman's syndrome, Fragile X syndrome and rare genetic epilepsy syndromes.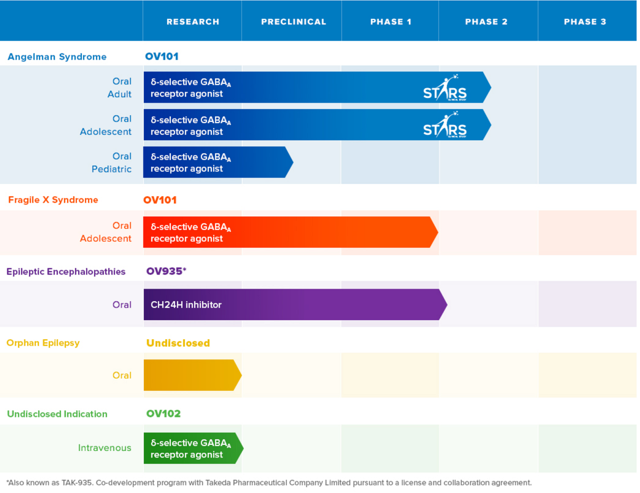 (Ovid Therapeutics: R&D pipeline)
Angelmans syndrome
It is a rare genetic disorder that results in delayed development, seizures, intellectual disability, sleep disturbances, problems with movement and balance and anxiety. The expected prevalence is 1 in 12,000 to 1 in 20,000 people in the U.S. (10-K). Alterations in UBE3A gene and thus, UBE3A protein results in excess uptake of GABA by neurons and its deficiency in extrasynaptic space, resulting in decreased tonic inhibition. Lack of tonic inhibition in these syndromes results in overwhelming of the brain by incoming signals and results in seizures, sleep disturbances, anxiety, cognitive disorder, behavioral disorders, etc. Currently, antiepileptic drugs are used to control seizures, but there are no FDA approved drugs for treating symptoms like behavioral disturbances, motor dysfunction, and sleep disturbances.
Fragile X syndrome
It results in autism-like features including intellectual disability, behavioral disturbances, anxiety, mood and sleep disturbances, attention deficit and hyperactivity, seizures and characteristic physical features. It results due to mutations in FMR1 gene that causes decreased GABA production. Currently, available treatment options include antidepressants, antipsychotics, antiepileptic agents, and treatment of attention deficit and sleep disturbances. The expected prevalence is about 1 in 3600-4000 in males, and 1 in 4000-6000 in females (10-K).
OV101:
OV101 was licensed from Lundbeck. It has been tested by Lundbeck in phase 3 trials in treating insomnia where it was safe and well-tolerated and showed efficacy similar to zolpidem (ambien) but further development was not pursued. It acts by tonic inhibition which is behind many symptoms seen in Angelmans syndrome and Fragile X syndrome. OV101 is an extrasynaptic GABAa receptor agonist that is selective for delta receptors. It restores the extrasynaptic GABA level in both these disorders and thus, restores tonic inhibition. It has Orphan drug and Fast Track designations in both these indications.
In a preclinical mouse model of Angelmans syndrome, OV101 restored the excessive neuronal activity and improved motor function (10-K). A phase 1 trial in adolescents with Angelmans syndrome or Fragile X syndrome, OV101 was well-tolerated and showed a pharmacokinetic profile that was similar to previous data in young adults. A phase 2 (STARS) trial in adults and adolescents with Angelman syndrome has completed randomization (primarily a safety trial but also designed at providing proof of concept in certain efficacy parameters) and the data is expected in Q3, 2018 (near-term catalyst). The trial is randomized, double-blind, placebo-controlled and the treatment duration is 12 weeks. Exploratory efficacy endpoints include clinical global impression, maladaptive behavior, sleep, gross and fine motor skills, and quality of life measures.
In preclinical mouse models, OV101 resulted in a reduction of hyperactivity, and reduced excessive neuronal activity. Based on preclinical studies, OV101 may even improve cognitive dysfunction in Angelman's syndrome and FXS on long-term administration. A phase 2 trial in adolescents and adults with FXS is expected to start this year.
The management is also exploring the development of OV102, an IV form of OV101 in several clinical settings.
Potential competition
Agilis Biotherapeutics is developing a gene therapy for treating Angelmans syndrome (preclinical stage). GeneTX therapeutics is also planning to develop an antisense treatment for the disease. Ovid has a time lead.
In FXS, the potential competition includes Marinus Pharmaceuticals (MRNS), Zynerba Sciences (ZYNE), Neurotrope (NTRP), Novartis (NVS) and privately held companies Seaside Therapeutics and Autifony Therapeutics.
OV935 in treating rare epileptic encephalopathies
Dravets syndrome is a rare genetic epilepsy disorder that affects about 1 in 15,700 to 1 in 20,900 births in the U.S. (10-K). There are no FDA approved therapies in the U.S.. while Stiripentol is approved for this indication in the E.U. Lennox Gastauts syndrome affects over 30,000 people in the U.S. (half of which are below the age 18 years) and the annual incidence is 1 per 100k children. Tuberous sclerosis complex affects about 50,000 people in the U.S. and the annual incidence is about 1 in 6000 live births. Seizures are seen in 60%-90% of these patients.
OV935:
OV935 is an inhibitor of cholesterol metabolism and may have a beneficial role in epilepsy through NMDA receptor modulation. It is being developed under a co-development program with Takeda. In preclinical studies, it has shown anti-seizure activity in various seizure models and may even have the potential to modify the underlying disease biology. It has shown safety and tolerability in four different phase 1 trials in epileptic encephalopathies including Dravets, DS, Lennox Gastaut syndromes and efficacy to suppress seizures, LGS and seizures associated with tuberous sclerosis. Some mild treatment-related adverse events resolved on continuous administration through day 15. A phase 1b/2 trial in adults with rare epileptic encephalopathies is also ongoing, data is expected in the second half of 2018. It has FDA Orphan drug designation for DS and LGS.
Potential competition to OV935 includes Zogenix, GW Pharmaceuticals (GWPH), Sage Therapeutics (SAGE), Marinus Pharmaceuticals, Zynerba Pharmaceuticals, etc.
Intellectual property
Ovid Therapeutics owns worldwide rights for OV-101 and will pay potentially $181M in milestone payments plus tiered royalties in low to mid-teen percentage of sales. Regarding OV935, Ovid has the rights in the U.S., E.U., Canada and Israel. Takeda has OV935 rights in Japan and the option for Asia and the rest of the world. Remaining milestone payments to Takeda are about $35M. The company also licensed certain patents from the Northwestern University.
OV101 patents expire in 2025-2028 but a manufacturing process patent expires in 2036. Patents for OV932 expire in 2032.
Near-term catalysts
Data from the phase 2 STARS trial for OV101 in Angelmans syndrome in Q3, 2018.
Data from the phase 1b/2 trial for OV935 in rare epileptic encephalopathies in the second half of 2018.
Management
CEO and Board Chairman, Jeremy Levin served as the CEO of Teva Pharmaceutical (TEVA) and Senior VP at Bristol-Myers Squibb (BMY). He also served as the Global Head of Strategic Alliances at Novartis Institutes for BioMedical Research. Co-founder and Chief Scientific Officer, Matthew During also founded the gene therapy company Nightstar Therapeutics (NITE). He also served as a faculty member at Yale and Cornell Universities. Chief Medical Officer, Amit Rakhvit served as the Senior VP, Worldwide Affairs at Biogen (BIIB) and VP, Intercontinental Medical at Bristol Myers Squibb. More details.
Financials and Valuation
Cash reserves were $87.1M at the end of 2017 and are expected as enough until the end of 2018. Net operating cash use was $31.4M in 2017. There is no long-term debt. Federal net operating loss carryovers are about $60M.
The value of non-operating assets minus liabilities (including NOLs) is about $4/share. Thus, the pipeline is being valued at just $2.70/share or about $66M. On the other hand, using DCF method (15% cost of capital), we calculated the value of OV101 as $388M in FXS and Angelmans syndrome (not even including terminal value). The inputs were: annual wholesale cost=$60K/year, probability=30% (Angelmans) and 10% in FXS, peak market share= (50% in Angelmans, 10% in FXS), territories: U.S.+E.U. and thus estimating peak risk-adjusted revenue=$338M in 2025. Our price target is $20.
Even at a more conservative average sales price of $30K/year, the target market for Angelmans syndrome in the U.S. alone is about $810M where Ovid Therapeutics has a lead. The FXS U.S. market size could be about $2.5B using these assumptions. While FXS is a more crowded space, it is not unreasonable that Ovid could gain 5%-10% of this market. Considering this, the current pipeline value of just $66M appears undervalued. We have not even included the second molecule OV935 in our calculations. Zogenix (ZGNX) showed very impressive clinical data in Dravets syndrome last year and we would wait for clinical data for OV935 first.
Conclusion
We are long Ovid Therapeutics stock and expect the upward momentum to continue due to 2018 catalysts. Shares are trading much below the IPO price of $15 at present and are undervalued. Shares are a good pick here in a catalyst-driven biotechnology portfolio.
Risks
If Ovid has to issue shares to Takeda under the existing agreement on meeting certain milestone payments, it may lead to shareholder dilution. The ongoing phase 2 trial in Angelmans syndrome is primarily aimed at safety and the efficacy endpoints are exploratory (may not be achieved). The efficacy and safety in the ongoing clinical trials may not be satisfactory, leading to the stock selling off. Unexpected side effects may be seen. The company is likely to require more capital raise in the future to fund the ongoing clinical programs. The product candidates may not be successful commercially even if they are approved.
Disclosure
This article represents my own opinion and is not a substitute for professional investment advice. It does not represent a solicitation to buy or sell any security. Investors should do their own research and consult their financial adviser before making any investment.
Disclosure: I am/we are long OVID.
I wrote this article myself, and it expresses my own opinions. I am not receiving compensation for it (other than from Seeking Alpha). I have no business relationship with any company whose stock is mentioned in this article.
Additional disclosure: Also long GWPH