PayPal (PYPL) stumbled early this year when its relationship with eBay (EBAY) was confirmed to be coming to an end. Couple of weeks ago the stock got hit again with the revelation that Amazon (AMZN) is heavily promoting Amazon Pay.
These are scary headlines, but PayPal has always been in a competitive space. As evidenced by the bountiful competition from deep-pocketed tech giants (Google (GOOG), Apple (AAPL), Amazon) and more nimble startups (Adyen, Square (SQ)), payment processing and payment aggregation are not hard businesses to get into. Still, the company has grown impressively year after year.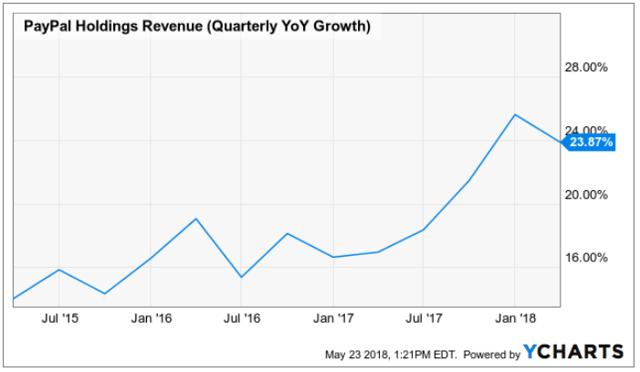 As a first mover in the digital payment space, PayPal may have the scale to keep its leading position. However, as investors are paying up for growth (the stock is trading at 34x 2018 EPS), any perception that PayPal is about to lose its growth momentum will negatively impact the share price today. We know that core PayPal is a steady grower, but the company may want to use the upcoming investor day as the opportunity to talk up the long-term potential of its two hyper growth segments.
Venmo
Venmo is not driving Paypls revenue growth as it has yet to be heavily monetized. In fact, it has been a drag on overall take rate since its payment volume is factored into the companys total payment volume. While Venmo isnt contributing revenue, it is growing its potential for revenue very quickly. Venoms volume increased 97% year over year to $35 billion in 2017. Volume growth moderated in the first quarter to 80%, but this should be expected given its size.
Analysts have repeatedly questioned the management on its plans for Venmo. We dont have a firm answer on the timeline or the potential financial impact because the management doesnt want to rushing this out, but we can guess how its probably going to work operationally. The company had been selectively rolling out Pay with Venmo, meaning that businesses will pay a fee to PayPal to accept Venmo; in that sense Venmo becomes a more hip PayPal for millennials.
There are a lot of P2P payments on the platform, so I dont think we can just apply the normal transaction take rate of ~2.4% to Venmos volume to estimate the revenue potential. But even if we apply half of that, we are still looking at $42 million of revenue that will drop almost straight down to the bottom line as the company is incurring Venmos costs already. Considering that payment volume is growing at 80%, we can expect that $42 million of potential income to increase significantly as well.
I believe that my rough estimate is pretty conservative, as Venmo could find additional ways to monetize its user base beyond just payment processing. Keep in mind that Venmo is a standalone app, so I can easily see a scenario where Venmo serves as a platform for direct product listing and take a cut for any direct purchases, not unlike eBay.
Overall, I believe that PayPal could see some upward pressure if investors get additional information from the management regarding the timeline and the potential of Venmos monetization.
iZettle
iZettle is PayPals most recent acquisition. I see it as a copy of Square (SQ). iZettle was able to get a foothold in Europe, and now with PayPals backing, one would assume that iZettle will be pushed to the U.S. PayPal didnt give much financial details other than that there will be a 1 penny negative impact to 2018s EPS. Such a small impact should have been expected because iZettle is still very small (2018 estimated TPV is just $6 billion).
Giving PayPal a physical presence through iZettle will unlock a tremendous amount of volume as PayPal can become a physical card that consumers can use in stores, where PayPal is basically non-existent. More volume through PayPal means more revenue, and more revenue means more profit.
iZettles revenue CAGR from 2015 to 2017 was just 60%, but should PayPal aggressively market iZettle in the U.S., I believe that we can expect well over 100% growth over the next 2 years. Using 2018s estimate TPV of $6 billion, 100% growth for two years implies $24 billion by 2020, which isnt crazy. Venmo, a more isolated product without direct transfer between PayPal and Venmo, was growing at 200% when it was disclosed that the service processed $2.1 billion of volume in Q3 2015.
I dont think the management will give much financial details around iZettle on Thursday as it is way too early to announce firm guidance. However, I believe that the management will likely provide some strategic guidance. I believe that the stock will react accordingly based on how aggressive PayPal wants to market iZettle. If iZettle is expected to grow on its own like Venmo, then I do not expect much of a reaction; however, if the management does indeed plan to aggressively promote the product, then I believe we may see a pop in the stock. Remember that if iZettle taps into PayPals account base, iZettles growth will directly translate into profit, unlike Venmo.
Conclusion
After multiple bad press that sent the stock sideways in 2018, I believe that the management will likely reveal long-term plan for its two hyper growth segments. Both Venmo and iZettle have enormous revenue and profit potential that can be unlocked. Venmo in particular has already accumulated sizable user base and volume that are just waiting to be monetized. iZettle is also interesting as even though it is small, there is a natural synergy between the balances available on core PayPal and iZettles in store payment solutions.
As long as the management can convince investors about the long-term potential of these two platforms, I see no reason for the stock to pullback.
Click the "Follow" button beside my name on the top of the page to be updated with my latest insights. To learn more about the Core Value Portfolio, whose goal is to compound capital at 20% over the long term, I encourage you to read the introduction to my investment process. Premium subscribers get full access to the Core Value Portfolio.
Disclosure: I/we have no positions in any stocks mentioned, but may initiate a long position in PYPL over the next 72 hours.
I wrote this article myself, and it expresses my own opinions. I am not receiving compensation for it (other than from Seeking Alpha). I have no business relationship with any company whose stock is mentioned in this article.