Pfizer (NYSE:PFE) has been gaining a lot of momentum recently with its share price having risen almost 7% since the 24th of January. The stock has been riding the biotech wave since the complex bottomed back in November but also has traded strongly since it announced its fourth quarter results at the end of January. Although the company missed earnings expectation in Q4 due to established products missing sales estimates, I still maintain the market is underestimating future earnings growth of Pfizer which is just over 5% per annum over the long term. This cautiousness to a certain extent may be warranted. Pfizer has struggled to keep up with peers in recent times with respect to new product launches and pending patent losses of Viagra & Lyrica also haven't convinced the market as of yet that meaningful earnings growth is ahead of us.
I believe the pipeline is stronger than consensus believes but it is not only this area that has attracted me to this stock. I continue to like this sector as I feel its fundamentals are robust, especially when you consider the sustained M&A activity that is present in this area. Pfizer's share price won't go to the moon but I believe there is strong downside protection here mainly due to the company's sheer size and diversification. I think what dividend investors need to take into account here is that there are companies nowadays (which don't have dividend aristocrat status) that are much better contenders for long term growth. Pfizer I feel is still feeling the ill effects of cutting its dividend back in the great recession and it is only slowly building its reputation once more in the dividend landscape. Here are three more strong reasons we will remain long Pfizer.
Firstly the company's sheer size and significant cash flows have to be a major advantage in this sector especially when you consider the valuations some companies are going for at present. The cost of developing a new drug in this space can easily top $750,000, which is why it is becoming increasingly difficult for large cap companies in this space to keep their pipelines ahead of the curve so to speak. The smaller and less diverse a company is, the more risk it takes on when it attempts to develop new drugs through costly clinical trials. This is why many companies with weak pipelines are choosing the acquisition route to keep their top line elevated but companies with strong fundamentals continue to go for excessive valuations in this space. Pfizer does not have this problem. It brought in $7.2 billion in net income last year and another 6% growth in its bottom line is predicted this year.
This means at any time, it can undergo a heavy cycle of investment which is something its competitors simply cannot do. What is the takeaway fro this over the long term? Well few drugs cross the line when it comes to intensive clinical trials so the more a company does, the more chances of success the respective company has in producing a blockbuster over time. Remember, Pfizer only needs one or two blockbusters every few years to ensure it can keep investing in its future. Therefore the law of probabilities states that this company should continue to produce solid outperformers over time – which in my opinion gives it a competitive advantage in this sector.
Technically although not generating the same returns as iShares NASDAQ Biotechnology Index (NASDAQ:IBB) since early November last year, Pfizer continues to make higher highs and has now broken up above its November highs. If Pfizer continues to trade up around these levels, I believe it will be only a matter of time before its daily moving averages cross over which would be a very bullish sign considering how the share price has traded in the past when its 50 day moving average crossed over with its 200.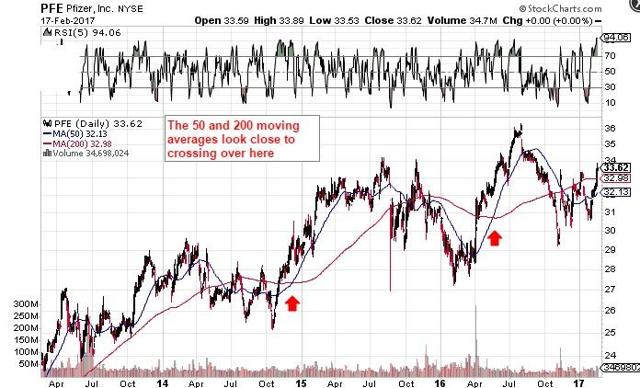 Ibrance and Xeljanz growth trajectories remain critical in the near term as the market will continue attempt to gauge what sales will be from these drugs over the next few years. Although Ibrance has pretty stiff competition in the breast cancer area from the likes of Novartis (NYSE:NVS) and Eli Lilly (NYSE:LLY), Pfizer is taking advantage of first movers advantage here and is doing all it can to cement its brand behind the drug. Moreover Ibrance is still in its infancy internationally so growth rates should remain pretty elevated here. Xeljanz reported successful results recently in the rheumatoid arthritis area where the drug is believed to be able to be used as a combination therapy but not a standalone treatment. This means that Humira is still the lead drug in this space and the major cash cow of AbbVie (NYSE:ABBV) and will probably continue to be so for the next few years. However Xeljanz also can be marketed heavily internationally and with continued studies in areas such as ulcerative colitis & psoriatic arthritis, its tangible use should be improved meaningfully in the near term. The drug did $927 million in sales last year which was a 77% spike in growth on a rolling year basis. Impressive to say the least but I feel we are only getting started here.
To sum up, Pfizer's exciting patents and strong pipeline should be enough to keep the top and bottom lines driving ahead over the next 3 years. This stock still looks a tad undervalued in my opinion.
Disclosure: I am/we are long PFE.
I wrote this article myself, and it expresses my own opinions. I am not receiving compensation for it (other than from Seeking Alpha). I have no business relationship with any company whose stock is mentioned in this article.
About this article:ExpandAuthor payment: $35 + $0.01/page view. Authors of PRO articles receive a minimum guaranteed payment of $150-500. Become a contributor »Tagged: Investing Ideas, Long Ideas, Healthcare, Drug Manufacturers – MajorProblem with this article? Please tell us. Disagree with this article? Submit your own.