Phillips 66 (NYSE:PSX) definitely did not have a strong Q4 2016 earnings report, I'll admit that. The company reported much lower earnings than expected. But at the same time, I didn't think it was a disastrous quarter, either, with a few bright spots. More importantly, I think 2017 will be a great year for the stock for several reasons, as I'll explain below.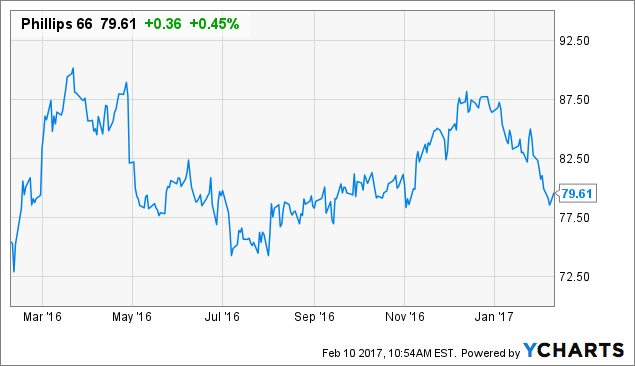 PSX data by YCharts
First, here's a summary of the Q4 earnings. Phillips 66 reported earnings of $163 million, down from $511 million in Q3 2016, and earnings per share of $.16, missing estimates by $.24.
The reduction in earnings can be attributed mainly to a poor performance at its refining segment, which recorded a loss of $38 million, compared with earnings of $177 million in Q3. The company blamed the loss mainly on lower realized refining margins due to decreased crack spreads, plus higher costs and lower volumes. Lower refining margins didn't hit Phillips 66 peer Valero Energy (NYSE:VLO) quite as hard, as Valero missed on revenue but beat on earnings, with $715 million on operating income from its refining segment in Q4.
Phillips 66's midstream segment also did not perform well, as it recorded a loss of $1 million in the quarter, compared with earnings of $75 million in Q3. But this includes a $34 million net charge related to DCP Midstream's restructuring, as well as certain tax adjustments. Its equity investment in DCP Midstream also resulted in an adjusted net loss of $6 million, compared with positive earnings of $9 million in Q3. On an adjusted earnings basis, midstream earned $33 million, compared with $75 million in Q3.
There are a few bright spots, however. Phillips 66's chemicals segment earned $136 million in Q4, up from $101 million in Q3. And Phillips 66 still managed to generate substantial cash flow from operations of $667 million in Q4, returning $558 million to shareholders through dividends and share buybacks. The stock currently yields 3.18%.
Finally, Phillips 66 maintained a conservative balance sheet to end Q4, as it ended the year with $2.7 billion in cash and cash equivalents compared to $10.1 billion in debt; compared to its $41.13 billion market cap, this net debt position of $7.4 billion in quite conservative; its net debt to capital ratio is just 24%.
I previously expressed bullishness in Phillips 66 stock back in June of 2016, right after it was announced that Warren Buffett's Berkshire Hathaway had purchased a substantial amount of shares. The POTUS also happens to own between $100,000 to $250,000 worth of Phillips 66 stock, according to his 2016 federal financial disclosure forms as reported by CNBC, although it's unclear if Trump still holds this position. I later doubled down on my Phillips 66 call in October after the company reported what I felt was a decent Q3 earnings.
This was a poor quarter, but I think Phillips 66's best days are ahead of it. The company has a capital budget of $2.7 billion in 2017 (or $3.8 billion when you include joint-venture spending on CPChem, DCP Midstream and WRB Refining), and most of that will go towards completing its CPChem petrochemicals plant, which should be completed by the end of the year.
Phillips 66 is also expanding its Beaumont Terminal with 1.2 million barrels of crude storage commissioned in Q4 2016. Finally, Phillips 66 owns a 25% interest in joint ventures on the Dakota Access Pipeline and the Energy Transfer Crude Oil Pipeline, which the company says is now more than 95% complete. So there is a lot of upside to look forward to in 2017.
With solid cash flow, a sustainable dividend, a conservative balance sheet, large shareholder backing by legendary investor Warren Buffett, and solid growth opportunities ahead, I am maintaining my buy recommendation on Phillips 66.
Disclosure: I am/we are long PSX, VLO.
I wrote this article myself, and it expresses my own opinions. I am not receiving compensation for it (other than from Seeking Alpha). I have no business relationship with any company whose stock is mentioned in this article.
About this article:ExpandAuthor payment: $35 + $0.01/page view. Authors of PRO articles receive a minimum guaranteed payment of $150-500. Become a contributor »Tagged: Investing Ideas, Long Ideas, Basic Materials, Oil & Gas Equipment & ServicesProblem with this article? Please tell us. Disagree with this article? Submit your own.