Pluralsight (PS) raced out of the IPO gates with a bang. The maker of cloud-based learning software for tech and information workers exceeded all expectations in its IPO, pricing shares at $15 and exceeding a price range that was already extended from the original plan – an indicator of a full order book from institutional investors. When the stock opened for public trading, the broader market pounced on Pluralsight as well, bidding up shares to a closing price of $20 and giving it a 33% Day 1 "pop":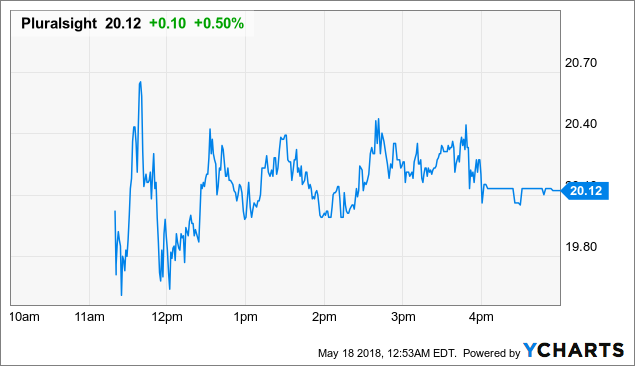 PS Price data by YCharts
The performance on the first day of trading is in line with where other software IPOs have performed this year, such as file collaboration company Dropbox (DBX) (+36% on the first day), e-signature company DocuSign (DOCU) (38%), and ERP software vendor Zuora (ZUO) (43%). Investors' appetite for software and cloud IPOs certainly hasn't waned, despite the huge influx of offerings this year.
I was mistaken about Pluralsight's performance on Day 1 – I had initially believed the shares to be richly valued even at the $12-14 range, and that it would trade at a lower "pop" on its first day to compensate for the higher price. Despite the market's enthusiasm for Pluralsight on its IPO date, however, I still hold the conviction that the company is absurdly expensive, especially after its huge IPO performance.
To me, it's unclear what makes Pluralsight substantially more attractive than other recent software IPOs – yet its valuation at 11.8x forward revenues (which we'll discuss shortly), far above its peer average, seems to suggest that the company possesses a unique edge. If anything, Pluralsight comes with added burdens. Here's a short list of flaws: low gross margins (70% in FY17 versus high 70s/low 80s for the typical software IPO) that technically make Pluralsight's revenue stream less valuable, a $135.5 million debt load (whereas most tech IPOs carry clean, cash-rich balance sheets), and only so-so growth (33% y/y in the last quarter and 27% y/y in FY17, middling at best among peers).
Pluralsight's enthusiastic trading may be largely due to the "newness" factor. It's essentially priced for perfection, and the slightest earnings stumble can send the stock tanking – look to another recent tech IPO that was overvalued at the outset, datacenter operator Switch (SWCH), as an example of this. Avoid this IPO at all costs – Pluralsight is worth no more than 7x EV/FY18 revenues, implying a price target of $12.50 and 38% downside from current levels.
Final offering details
Here's a look at how the chips fell in the Pluralsight IPO:
Shares priced at $15, valuing the company at an initial market cap of $1.98 billion and pricing above the expected range of $12-14 as well as the initial stated range of $10-12. The company sold 20.7 million shares in the offering, or about 16% of the company, and raised $310.5 million. The company expects net proceeds of $282.7 million from the IPO, indicating a fairly normal expense ratio of 9% (for underwriting and legal expenses). The primary use of proceeds from the IPO are to pay down Pluralsight's entire $135.5 million of debt, with the remainder going to general corporate purposes and working capital. Shares opened for trading slightly before noon in New York in the mid-$19 range and gradually traded up through the course of the day to close at $20, representing a Day 1 pop of 33% and valuing the company at $2.64 billion. A standard 15% greenshoe option is open, leaving the possibility of selling an additional 3.1 million shares at the original IPO price of $15, which would raise another $46.6 million. Shares held by insiders are subject to the traditional 180-day lock period before becoming eligible for sale. The deal was led by Morgan Stanley (MS) and J.P. Morgan (JPM).
The following table shows Pluralsight's cap table post-IPO:
Figure 1. Pluralsight primary shareholders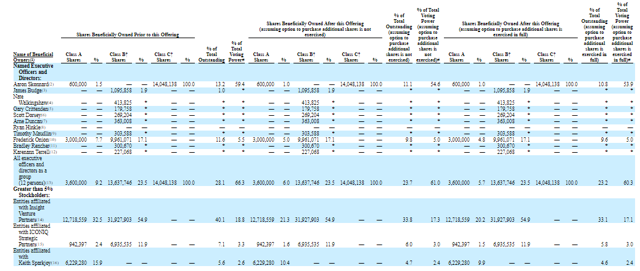 Source: Pluralsight finalized prospectus
Pluralsight's primary backer, tech-focused private equity firm Insight Venture Partners, will own about one-third of the company post-IPO. Aaron Skonnard, the CEO, owns about 10% of the company but holds more than 50% of the voting rights, due to his holding of the entirety of the Class C shares, which have 10x the voting power of the Class A shares offered in the IPO. There is also a third set of Class B shares, making Pluralsight one of the few tech IPOs to hold a triple-class share structure.
Investors raised some eyebrows when Snap (SNAP) went public due to founder Evan Spiegel's supervoting control. With a smaller and much lower-profile company like Pluralsight, investors may raise the same concern.
Valuation update and key takeaways
With 131.975 million shares outstanding post-IPO, as per Pluralsight's finalized prospectus, the company is currently trading at a market cap of $2.63 billion. After netting out the $32.5 million of cash on Pluralsight's balance sheet as well as the $282.7 million of expected IPO proceeds, and adding back the company's $135.5 million of debt, Pluralsight currently holds an enterprise value of $2.46 billion.
Revenues in FY17 were $166.8 million. Pluralsight hasn't given any clear guidance for FY18, but its exiting FY17 growth rate was 27% y/y, and results from its Q1 (March quarter) point to accelerating growth at 33% y/y. If we assume Pluralsight's revenue growth decelerates a few points this year to 25% y/y (the most likely scenario, as most high-growth technology companies tend to see full-year y/y growth rates decline even if some quarters see acceleration), we arrive at a revenue estimate of $208.5 million for FY18. This indicates that Pluralsight is currently trading at an EV/FY18 revenue multiple of 11.8x.
Of course, bulls are going to assume some level of accelerated growth for the year. If we instead assume 30% growth for FY18, we arrive at a valuation of 11.3x EV/FY18 revenues; if we go even further and assume 35% growth for the year, that valuation slides to 10.9x EV/FY18 revenues.
The main point here: no matter how you slice it, and no matter how optimistic you are about Pluralsight's growth prospects, the stock is overwhelmingly expensive. The chart below shows where the most expensive stocks in the SaaS software sector are currently trading: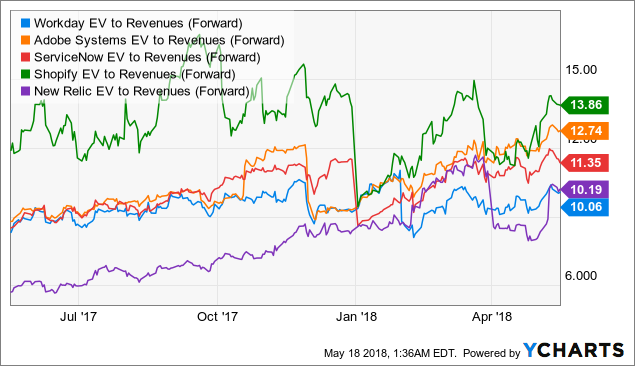 WDAY EV to Revenues (Forward) data by YCharts
All of these companies have achieved significantly greater scale and stability than Pluralsight, have much better operating margins and free cash flow results, and are all growing at faster y/y growth rates than Pluralsight. The question for investors is: does Pluralsight belong to this group of software favorites? In my opinion, with Pluralsight's market opportunity limited to a fairly small niche, it's not worth anywhere near its current valuation.
Pluralsight's IPO pop has taken it to dangerously high levels. As the hype factor from the IPO begins to wear off, shares should begin to normalize. Stay cautious on this IPO.
Disclosure: I/we have no positions in any stocks mentioned, and no plans to initiate any positions within the next 72 hours.
I wrote this article myself, and it expresses my own opinions. I am not receiving compensation for it (other than from Seeking Alpha). I have no business relationship with any company whose stock is mentioned in this article.