Editor's note: Seeking Alpha is proud to welcome Austin Koster as a new contributor. It's easy to become a Seeking Alpha contributor and earn money for your best investment ideas. Active contributors also get free access to the SA PRO archive. Click here to find out more 禄
Qantas Airways (OTCPK:QUBSF) has struggled in the past, particularly in 2014 when the company recorded a $2.8 billion loss. Since then, the company has announced aggressive cost-cutting plans and is now 3 years into this revival. I believe Qantas is a good company and will continue to be a leader in the Australian airline industry; however, I don't think the price of the stock offers a good enough margin of safety to make the leap and invest.
Industry Overview
The domestic airline industry in Australia is a duopoly with Qantas and Virgin Australia (combined market share of over 90%), each owning a low fare airline subsidiary Jetstar and Tigerair Australia, respectively. Over the past 5 years, the industry has seen steady declines in revenue, this is predominately due to the price war that Qantas and Virgin engaged in (which has since ended). However, many firms have been able to cut cost through layoffs, wage freezes, maintenance changes, and enjoying lower prices for jet fuel. This has resulted in higher margins and increased profits despite declining revenues.
Over the next 5 years, the industry can expect slow growth as domestic tourism is expected to increase as well as international trips to Australia. Margins may also continue to increase as planes, such as the Boeing 787 Dreamline become more fuel efficient. This growth is very minimal, estimated at 1.9% annual until 2023 (IBIS World).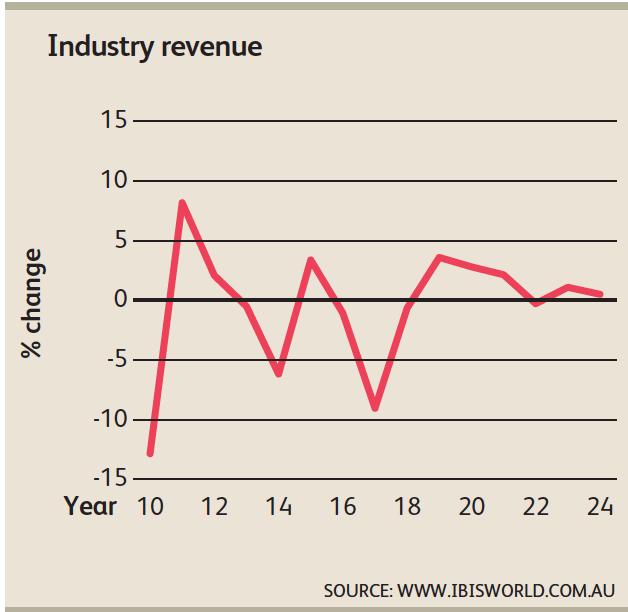 Comparing financial ratios with Qantas and other companies in the industry makes Qantas look appealing. Here I compared it to some of the other very large airlines in the United States and Singapore. All of these US airlines have something in common too, Berkshire Hathaway (NYSE:BRK.A) (NYSE:BRK.B) took a position in all 4.
(Source: IBIS World)

(Source: Created by myself using data from Bloomberg)
Investment Thesis
The reasons to invest in Qantas are rather simple, they have a massive market share of 64.8%, their historic brand has become iconic in Australia, and recent share buybacks and dividends show managements focus on shareholder returns.
Market Share
Their large market share is a huge advantage, since their next largest competitor, Virgin Australia, only has 27.2%, well less than half that of Qantas. Despite being so large, Qantas has been able to grow faster than the industry in several metrics. 1) Qantas increased its Revenue Passenger Miles at 2.68% annualized since 2010, compared to the industry at 2.12%. Qantas grew Available Seat Miles 2.7% annualized since 2008, compared to the industry at 2.13%. They have also managed to grow their fleet of planes substantially at 3.27% annually since 2007, adding 85 planes totaling to 309. Even with such a large market share, their earnings have been anything but steady, suffering losses in 2014, but turning around in the past 3 years.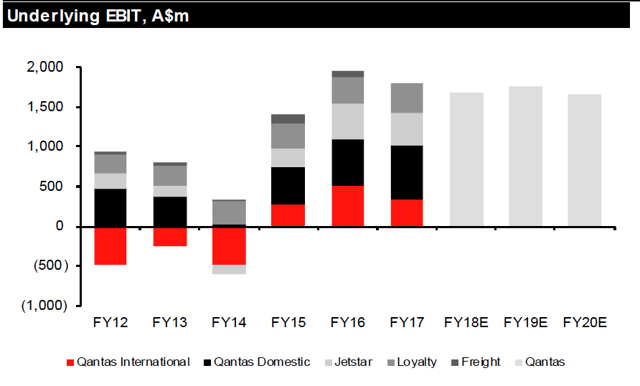 (Source: Macquarie Research, February 2018)
The Brand: A Competitive Advantage?
One of the well-recognized competitive advantages is the power of a brand. Qantas has a deep history in Australia and is seen by 96% of Australians as iconic. They have been rated Worlds Safest Airline for 4 years running, as well as Best Catering, Best Lounges and Best Domestic Service for 2017. They are also listed as one of the top 10 companies to work for in Australia despite issues with labor several years ago. Furthermore, the dual brand strategy of Qantas and Jetstar allows for price discrimination to take place between wealthier and business-oriented passengers and more economical, tourists type passengers. No doubt, the Qantas brand is extremely strong in Australia and may offer a competitive advantage that would be difficult for a competitor to steal away from them. However, this is far from the branding of say a company like Coca-Cola (NYSE:KO), where customers often refuse to switch to a rival, PepsiCo (NYSE:PEP). It would be very easy for a passenger to choose a flight with competitor Virgin Australia if the price is better, timing is better, or the route is better (no layover). So, while the brand is strong, I dont think it necessarily keeps customers for the future. However, the Qantas Loyalty (frequent flyer) portion of the business is growing extremely fast, at 10% compounded annually since 2012 and is expected to sustain a growth rate of 7-10%. Members of these programs would face implicit switching cost to another airline because they wouldnt get their rewards or be able to use them.
Shareholder Returns
Along with the cost-cutting initiative taken 3 years ago, Qantas management has worked hard to increase shareholder returns. This has been achieved by aggressively buying back $1.2 billion of shares over the past 3 years. They have also announced they will purchase an additional $387 million of shares, representing 3.5% of the current shares outstanding. Share buyback has been paired with dividends of $0.14 for the past 2 years, making the payout ratio only 26.27%. Management has said this trend will continue, hoping to buy back shares in the upcoming years and increase their payout of dividends.
(Source: Macquarie Research, February 2018)
Valuations
To value the company, I completed 3 separate valuation models and took a weighted average.
Free Cash Flow to Firm
I calculated a WACC of 6.28% (Bloomberg say 6.2%) and grew the FCF at 3% over the next 3 years and then 2% thereafter. The growth rates are low and reasonable because the industry growth will be low as well. This gave me a generous value of $6.88 per share.
Dividend Discount Model
Using the same discount rate and growth rates as above, I increased their payout ratio to 40%, giving me a $0.22 dividend, which is still less than the $0.25 dividend they used to pay out, so I think its perfectly reasonable. This gave me a value of $5.22 per share. I confess a DDM is not the best, knowing that the dividend has been anything but consistent in the past, yet I expect it to increase in the future and wanted to model that in the value.
Multiples Model
Lastly, using a P/E multiple, I averaged the past 3 years' P/E ratio to get 8.83. I averaged 8.33 with the current P/E of 11.44 and used the estimated EPS of $0.62 and came up with a value of $6.28.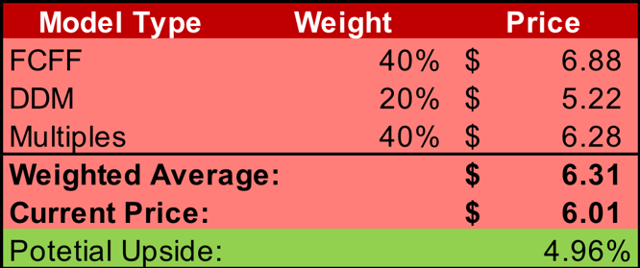 (Source: Made myself using data from Qantas 2017 Annual Report)
Combining all models and weighting the DDM less (because the dividends are not consistent), I got a fair value of $6.31, proving only a 4.96% upside from the current price.
Its important to note the recent price appreciation of the stock since the past 12 months has yielded gains of 60.34% and even YTD gains of 19.25%. The stock is also well above the 100- and 200-day moving averages.

(Source: Bloomberg Terminal)
Conclusion
In summary, I think Qantas is a good business that will earn profits for years to come. However, the valuation is not compelling, and the recent price appreciation may mean that the train has left the station. Since growth is slow, and the industry is cyclical, I would recommend buying at around $5.00-$5.25 per share so as to have a larger margin of safety. There is a considerable risk buying an airline as the industry is sensitive to fuel cost, labor cost, and fierce competition. The 2-3% growth in the future is not enough reward to take on the risk unless you can buy at a discount.
Disclosure: I/we have no positions in any stocks mentioned, and no plans to initiate any positions within the next 72 hours.
I wrote this article myself, and it expresses my own opinions. I am not receiving compensation for it (other than from Seeking Alpha). I have no business relationship with any company whose stock is mentioned in this article.
Additional disclosure: This article is written solely for informational use. I am not offering investment advice as I have not considered myself as your fiduciary.
Editor's Note: This article covers one or more stocks trading at less than $1 per share and/or with less than a $100 million market cap. Please be aware of the risks associated with these stocks.