Shares of Corcept Therapeutics (CORT) have risen by over 175% since I originally recommended the stock as a Core Buy in biotech.
Key points to the original thesis included the following:
Their Cushing's syndrome franchise continued to experience impressive growth with a significant runway ahead for years to come. Expansion and planned clinical studies were being funded by cash on hand and cash flow generated by the core business, an enviable position to be in. New indications such as triple negative breast cancer and promising pipeline candidates (especially CORT125134 for extending their Cushing sydrome franchise) provided us significant optionality.
However, as a selection in the Core Biotech model account our position is only in the green by 7%.
Chart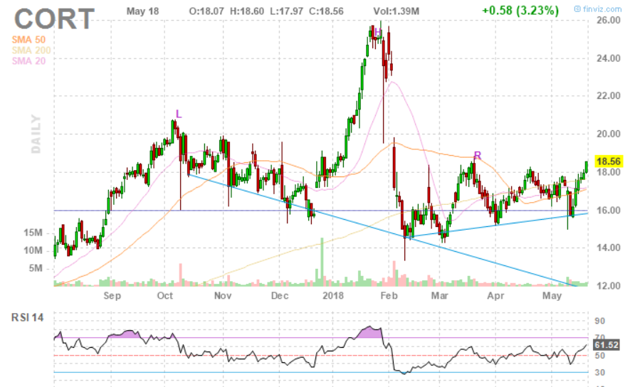 Figure 1: CORT daily advanced chart (source: Finviz)


Figure 2: CORT 15-minute chart (source: Finviz)
When looking at charts, clarity often comes from taking a look at distinct time frames in order to determine important technical levels and get a feel for what is going on. In the first chart (daily advanced), we can see the stock hitting a top in February at $26 and plummeting after news came of potential generic competition from Teva Pharmaceuticals (TEVA). From there it formed a double bottom above the $14 level and has steadily regained ground to the point where it looks ready for a breakout back above the psychologically important $20 level.
Reader Inquiry
In the marketplace service ROTY (Runners of the Year), we search for stocks that are attractive across multiple time frames with potential for high % upside within the near to medium term. Catalyst ideas typically have upcoming material events (where we feel we have an edge with the outcome), while companies categorized as revaluation plays possess underappreciated assets which should increasingly come into focus.
Recently, in ROTY I published an update piece on an under the radar potential ASCO winner. We also just experienced a very entertaining (and profitable) week in Live Chat.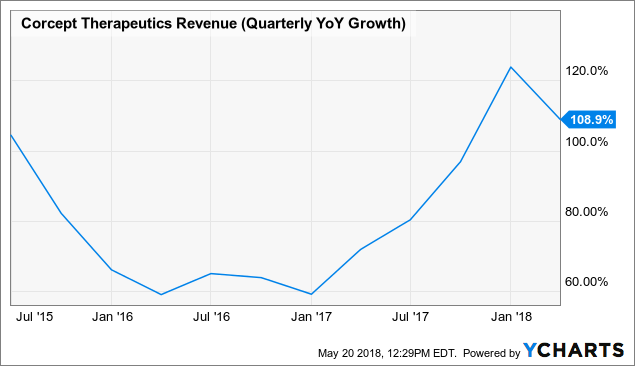 CORT Revenue (Quarterly YoY Growth) data by YCharts
Figure 3: Revenue growth trends continue to impress (source: Y Charts)
Before we get started, I'd like to remind readers of the thesis from our Core Biotech series:
Revenue growth is impressive on a quarterly and annual basis, its cash position is growing, and several pipeline assets (recorilant, CORT118335, CORT125281) could reach key inflection points in other areas such as oncology and NASH. The stock price plummeted after news of generic competition from Teva, but it has plenty of time to grow Korlym revenues and unlock value in the pipeline.
My objective today is to take a second look at recent developments and upcoming milestones, especially with a focus on near-term upside. In ROTY Live Chat the stock has been increasingly discussed as data nears.
Recent Developments
As hinted at above, the year started off on a disappointing note with the company announcing receipt of a Paragraph IV Notice Letter advising that Teva Pharmaceuticals submitted an Abbreviated New Drug Application to the FDA to seek approval for a generic version of Korlym in the United States. Specifically, the letter alleged that certain patents ('348 with expiration date of 2028 and '495 with expiration date of 2036) wouldn't be infringed upon with the product Teva is seeking to launch, in essence that they are not able to be enforced or invalid. While management at Corcept stated they would commit resources to defend their intellectual property rights, Wall Street still punished the stock.
While many selloffs in biotech are justified, from time to time there are some that should be taken advantage of, where Mr. Market is either throwing the baby out with the bath water or overreacting. Such is the case here, where it should be noted that even in the worst case scenario Teva's generic alternative wouldn't even get on the market until late 2020. Keep in mind that so far Corcept Therapeutics continues to show impressive revenue growth and their follow-up candidate is beginning to look like another success in the making (more on this later).
As promised by management, in mid-March the company took the first step to defend their IP by filing a lawsuit in the U.S. District Court for the District of New Jersey against Teva for infringement of their patents. As one would expect the company's lawsuit (according to provisions of Hatch-Waxman amendements to the Federal Food, Drug and Cosmetic Act) will halt approval of Teva麓s regulatory filing until 30 months or the District Court decision (whichever comes first).
Other Information
For the first quarter of 2018, the company reported cash and investments of $140.4 million, an increase of $36.4 million due to cash flow received from their core business plus a $12.9 million litigation settlement.
Revenue grew 109% to $57.7 million, while GAAP net income significantly bested the same quarter last year at $0.14 per share. Operating expenses rose by 60% to $36.7 million. Management reiterated full year revenue guidance of $275 million to 300 million.
I've pointed out prior the principal shortcoming of Korlym and it was touched on again in the conference call recently, namely its affinity for the progesterone receptor which induces abortion (and also causes endometrial thickening and vaginal bleeding in many women). Therefore, distribution of the drug is tightly controlled.
A next generation treatment with similar efficacy but not causing these same safety concerns would likely see much swifter uptake and broad adoption. That is management's intent with drug candidate relacorilant, for which full data for the phase 2 study is expected in the third quarter.
Keep in mind that due to encouraging data so far, management has sped up preparations for initiating the phase 3 pivotal program. Chief Medical Officer Robert Fishman's commentary is worth being re-read (my emphasis in bold):
This is a consequential year for our development programs. Relacorilant continues to generate impressive clinical data. As we disclosed last quarter, the first 17 patients in relacorilants Phase 2 trial as a treatment for Cushings syndrome exhibited statistically significant improvements in glucose tolerance and serum osteocalcin (a marker of bone growth suppressed by excess cortisol activity). Blood pressure was reduced in forty-five percent of the patients with hypertension. There were no serious adverse events and, of course, no evidence of progesterone receptor affinity. Relacorilants clinical results are striking because the doses these patients received were the studys lowest. We did not expect patients to experience any meaningful clinical benefit, but they clearly did.
As for other indications of interest, data from their phase 1/2 study of relacorilant plus Abraxane to treat patients with solid tumors is being presented at ASCO in June (poster). Data from the expansion cohort in metastatic breast cancer is expected in the second half of the year. The rationale here is the fact that cortisol is known to stimulate genes that prevent programmed cell death (which chemotherapy seeks to accomplish and therefore could be rendered more effective).
Their other drug candidates should start getting attention as well, as they continue to enroll patients in a dose-ranging study of CORT125281 in combination with Xtandi in metastatic castration-resistant prostate cancer in the US and Europe. CORT1188335 continues to move forward in an early-stage study and plans are in the making for phase 2 trials in patients with antipsychotic-induced weight gain (where it could provide an alternative to treatments such as Risperdal which cause serious metabolic side effects) and NASH (where preclinical data has indicated potential to reverse fatty liver disease and liver fibrosis). These could get underway by year-end if all goes well.
It's worth noting that the company isn't the only one trying to make inroads in addressing Cushing's syndrome. Strongbridge Biopharma (SBBP) is developing drug candidate Recorlev in a phase 3 pivotal program and believes it could have a leg up over Korlym in terms of efficacy and safety (also has potential for lower liver toxicity). Top-line data from the phase III SONICS study is due around midyear and should be monitored because it has the potential to impact the thesis for Corcept.
Final Thoughts
With data due in the near and medium term, things should get very interesting in the second half of the year. Continued growth in Corcept's core Cushing's syndrome franchise is expected as well.
Dilution in the near term is not expected due to their growing cash reserves. Disappointing data for relacorilant in the upcoming readout could result in significant downside, while coming up short in other ongoing trials in various indications would also weigh on the stock to a lesser extent. Competition from Strongbridge Biopharma should be closely monitored.
While I won't be adding this one to the ROTY Contenders List, it does have considerable upside potential and will continue to remain as a holding in the Core Biotech (multi-year time frame) model account.
Keep in mind that when a stock is selected for ROTY, the corresponding article appears only to current subscribers, and for the purposes of due diligence, subscribers are able to access all of my archived work (getting around the 10-day paywall).
Disclaimer: Commentary presented is NOT individualized investment advice. Opinions offered here are NOT personalized recommendations. Readers are expected to do their own due diligence or consult an investment professional if needed prior to making trades. Strategies discussed should not be mistaken for recommendations, and past performance may not be indicative of future results. Although I do my best to present factual research, I do not in any way guarantee the accuracy of the information I post. I reserve the right to make investment decisions on behalf of myself and affiliates regarding any security without notification except where it is required by law. Keep in mind that any opinion or position disclosed on this platform is subject to change at any moment as the thesis evolves. Investing in common stock can result in partial or total loss of capital. In other words, readers are expected to form their own trading plan, do their own research and take responsibility for their own actions. If they are not able or willing to do so, better to buy index funds or find a thoroughly vetted fee-only financial advisor to handle your account. I am in a collaborative relationship with The Biotech Forum/Bret Jensen.
Disclosure: I/we have no positions in any stocks mentioned, and no plans to initiate any positions within the next 72 hours.
I wrote this article myself, and it expresses my own opinions. I am not receiving compensation for it (other than from Seeking Alpha). I have no business relationship with any company whose stock is mentioned in this article.