JD's Rising Accounts Payable Turnover Days
A fellow Seeking Alpha contributor raised his concerns regarding JD.coms (JD) rising accounts payables turnover days. This is an area I pay attention to when looking at a company's balance sheet. For instance, I wrote about why it was an issue to pay attention to at Top Glove (OTCPK:OTCPK:TGLVY)(OTC:OTC:TPGVF), the worlds largest rubber glove manufacturer; and at Unilever Indonesia (OTCPK:UNLRF, OTCPK:UNLRY), the Southeast Asian subsidiary of Unilever PLC/NV (UL)(UN). Looking at the chart below, it seems that the author is right about the trend, as the growth in JD's accounts payable leaped way ahead of its revenue growth in 2017. Amazon did not exhibit similar discrepancy.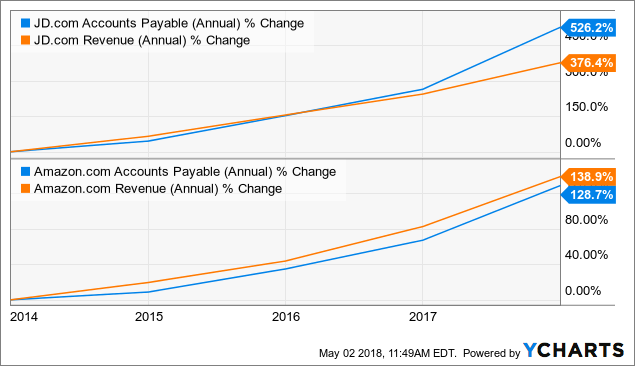 JD Accounts Payable (Annual) data by YCharts
I then generated the chart for another metric to look at the issue from another angle – accounts payable turnover days a.k.a. days payable outstanding ("DPO"). While Amazon has a higher DPO around 77 days, it is clear that JD exhibited a rising DPO trend since 2015. While a rise in the accounts payables turnover days is not as worrying as a climb in accounts receivables, it is nonetheless a concern if the company has to resort to delaying its payments to its suppliers to conserve cash. If the goal is to squeeze its suppliers so that it can reflect a stronger cash flow, it is also not a sustainable strategy as its suppliers could end up facing cash flow issues of their own as a result. The suppliers could also retaliate in some form or other when their bargaining power improves.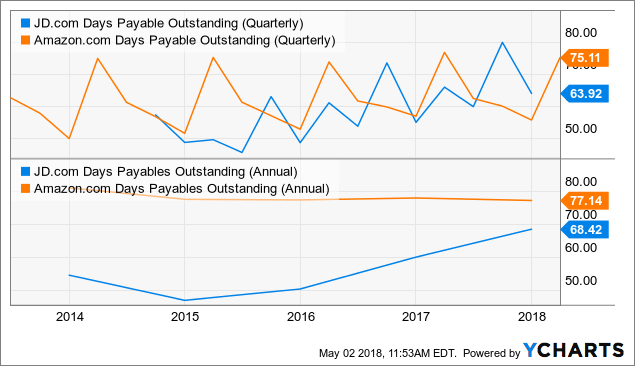 JD Days Payable Outstanding (Quarterly) data by YCharts
It is thus nothing to be proud of if JD is guilty of doing that without any corresponding advantage to its suppliers. Fortunately, this is not the case. Sidney Huang, the chief financial officer of JD, succinctly explained the phenomenon during the Q2 2017 earnings conference call:
We are pleased to see some solid improvements in the payment terms due to our scale economies. Yet, our payable days continue to remain meaningfully shorter than our key domestic and international retail peers.
Better Payment Terms At JD Correspond With Larger Economies Of Scale
As JD's businesses with its suppliers expand, both parties would enjoy economies of scale and it is only fair that JD exerts its privilege as a large buyer to seek better payment terms. Which company wouldn't, as it gets bigger? Suppliers, meanwhile, benefit from JD's spending on traffic acquisition costs which have risen in tandem with its revenue growth as well as its heavy investments in improving its logistical services. For those who noticed the annual spikes in the DPO, that is because the annual contract renewals take place in the second quarter of its fiscal year.
Critics might take issue with JD's use of the "trailing-twelve-months" method to make any quarterly increase in its accounts payable turnover days less apparent. Specifically, JD stated that its accounts payable turnover days are "the quotient of average accounts payable over five quarter ends to total cost of revenues for the last twelve months and then multiplied by 360 days". However, I am siding with the company on this as the quarterly changes can be inconsequential given the volatilities between quarters. The use of TTM shouldn't be taken as an attempt to obfuscate the numbers as anyone can still easily spot the trend over the quarters. The company is transparent in that sense as it provides five quarters of data in one table in every quarterly results announcement.

(Source: JD.com Q4 2017 Results Announcement)
JD's Stock-Based Compensation Is Not Excessive
The author was also alarmed by the use of share-based compensation (SBC) at JD. I countered in an earlier article comparing Alibaba (BABA) to other tech giants namely Amazon (AMZN), Facebook (FB), and Alphabet (GOOG)(GOOGL) in response to another blogger who claimed such SBC scheme was excessive at Alibaba. It turned out that Alphabet, the parent company of Google, and Facebook have higher SBC as a percentage of assets than Alibaba. Specifically, as a ratio of SBC to cash from operations, Amazon scored a 0.229 against Alibaba's 0.199, meaning that the former's SBC is higher as a percentage of its cash from operations.
Now, I include JD in the same chart. Clearly, whether comparing the SBC against annual revenue or annual assets, JD is the lowest among the tech giants. If SBC is a concern at JD, then it is a greater worry at Facebook or Alphabet.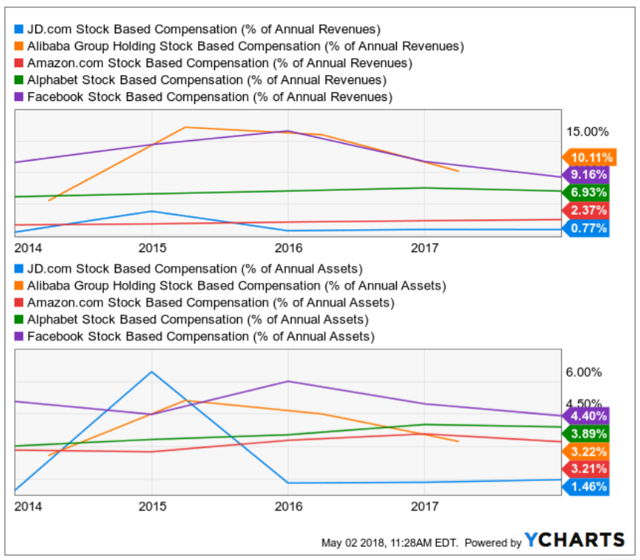 Looking from another angle, I compared JD's SBC against its cash from operations and proceeded to do the same for Amazon and Facebook. This time around, Facebook's ratio is lower than Amazon but still higher than JD. Amazon's SBC over its cash from operations is more than double that of JD's. Again, this demonstrates that JD's SBC is not excessive at all.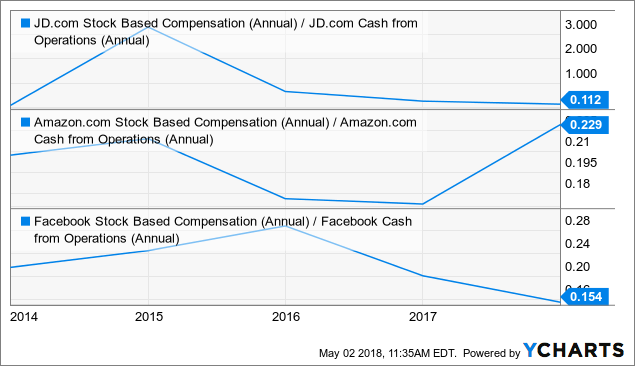 Fundamental Chart data by YCharts
Investors Should Be "Thankful" For The Heavy CapEx At JD
JD increased its capital expenditure (CapEx) by more than four times in 2017. Nevertheless, it should not be a concern with regards to the cash use as much of the CapEx has been utilized to build up JDs logistical infrastructure to give it an edge over its competitors. Furthermore, JD has been able to secure attractive deals from the provincial governments due to the jobs it would bring to the locale. This is akin to how the various states in the U.S. clamored for the attention of Amazon and pitched myriad concessions and incentives when the e-commerce titan was sourcing for its new headquarters location. Below was what JDs CFO said in the Q2 2017 earnings conference call (emphases mine):
CapEx, as we mentioned before, we will see more spending in the second half, but once again when we actually incur those – we believe investors should be thankful, because normally we will get very, very good deals from the government, because we are creating jobs for this local municipality, when we acquire land in their jurisdiction.
And so normally come with those land acquisition, we'll get a lot of benefit, not only very, very cheap land price, but also a lot of other government support locally. One example, for our logistics headquarters in Xi'an, the government actually gave us one office building. So it's just one example, when we actually start securing those local partnership, you will see a lot of benefits to our shareholders.
Conclusion
It is undeniable that the accounts payable turnover days at JD has increased significantly since 2015. Nevertheless, the management should be justly credited for leveraging its larger scale to extract better payment terms for itself, rather than being condemned for engineering something nefarious.
The use of stock-based compensation is common at technology firms and it is no different at JD.com. In fact, whether based on the percentage of assets, revenue, or cash flow from operations, JD's stock-based compensation is relatively lower than its industry peers. Hence, it is not a matter of tight cash flows that the largest retailer in China has to resort to using stocks to reward its employees instead of monetary compensation. It is just the industry practice. JD's heavy CapEx should be welcomed by investors as the company receives "very, very good" deals from the government.
What's your take? Do you think the rise in JD's accounts payables turnover days is justified? Do you see other concerns? Please freely share your thoughts, let me know if you found this article useful or provide your feedback in the comments section.
Author's note: Thank you for reading. If you would like a refreshing take on stocks that you own or are interested in, try looking here. Besides US companies, I cover a number of Asian stocks as well. If you wish to be informed of my new ideas via email so that you have time to read them before the articles get locked behind a paywall 10 days from publication, please select "Receive email alerts" when accessing on a desktop computer.
Disclosure: I am/we are long BABA, JD.
I wrote this article myself, and it expresses my own opinions. I am not receiving compensation for it (other than from Seeking Alpha). I have no business relationship with any company whose stock is mentioned in this article.