Perhaps the biggest winner of the Novartis (NVS) buyout of AveXis (AVXS) for $8.7 billion was REGENXBIO (RGNX). REGENXBIO licenses out its adeno-associated virus (AAV) technology to other gene editing companies, including AveXis. This acquisition immediately benefited AveXis shareholders, but the true value may lie with REGENXBIO. REGENXBIOs technology platform is the backbone of everything AveXis does and Novartis just gave a huge vote of confidence to that platform.
AveXis REGENXBIO partnership
The companies initially established their partnership in 2014 when AveXis decided to target spinal muscle atrophy (SMA) by using REGENXBIOs AAV9 vector. Essentially, the AAV9 vector is the delivery mechanism that targets the desired target region and delivers its gene editing payload. In the case of SMA, the vector must effectively target the central nervous system and have the ability to cross the blood brain barrier and go into the spinal cord. The AAV9 vector is well-suited for this target and has already shown its efficacy in human trials for AveXis. Currently, 15 children have been treated in the study (AVXS-101) and 15 out of 15 children have reached the 13.6-month mark event-free compared to the natural disease progression where only 25% would have reached this time stamp without being put on ventilator for more than 16 hours a day or died. In addition, the children being treated by AveXis have shown vast improvements in motor function that would have been almost unheard of had the disease been untreated. SMA is truly one of the most horrific diseases out there and AveXis, with the help of REGENXBIO, has changed the paradigm in how this disease is being treated.
In addition to AveXis using REGENXBIOs AAV9 vector for SMA, the two companies recently expanded their partnership to include Rett Syndrome and a genetic form of amyotrophic lateral sclerosis (ALS) with a SOD1 mutation. These two targets will also use the AAV9 vector. The expanded partnership called for REGENXBIO to receive an upfront payment of $80 million, an additional payment of $30 million after one year and an additional payment of $30 million after two years, and REGENXBIO is eligible to receive potential commercial milestone payments of up to $120 million. In addition, REGENXBIO will receive mid-single to low double-digit royalties on net sales for all AveXiss programs using the AAV9 vector.
When Novartis acquired AveXis, it triggered a clause in the REGENXBIO-AveXis partnership where a change in control of AveXis results in the payment of $180M to REGENXBIO ($60M in anniversary payments plus $120M in potential commercial milestones). Year to date, REGENXBIO has received $260 million from this partnership alone. Adding this to the companys $176 million cash on hand as of 12/31/17 gives the company a robust $436 million.
Enter Novartis
This acquisition establishes Novartis as one of the leaders in gene therapy targeting the central nervous system and REGENXBIO lies at the heart of this platform. In the companys investor presentation for the acquisition, Novartis repeatedly mentions AAV9 and states in their press release:
AAV9 is considered to be a clinically proven gene delivery platform for diseases of the central nervous system (CNS).
Novartis also goes on to say AveXis provides R&D capabilities in the AAV9 platform, which has a broad applicability for the Novartiss internal portfolio as well as for the ability to quickly progress the AAV9 platform to Rett Syndrome and ALS SOD1.
An important factor for REGENXBIO is Novartis sees the AveXis acquisition adding to its sales starting in 2019 and significantly ramping up in 2020. With an $8.7 billion price tag, Novartis sees significant revenue being generated from AVXS-101 in SMA type 1 and shortly thereafter in a broader population of SMA type 2. Analysts have forcasted AVXS-101 could generate up to $1 billion in annual sales if approved for both SMA type 1 and type 2. In this scenario, REGENXBIO would receive around $100 million in royalty fees on an annual basis. When you consider AVXS-101 is just 1 of more than 20 partnered product candidates in development, you begin to see the value of REGENXBIOs technology platform.
REGENXBIO Partnerships
REGENXBIO's core business model is to license out its AAV technology platform to gene editing companies looking to optimize their key delivery mechanism to treat specific genetic diseases. AveXis is just one company that has license agreements with REGENXBIO. REGENXBIO has also partnered with Audentes Therapeutics (BOLD), Ultragenyx (RARE), Shire (SHPG), Adverum (ADVM), Lysogene, Biogen (BIIB), and Voyager Therapeutics (VYGR). REGENXBIO has AAV licenses with these companies covering a wide range of genetic disorders covering hematologic and liver disorders, central nervous system targets (well beyond SMA) and cardiac and skeletal muscle disorders. Among these partnerships, the company expects to see key topline data in the second half of 2018 for X-linked myotubular myopathy and Crigler-Najjar Syndrome from Audentes, ornithine transcarbamylase (OTC) deficiency from Ultragenyx, and alpha-1 antitrypsin (A1AT) deficiency from Adverum.
These data readouts are key for REGENXBIO. Not only does REGENXBIO receive milestone payments for achieving clinical progress, but it further validates the companys technology platform and helps advance medicine into perhaps the most exciting industry transformation to occur in a generation. Producing actual cures to genetic diseases represents a paradigm shift in medicine and through these partnerships, REGENXBIO is standing as a potential technology leader in targeted gene therapy.
REGENXBIOs Pipeline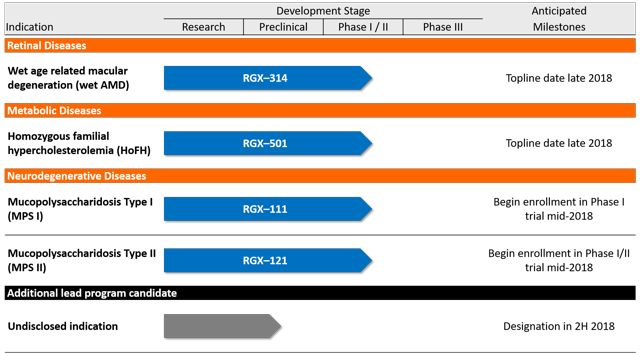 Source: REGENXBIO pipeline
What really sets apart REGENXBIO from other small cap biotechs is the companys number of shots on goal. In addition to their 20+ licenses for targeted gene therapy, the company has an underappreciated pipeline of its own of which they have 100% control and ownership. Their lead program (wet age related macular degeneration) has a very large potential patient population and is an attractive target for gene therapy. Currently, Regeneron dominates the industry with EYLEA totally nearly $6 billion in global sales in 2017 alone. EYLEA has proven to be remarkable effective treating wet AMD, but with injections directly into the eye every 2 months, I dont believe the patient population would be very loyal if an effective gene therapy could drastically reduce the number injections into the eye. REGENXBIO completed dosing of the its third cohort in Phase 1 trials in February and expects to release topline data in late 2018.
REGENXBIO also has another program in the clinic, which targets homozygous familial hypercholesterolemia (HoFH). The company is currently dosing patients in Phase 1 trials and again expects to release topline data in late 2018. While these 2 programs are progressing in the clinic, the company is preparing to take its MPS I and MPS II programs into Phase 1 trials in mid-2018. In total, REGENXBIO will have 4 wholly owned gene therapies in Phase 1/2 trials by the end of 2018.
Risks
As with any small cap biotech, there are numerous risks associated with an investment. Gene therapy is still in its infancy with just 1 approval in Sparks (ONCE) LUXTURNA targeting an extremely small patient population for RPE65-mediated inherited retinal disease. Headline safety issues have the potential to bring the entire gene therapy industry to a complete standstill as it did back in 1999 with the death of Jesse Gelsinger being treated for OTC deficiency. While gene editing has vastly improved over the past 2 decades, there are still numerous unknowns that need to be answered and addressed. REGENXBIO has many irons in the fire with a wide variety of targets, but many are still in the early stages. There are bound to be set backs and failures in some of these programs, which could result in increased volatility. The bottom line is REGENXBIO is a speculative biotech with huge upside potential but also has significant downside risk. Investors need to view REGENXBIO and the rest of the industry as a speculative investment and invest accordingly.
Takeaway
Investing in small-cap biotech has left many smart investors and even industry experts feeling completely fooled. I invest in biotechs based on a principle that if I am going to assume this much risk, the upside potential should be able to completely revolutionize an industry. I believe thats where gene editing currently stands. The risk is clearly high, but if companies such as AveXis can completely change the outcomes for children with death sentences for debilitating genetic diseases such as spinal muscle atrophy, then its an acceptable risk. Novartis may have bought AveXis, but it gave its stamp of approval to REGENXBIOs technology platform. REGENXBIO has the potential to stand at the forefront of this paradigm shift in medicine with its core AAV technology as the basis for numerous leading gene editing companies.
Disclosure: I am/we are long RGNX, ONCE, BOLD, ADVM.
I wrote this article myself, and it expresses my own opinions. I am not receiving compensation for it (other than from Seeking Alpha). I have no business relationship with any company whose stock is mentioned in this article.