Ascena (NASDAQ:ASNA) is a retailer of apparel clothing for women and teen girls with numerous brands. Its operating segments are Premium, Value, Plus and Kids fashion, and some of its brand names are Maurices, Lane Bryant, Ann Taylor and LOFT. Together it owns around 8 brand names.
Ascena is a mid-cap company, part of S&P 400, with current market capitalisation of $988 million and share price of $5.23. Its annual sales are, however, much larger than your usual mid cap's. The company reported sales of roughly $7 billion for FY 2016 while realizing annual loss of $11.9 million (-$0.06 EPS). Sales during Q1 2017 were $1.678 billion with profit of $14.4 million ($0.07 EPS).
Price-to-sales ratio can straight away say something about the company's valuation prospects – in this case it is deeply undervalued. My quick eyeballing technique is to compare annual sales to market capitalization, and large proportion of companies have market capitalization roughly equal to their sales. In this case, markets are pricing $1 of sales on 14 cents. The same goes for the P/E which is however tougher to estimate because the company didn't report profitable fiscal year for some time, but the average analysts' prediction for FY 2017 is currently $0.39 EPS which means forward P/E of 13.4. Not much.
As per below chart, the company's share price has been decreasing since 2014 – drastically. What the share price also created is slight opportunity to acquire the stock for very low price, given the fundamentals.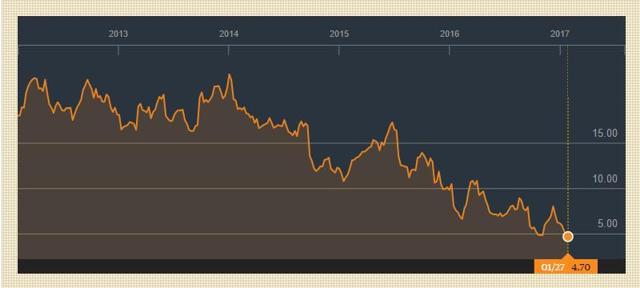 Current Price-to-book ratio is 0.53. You could get $1 of its business for only 53.6 cents. The company has, according to Q1 2017 statement, $270 million of cash on hand. Adjusting the ratio by subtracting the cash from the company's price gives even better result of 0.39. Based on this, it looks like the stock is extremely cheap, with very attractive fundamentals, or is it?
In the next parts I will take a look on the part performance and what was the reason for the tanking share price, what is the company doing about it, what are my prospects for future fundamentals, and lastly about Ascena's debt.
Unfortunate years
Ascena's sales have been boosting steeply thanks to a few acquisitions which occurred in 2012 and 2016. In 2012, Ascena acquired Charming Shoppes Inc. for $890 million. Another acquisition followed a few years later – acquisition of Ann Inc. was finalized in august 2015 (FY 2016 Q1) for $2.16 billion. Apart from these acquisitions, the sales growth was very moderate between 2013 and 2016. With the most recent Q1 2017 year-over-year increase of 0.4% and the expectation of sales decrease for full FY 2017, the outlook doesn't look so shiny. Yet, another disappointing news from this December was that Ascena didn't manage to meet its holiday season sales target which sent the stock south from roughly $8; and analysts EPS estimates for this year were revised down gradually by 22 cents over the last 3 months.
In spite of all this, the sales doubled since 2012. The company is growing, by means of acquisitions. There is nothing wrong with that. Sales growth is fundamentally important from the long-term perspective; all kinds of pricing analysis are based on the fact that sales will be growing, indefinitely. They are also the basis for earnings growth. There is only one question shareholders should ask – was the acquisition overpriced? Did Ascena overplay its hand and is Ann's acquisition a threat for the company?
Ann Inc. produces net income of roughly $40 million, which along with projected $94 million cost savings from synergies during FY 2017 (recent 10-Q) would value the acquisition at roughly 17 times of net cash flow Ascena gets from Ann Inc. This is not that bad a deal given the recent high market valuations, even if looking retrospectively at valuations from 2015. Cost synergies will continue to be significant in the upcoming years, which I will mention later in the article.
Ascena's fundamentals

Table: Based on information from 10-K and 10-Q reports.
Decrease in profitability
In terms of net earnings which are the most significant factor here, Ascena was able to generate between $130 million and $160 million profit few years ago, followed by disastrous 2015 and unprofitable 2016. What happened in these years is mainly attributable to two unexpected costs items per each year.
In 2015, Ascena had to book a loss of $306 million for impairment of Lane Bryant's goodwill and intangible assets, and $50.8 million loss for class action Justice Pricing Lawsuits. The first of these items is related to a 2012 acquisition, the second to falsely advertised shopping prices. (2015 10K) If they never happened, the FY 2015 would have clearly looked much different.
In 2016, the two items were $126 million for non-cash inventory expense write-up of Ann's inventory and interest expense of $100 million, which was essentially prepaying its debt repayment so that the company is not required to make quarterly debt payments until May 2018. (2016 10K)
None of the above unusual expense items can be viewed as expected, predictable, or deemed to repeat in any scale. Investors and markets cannot simply assume there will be any goodwill write-off, or that the company will be sued for few tens of millions. I don't mean to say that $300 million loss can be nor should be completely overlooked as if it didn't happen, nor that such loss shouldn't impact share price – quite the opposite. However, the valuation is forward-looking and as these losses happened in the past they have nothing to do with the present value of the company, which is in my opinion contrary to the belief of markets which are trying to price such events in the price of Ascena. To look at the potential of the net income Ascena is capable of, we should adjust reported net earnings. Considering past earnings as a good predictor for the future earnings requires adjusting them by these unusual expenses.
After doing so, after-tax profit for FY 2015 and 2016 would be roughly $85 and $150 million. That looks more in line with the past earnings and I think it's a realistic expectation for next FY.
Costs
Perks here are the falling costs of sales over the time which is partially caused by the synergies resulting from Ann's acquisition and partially by cost reduction initiatives of the management. Synergies are expected to be $94 million in 2017 and $49 million in 2018, whereas management is planning cost savings for years FY 2017 up till 2019 to be $36, $65 and $49 million. (2017 Investor Day) The company realized already 27 million of synergies throughout recent first quarter; hence I expect the predictions to be achievable. (2017 10Q) The downside are increasing Buying and distribution and SG&A costs which pretty much offset decrease in cost of sales. Overall, I don't think the costs pose a threat for Ascena.
Debt
Not many items stand out in Ascena's debt, and as a matter of fact it would have been almost clear of all debt if acquisition of Ann Inc. didn't occur. Ascena financed the acquisition by entering into term loan of $1.8 billion which matures in August 2022 and is subject to quarterly $22.5 million repayments, with a bullet repayment of $1.3 billion at the maturity. (2017 10Q) The ugly part is that the interest payments are subject to variable rate adjustment, fixed as LIBOR + spread 4.5%. As of October 30, 2016, Ascena had $1.619 billion in variable-rate debt outstanding. For each 0.1% increase or decrease in interest rates, the company's interest expense would increase or decrease by approximately $1.68 million, and net income would decrease or increase, respectively by approximately $1.04 million. (2017 10Q)
Looking at the following 1Y LIBOR and then on the above facts, it might not look very bright for a company that is according to its SEC filing at times considering the use of financial derivatives, although it chose to be completely "unhedged." Even though it is striking to find out that it doesn't use derivatives to hedge away interest rate risk, if you predict 1% increase in the LIBOR for each of the following two years, the sum of additional interest rate expenses would be roughly $28 million during the next two years.

Projections
I will not go into detailed DCF analysis of Ascena's business and will use available forecasts instead. The average EPS target of pool of analysts for FY 2017 and 2018 is $0.39 ($75 million) and $0.47 ($90 million). Ascena's predictions don't differ substantially for FY 2017; however, for 2018 it predicts EPS at roughly $0.78 ($150 million). If Ascena delivers EPS somewhere in between, it will still imply very low P/E valuations. Even tiny increase in net income margin will pose substantial increase in net income. What's more, considering how low the valuations are, Ascena could easily become a takeover target of a PE fund or a larger competitor which would gain a large store count and additional synergies and could repay or replace Ascena's debt balance with better terms. Minority stakeholder activist investors could also get into the game and push management to unlock share value.
Summary
To wrap it up, these scenarios are posing a threat to future income – rising costs and under delivering cost cuts, deeper than expected sales decline, rising debt costs with LIBOR getting out of the hand, unstable political situation in the US and lastly unexpected costs.
In my opinion, this stock is worth attention. It seems that markets are giving more value to something unexpected that could hit the company and less to reasonable fundamentals. The company has a very good potential to yield net income north of $100 million a year, which means it is deeply underpriced. Ascena needs to deliver par, or even slightly sub par results and the earnings would be very attractive compared to the price.
Although I wouldn't recommend buying it straight forward because of negative price momentum, but once the stock price reversal becomes apparent with future expected earnings priced in, there will be large upward potential.
Disclosure: I/we have no positions in any stocks mentioned, and no plans to initiate any positions within the next 72 hours.
I wrote this article myself, and it expresses my own opinions. I am not receiving compensation for it. I have no business relationship with any company whose stock is mentioned in this article.
About this article:ExpandTagged: Investing Ideas, Long Ideas, Services, Apparel Stores, SA SubmitProblem with this article? Please tell us. Disagree with this article? Submit your own.